Blue Jays: First-Round Candidate Asa Lacy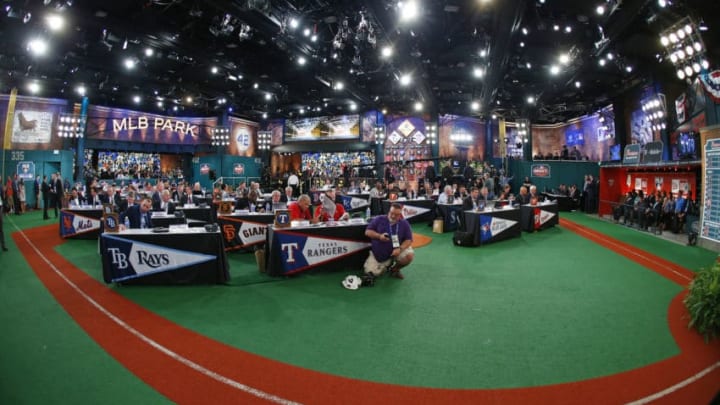 SECAUCUS, NJ - JUNE 5: Representatives from all 30 Major League Baseball teams fill Studio 42 during the MLB First-Year Player Draft at the MLB Network Studio on June 5, 2014 in Secacucus, New Jersey. (Photo by Rich Schultz/Getty Images) /
The Toronto Blue Jays have the fifth overall pick in the 2020 MLB June Amateur Draft, scheduled for June 10 and 11.
As with any draft, there is much speculation concerning what player the Blue Jays will select. Asa Lacy is a name that has appeared in the Top Three of most prospects lists. Perhaps the Blue Jays will use their first-round selection on Lacy.
This article will review the Lacy candidacy, and it will draw upon the summaries published by Baseball America ("BA"), Baseball Prospectus ("BP"), and MLB.com. For reference purposes, Table 1 contains FanGraphs Tool Grades; Table 2 reflects FanGraphs Future Value Chart.
Background
Lacy is a 21-year old, left-handed pitcher who is 6'4″ and weighs 215 pounds. Cleveland drafted him in the 31st round of the 2017 Draft. However, Lacy instead elected to enrol with Texas A&M University. In 2019, his sophomore year, he posted a 2.13 ERA and a 1.038 WHIP in 88.2 innings. He recorded a 0.75 ERA and a .708 WHIP during the shortened 2020 campaign (24.0 innings).
Keith Law of The Athletic summarized Lacy best.
"If he'd had a full spring, and kept this up, more people would likely see him as a candidate to go 1-1. If there's a future No. 1 starter in the class, I think it's him."
Fastball
When Lacy entered college, his fastball was typically in the low 90s. BA noted that "after filling out to 215 pounds, Lacy has plenty of strength and a fastball that ranges from 90-98." BP observed that his heater has "late life, sitting in the mid-90s and the juice to reach back for more when needed".
MLB.com assigned a 60-grade to Lacy's fastball.
Secondary Pitches
BA is impressed with Lacy's secondary pitches. They report that he has "a wipeout slider, a plus changeup and a power curveball." This spring, he unveiled a better slider than the 2019 version. BA describes the new slider as "a powerful, 87-90 mph version of the pitch. Some scouts say it's the best slider they've seen from a college lefty since Carlos Rodon in 2014". Most evaluators believe that his changeup is a plus pitch, and his curveball "gives him a fourth pitch that's at least average and has above-average potential."
BP also sang the praises of Lacy's other pitches. "The slider is nasty with good horizontal movement and can be thrown to the back foot of a right-handed hitter or back-doored. With its mid-to-upper 80s speed, it is very difficult to distinguish (the slider) out of the hand, leading to some pretty ugly swings". BP called his curveball and changeup "average." However, they judged that the total package "working in conjunction—not to forget a deceptive delivery that hides the ball well before an above-average extension—makes for an aggressive unified approach."
MLB.com gave a 60-grade to Lacy's slider and changeup; his curveball received a 55-grade.
Command
Alas, Lacy is not perfect; BA highlighted his pitch inefficiency. "He has shown a tendency to pitch into deep counts, which scouts think has inflated his walk rate more than his above-average command would indicate."
BP remarked that his unorthodox delivery "might contribute to some of his brief bouts of struggling with his control."
MLB.com did not provide a grade on Lacy's command but did give him a 50-grade on control.
Concerns
Neither BA nor BP highlighted any concerns other than the previously-noted pitch inefficiency and delivery. On the latter point, BP observed that "while the delivery may be funky, it doesn't seem to put any dubious stress on the elbow."
More from Jays Journal
Future value/rank
BA, BP, and MLB.com all ranked Lacy #3 on their own prospects list. MLB gave an overall 60-grade.
BA concluded their evaluation by noting that scouts are impressed by Lacy's natural stuff and also his demeanour on the mound, which they describe as stoic, no-nonsense. "He should be one of the first two pitchers off the board."
BP provided a noteworthy summation. "Pitcher injuries are a fickle thing. You can have the cleanest delivery, no medical history whatsoever, and then one day … it seems the only thing that could derail Lacy's future potential is something unforeseen". BP stated that a prominent former front office executive said that "pitchers should never be taken in the top 5 unless they are a generational talent."  Lacy is not a generational pitcher. Nonetheless, BP's view is that "given the list of credentials Lacy sports, it would be unfathomable to let him slip out of the top three players taken."
The last word
The consensus is that there is a clear delineation between the top three prospects, which includes Lacy, and the next tier of players. Not one of the players examined in previous articles (Max Meyer, Zac Veen, Emerson Hancock, Garrett Mitchell, and Nick Gonzales) has ranked in the top three of any of the better-known draft publications. However, some mock drafts have Lacy falling to number four. If he were to slide down one more slot, should the Blue Jays jump at the opportunity to select him with their first-round pick?