Blue Jays: First-Round Candidate Zac Veen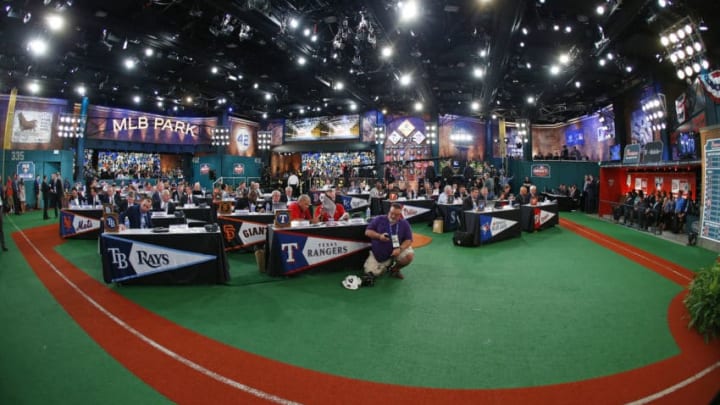 SECAUCUS, NJ - JUNE 5: Representatives from all 30 Major League Baseball teams fill Studio 42 during the MLB First-Year Player Draft at the MLB Network Studio on June 5, 2014 in Secacucus, New Jersey. (Photo by Rich Schultz/Getty Images) /
The Toronto Blue Jays have the fifth overall pick in the 2020 MLB June Amateur Draft, scheduled for June 10 and 11.
As with any draft, there is much speculation concerning what player the Blue Jays will select. Zac Veen is a name that has appeared in the Top Ten of many mock drafts. Perhaps the Blue Jays will use their first-round selection on Veen.
This article will review the Veen candidacy, and it will draw upon the summaries published by Baseball America ("BA"), Baseball Prospectus ("BP"), and MLB.com. For reference purposes, Table 1 contains FanGraphs Tool Grades; Table 2 reflects FanGraphs Future Value Chart.
Background
Veen is an 18-year-old high school outfielder, stands 6'4″, weighs 200 pounds, bats left, and throws right. He played for Spruce Creek High School in Port Orange, Florida. He has committed to enrolling at the University of Florida. Still, Veen retains the option to turn professional soon after the draft.  MLB.com described him as having "the kind of left-handed swing that scouts can dream on, all coming from a projectable 6-foot-4 frame that can add strength". Veen has reminded some scouts of Cody Bellinger, Christian Yelich, or for Blue Jays fans, Shawn Green.
More from Toronto Blue Jays News
Hitting
BA remarked that "Veen has one of the best batting eyes of the prep class and brings a patient approach to the table. He frequently gets into deep counts and waits for a specific pitch to hit". His swing has natural leverage and excellent loft and "his ever-increasing raw power, which is at least plus now and could eventually reach double-plus." Veen has "some swing-and-miss tendencies at the moment," and there are some questions "about his ability to handle velocity and adjust to off-speed stuff away." Nevertheless, most scouts believe that he will be "an above-average or better hitter thanks to his batting eye" and other skills.
BP is similarly impressed. His "swing is well-connected throughout, inducing a perfect bat path through the zone with slight upward lift," and he explodes "his barrel through the ball at impact." According to BP, he can hit to all fields and is developing some opposite-field power. Veen is "just starting to scratch the surface of his offensive potential while still being plenty loud about it now."
MLB.com assigned a 60-grade to Veen's hitting and a 55-score for his power.
Defence
Veen currently plays centerfield for his high school team, but scouts project him to move to a corner outfield slot as he adds weight. BA refers to him as "a fine runner now but could eventually become fringe-average or below." Overall, BA considers Veen to be "a solid defender with good arm strength."
BP describes Veen as "long and lean, surprisingly athletic and nimble for someone with a long stride." They concur with BA that he is most likely to play in rightfield or leftfield at the MLB level. Concerning his play in the field, BP commented that "the range is certainly there to cover gap-to-gap. However, his arm is average at best, which may route him to leftfield. With the added strength he's likely to accumulate, he'll probably regress from a plus runner to something closer to average".
MLB.com gave a 55-grade to Veen's overall defence, a 50-grade for running, and a 55-score for his arm.
Concerns
At the 2018 Perfect Game World Championships, BP observed that Veen "appeared overly passive." He was "content on letting pitchers either get ahead or battle back in a hitter-friendly count, failing to do damage in leveraged situations." However, during the 2019 high school spring season, "he knew he would be pitched around even more and became more aggressive with his approach, leading to his breakout." BP concluded that "finding a happy medium between patience and proactiveness is the key to his future ceiling."
Another critical factor in Veen's future success will be how much his body fills out. "Keeping the balance of strength and flexibility will be best for his overall game without sacrificing any of his dynamism." On a positive note, "scouts have talked about his high marks for makeup and work ethic, quelling most concerns of which direction his physique could go."
Future value/rank
Veen is the #7-ranked player on BA's prospect list; BP placed him #6 on their roll. MLB gave an overall 55-grade to Veen and put him #7 on their prospect list.
BA concluded their evaluation by asserting that "Veen has one of the more high-upside tools profiles in the class thanks to his power potential, swing, and frame."
BP is equally impressed with Veen. They commented that "plus athletes with pretty swings, loud tools, and room to get better are a rare breed coming out of high school, which perfectly justifies Veen's ranking. It will be no shock if he makes it into the top five picks with a team like the Blue Jays or Royals drooling over his potential. What makes Veen especially unique given his profile is the perceived lack of risk".
BP's analysis includes the assessment that "if it all clicks, he could own five tools that are at least 50 on the scouting scale, with his hit and power being on the plus side". As one scout, who is employed by a team with a pick inside of the top ten, said, "He just needs to stay the course… don't try to do too much, and he will be a fine, fine ballplayer."
MLB.com observed that Veen's "step forward at the start of the 2020 season, picking up from where he left off over the summer, has him very much in conversations among teams picking in the top 10".
The last word
Many publications project Veen to be the first high school player selected in the 2020 MLB June Amateur Draft. Although a potential five-tool ballplayer is enticing, will the Blue Jays be more inclined to pick a more established collegiate player?