Blue Jays: First-Round Candidate Garrett Mitchell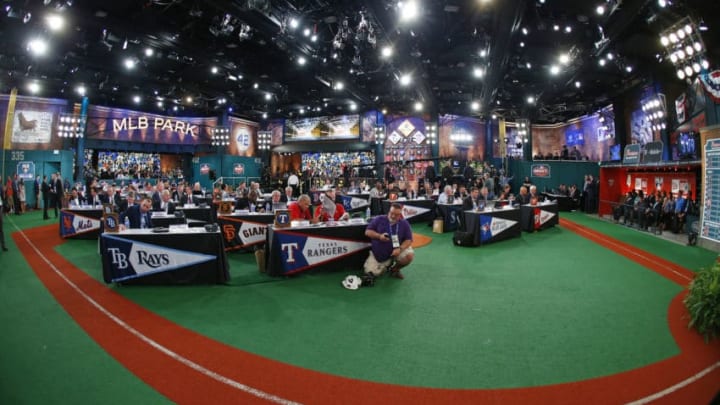 SECAUCUS, NJ - JUNE 5: Representatives from all 30 Major League Baseball teams fill Studio 42 during the MLB First-Year Player Draft at the MLB Network Studio on June 5, 2014 in Secacucus, New Jersey. (Photo by Rich Schultz/Getty Images) /
The Toronto Blue Jays have the fifth overall pick in the 2020 MLB June Amateur Draft, scheduled for June 10 and 11.
As with any draft, there is much speculation concerning what player the Blue Jays will select. Garrett Mitchell is a name that has appeared in the Top Ten of some mock drafts. Perhaps the Blue Jays will use their first-round selection on Mitchell.
This article will review the Mitchell candidacy, and it will draw upon the summaries published by Baseball America ("BA") and MLB.com. Baseball Prospectus ("BP") did not provide an in-depth evaluation, only an overview. For reference purposes, Table 1 contains FanGraphs Tool Grades; Table 2 reflects FanGraphs Future Value Chart.
Background
Mitchell is a 21-year-old centre fielder who stands 6'3″, weighs 204 pounds, bats left, and throws right-handed. He was selected in the 14th round of the 2017 MLB June Amateur Draft by the Oakland Athletics, but opted to attend UCLA. After a challenging freshman season, Mitchell posted a .349/.418/.566 slash line in 2019. In the shortened 2020 collegiate campaign (73 plate appearances), he produced a .355/.425/.484 slash line. Since the third grade, he has had Type 1 diabetes, which may worry some teams with regards to his durability.
BP summed up his profile best.
""You won't find a more polarizing prospect in this year's class than Mitchell. Some scouts believe he is the best athlete in the class and deserving of one of the top overall selections. Others worry that his game power has yet to show itself despite his elite physical tools.""
Hitting
According to BA, he "shows massive, plus-plus raw power in batting practice, but his choppy swing produces mostly grounders, and low line drives in games." With his speed, BA opined that he could become an above-average or better hitter. "Some evaluators are optimistic Mitchell can tap into his power with swing refinements." But others are of the view that his in-game power production has been an issue for some time and perhaps never will develop. On the positive side, his speed "helps him to beat out infield singles and amass lots of doubles and triples," and makes "him an offensive difference-maker even absent home run power."
MLB.com assigned a 60-grade to Mitchell's hitting and a 50-score for his power.
Defence
The main Mitchell storyline: he excels in the outfield. BA observed that "he's an 80-grade runner who changes games with his speed, is a plus defensive center fielder who effortlessly glides to balls and has a rifle for an arm".  MLB.com described him as "big and strong" and that he is a "plus runner who can steal bases and cover a ton of ground in center field." MLB.com concluded that "he'll be able to play long term with the chance to develop into at least an above-average defender in time."
In what must be a typo, MLB.com gave a 50-grade to Mitchell's overall defence. He garnered a 70-grade for running, and a 60-score for his arm.
Concerns
A significant risk for teams to consider is Mitchell's health and endurance due to his diabetes. However, Ron Santo (1960-1974) had Type 1 diabetes throughout his career. Yet, he became a Hall of Fame third baseman playing for the Chicago Cubs. Yes, the centre field position is physically more taxing than third base. Nonetheless, Santo faced challenges that Mitchell will not have to as a Blue Jay. First, all of Santo's home games were day games, many of which were during the hot Chicago summer. Second, the day-to-day management of diabetes is far superior now than it was in the 1960s and 1970s.
Future value/rank
Mitchell is the #6-ranked player on BA's prospect list; BP placed him #13 on their roll. MLB gave an overall 55-grade and put him #6 on their prospect list.
BA assesses that he has "a high probability to hit for average, steal bases and stay in center field and the possibility of adding power." Furthermore, he "is a top-10 talent, though his question marks make him a bit more polarizing than the other players around him".
Mitchell versus Veen
BA also prepared a top-level comparison of Mitchell and Zac Veen that is certainly worth checking out (subscription required), comparing them in Hitting, Power, Speed, Fielding, Arm, and 'X' Factor, also providing a "Scout's Take".
The last word
Mitchell is an exceptional athlete, even better than Veen. The question is, do the Blue Jays select him? He has the tools to become an elite defender and possibly add the power component to his game. Or do they sacrifice some defence and choose Veen, who may develop into a plus-plus hitter? There is always the possibility that the Blue Jays want the high ceiling of Max Meyer or the high floor of Emerson Hancock. We will know the answer to these questions on June 10.