Blue Jays: Potential is high for prospects to crack roster in 2020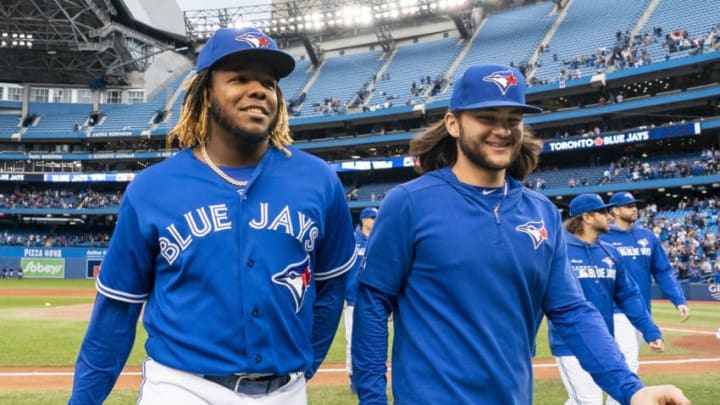 TORONTO, ONTARIO - SEPTEMBER 29: Vladimir Guerrero Jr. #27 and Bo Bichette #11 of the Toronto Blue Jays walk off the field after defeating the Tampa Bay Rays in the last game of the season in their MLB game at the Rogers Centre on September 29, 2019 in Toronto, Canada. (Photo by Mark Blinch/Getty Images) /
BALTIMORE, MD – SEPTEMBER 17: Cavan Biggio #8 of the Toronto Blue Jays celebrates with Bo Bichette #11 after a 8-5 victory against the Baltimore Orioles at Oriole Park at Camden Yards on September 17, 2019 in Baltimore, Maryland. (Photo by Greg Fiume/Getty Images) /
Infield
While some pieces of the Toronto Blue Jays infield are set in stone, there are a few question marks regarding where some players will end up when spring training comes to a close.
As it sits right now, the Blue Jays are committed to Vladimir Guerrero Jr. at third base and Bo Bichette is entrenched at shortstop and not going anywhere.
The questions align more along the right side of the infield at second and first base.
There have always been rumours and talks of Cavan Biggio being utilized as more of a utility type player in the outfield, first base, and in the infield. I personally think that Biggio needs to be given some more reps at second, in that he did have a successful first season both at the plate and in the field.
He was an on-base machine, leading all rookies in the MLB in terms of walks, and while he wasn't an elite defender at second base, he was still consistent at the position and stands to improve with some more time at the position. I want to see him stay at this position for the foreseeable future and see if the defensive ability can go from average to above average.
The next question mark lies at first base, with veteran Justin Smoak potentially not returning this next season via free agency. Rowdy Tellez will obviously be given some time at the corner, a second audition if you will, but the jury is still out as to whether he will be there for the long run. While he does have the making to be a DH with his raw power and improving ability to hit left-handed pitching, his defence is nothing to boast about at first.
Blue Jays fans have been a bit spoiled with Smoak's gold glove nominated ability at first base, and the team may look both internally and externally for someone to fill his void.
Internally, the team did experiment with Brandon Drury and Biggio at first base, and could look to this route once again combined with Tellez being a 1B/DH.
There are some options via free agency in Eric Thames and Howie Kendrick, but these players would go against the 'rebuild' mold that Ross Atkins has been going for these past few seasons. There is the potential in signing Japanese slugger in Yoshitomo Tsutsugo to play 1B, but he does not have a lot of experience at this position during his time in the Nippon Professional Baseball league.
Ross Atkins could look to bring these players in, but to be honest, if management is looking to go the free-agent route, there is a strong argument to just bring back Smoak. A switch-hitting veteran who already knows the ins and outs of the organization, and has generated respect amongst the young core of players in the Blue Jays clubhouse.
Rounding out the roster would be the bench positions, where there could potentially be 3-4 spots given the additional roster spot and how the Blue Jays choose to fill out their roster (we won't include the backup catcher, where we will most likely see a Reese McGuire/Danny Jansen tandem all season).
Drury will see his name penciled into the bench role, where he was utilized across the diamond last season.
I can easily see an Eric Sogard type scenario where the Blue Jays bring in some veteran players on minor league tryouts to compete for spots on the bench. One player may have a tremendous spring that translates into a strong season, benefitting the club for the year.
This leaves a few spots open to players like Richard Urena and Breyvic Valera, who spent some time with the Blue Jays last season, as well as the potential for prospects like Santiago Espinal, Kevin Smith, and Logan Warmoth to find some space to make a run for the roster bench.
Espinal does have some experience at the AAA level, while Smith and Warmoth have not advanced past AA. This doesn't mean that the two latter players are not going to make the team out of spring training, many players have jumped from AA to The Show, it just means that they will have to outwork other MLB experienced players for a spot. A strong spring can change a lot in the eyes of management, and a rebuilding team is the perfect opportunity for young players to show what they are capable of.
If they have a strong spring, management can still send them down to develop in the minor league system, so there is no harm and no foul moving forward. It may be a big overcast to throw minor league players like this in the fire, and management will most likely be cautious in their approach and let them continue to develop for a few more years.
Espinal does also have to prove his worth this off-season, considering he is not on the 40 man roster and might not even be able to compete for a roster spot if he is picked up during the Rule 5 Draft this year. He can still be added to the 40-man before the draft takes place, but these decisions have not been made as of yet.
To conclude this section, I can see the bench being fulfilled with the backup catcher, Drury, a FA for 1B (Smoak for example), Urena, and then Espinal, who I am really rooting for to have a strong spring and cement a spot on the roster.
Espinal, if he is indeed on the roster and is not scooped up in the Rule 5 draft or is protected on the 40 man roster, could lose his spot if a veteran player on a minor-league tryout has a successful spring, but that's something we cannot predict this early in the offseason.