Blue Jays: Potential is high for prospects to crack roster in 2020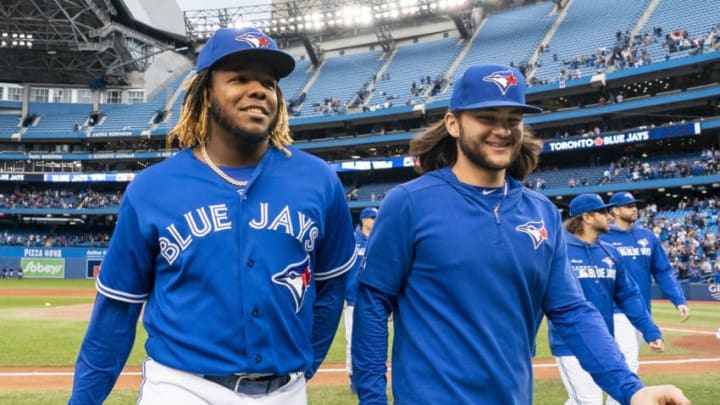 TORONTO, ONTARIO - SEPTEMBER 29: Vladimir Guerrero Jr. #27 and Bo Bichette #11 of the Toronto Blue Jays walk off the field after defeating the Tampa Bay Rays in the last game of the season in their MLB game at the Rogers Centre on September 29, 2019 in Toronto, Canada. (Photo by Mark Blinch/Getty Images) /
TORONTO, ON – SEPTEMBER 15: Ken Giles #51 of the Toronto Blue Jays shakes hands with Reese McGuire #10 after striking out Aaron Judge #99 of the New York Yankees for the final out of a MLB game at Rogers Centre on September 15, 2019 in Toronto, Canada. (Photo by Vaughn Ridley/Getty Images) /
Bullpen
This section is arguably the biggest crapshoot in terms of predicting who will be on the active roster when it comes to the bullpen.
Last season, the Blue Jays had a solid closer in Ken Giles, whose name is once again lighting the trade rumour radar this off-season. There is an argument for both sides on whether or not to trade Giles given the free-agent reliever market this season, but I think Giles would be better off in a Blue Jays uniform moving forward, with a possible extension in the near future.
His veteran leadership in the bullpen could be a benefit that the organization currently lacks on the active roster, and should remain a Blue Jay unless any potential deal is extremely in the team's favour. Giles does become a free agent after the 2020 season, so I could see management send him packing halfway through the 2020 season to gain some controllable prospects. Time will tell.
After Giles, there is really no guarantee to who makes the squad once spring training comes to an end.
Tim Mayza will most likely be on the shelf for all of next season after undergoing Tommy John surgery in 2019, so he will not be a part of the plans for 2020. Elvis Luciano has satisfied his Rule 5 requirements during the previous season and will go back down to the minor leagues in order to keep developing.
As it stands this off-season, pitchers Jason Adam, Sam Gaviglio, Wilmer Font, Derek Law, Thomas Pannone, Jordan Romano, and Justin Shafer spent time with the Blue Jays last season and will be fighting for time in the bullpen once again.
Newcomer Anthony Bass will also be thrust into the mix as well, and could potentially find himself in the bullpen given the strong 2019 season he had.
There are some options down in the minor leagues as well, with potential prospects Travis Bergen, Zach Jackson, Yennsy Diaz, Kirby Snead, and Ty Tice coming into spring training with an opportunity to impress and move towards a spot on the roster (Diaz pitched one game last season in the MLB, and it was terrible).
They will obviously have a more difficult path to the show, but injuries and a strong spring performance can push and pull pitchers up and down the depth charts. Out of these prospects, I could see Jackson and Bergen making a strong case to make the bullpen to start the season, but they need to have a strong spring in order to present their case to management.
Snead and Jackson are currently not on the 40 man roster and are eligible for the Rule 5 Draft, so both of these players may not have the opportunity to compete for a spot come spring training if selected during the draft. They may get added to the roster, but these decisions have not been decided this early into the off-season.
More from Toronto Blue Jays News
You can also expect management to bring in veteran pitchers on minor league tryouts to increase competition within the organization and attempt to fill out their bullpen. They have done this the past few seasons and have been successful in their endeavors.
If I had to make a guess, I would say that Gaviglio and Pannone will make the team due to their ability to pitch more innings as former starters, as well as newcomer Bass, Law and Font due to being out of options and how they performed last season. Giles is obviously going to make the squad and be the de-facto closer.
While they may be out of options, these players are by no means untouchable in terms of being dropped to the minor leagues (and exposed to waivers) or being released and could find themselves on a new team come April.
There is honestly no real prediction that can be made as to who will be in the bullpen this off-season, and I am sure the year to year comparison will see quite a few new faces in the left field of the Rogers Centre come Opening Day.