Blue Jays: Potential is high for prospects to crack roster in 2020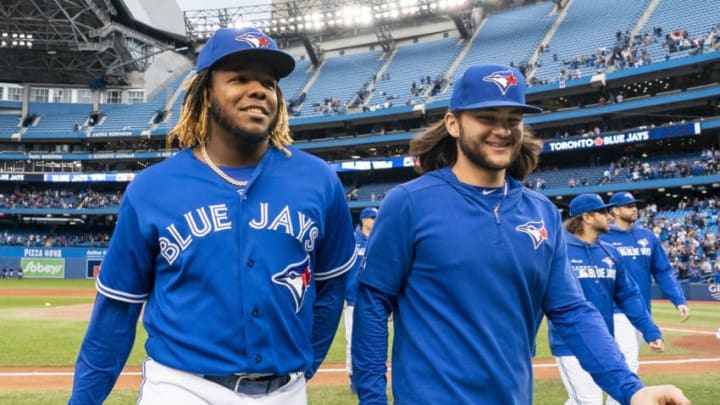 TORONTO, ONTARIO - SEPTEMBER 29: Vladimir Guerrero Jr. #27 and Bo Bichette #11 of the Toronto Blue Jays walk off the field after defeating the Tampa Bay Rays in the last game of the season in their MLB game at the Rogers Centre on September 29, 2019 in Toronto, Canada. (Photo by Mark Blinch/Getty Images) /
HOUSTON, TEXAS – JUNE 16: Lourdes Gurriel Jr. #13 of the Toronto Blue Jays hits a two run home run in the fifth inning against the Houston Astros at Minute Maid Park on June 16, 2019 in Houston, Texas. (Photo by Bob Levey/Getty Images) /
Outfield
As it stands right now, the Toronto Blue Jays possess two outfielders in Randal Grichuk and Lourdes Gurriel Jr. who are most likely going to be starting on opening day.
There have been talks of Gurriel Jr. possibly moving back to the infield or in a utility role, and even rumours and rumblings about him being possibly traded (which I disagree with unless the return is an established, prime starting pitcher), but I personally see him staying in left field. His arm was a lot more accurate in left field than it was at second, and it just seems like he is mentally more sound in the outfield.
General manager Ross Atkins was critical this season of center field, and stated that the Blue Jays could look outside the organization in order to improve the defence in this area. There are some free agent outfielders on the market who could satisfy this need, like Nicholas Castellanos and Marcell Ozuna, but most of the premium outfielder free agents play in the corners (Ozuna has some experience in CF, but not since 2017). This would require someone to move, whether it be the newly acquired player, or someone already on the roster.
They also could explore international free agents like Yoshitomo Tsutsugo or Shogo Akiyama, but both players are not regarded for their defence, as well as Tsutsugo being regarded as a corner outfielder rather than in center field.
There is no guarantee that the Blue Jays will sign any free agent outfielders this off-season, and if that were the case, there will be a slew of internal outfield prospects who are looking to break away from the minor league system and finally establish themselves on the roster once and for all.
So, under this scenario, there would be essentially 3-4 spots open on Blue Jays roster for the outfield: one for the center fielder, and 2-3 extras on the bench.
Teoscar Hernandez, the Blue Jays center fielder last season, was inconsistent at the plate for most of the season but has shown he can hit the home run ball when he is riding his hot streaks. His major qualm comes in the form of his defensive abilities, with his awkward routes to fly balls and his average arm, which almost makes it seem like he is uncomfortable every time the ball is hit in his direction. He does have a minor league option if the Blue Jays feel like a demotion is needed.
If Hernandez was an average fielder, the job would most likely be his for next season, but there are prospects who are barking up the depth ladder looking to replace him and send him to the bench.
Derek Fisher, Billy McKinney, Anthony Alford, and Jonathan Davis all have one thing in common: they are always on the cusp of being a starter, but just haven't found the consistency to stay there.
Out of this group, both Fisher and Alford are out of options this upcoming season and need to make the roster or be exposed to the waiver wire. I honestly think that this could be a major contributor to keeping them from being sent down to the minor leagues, in that management would not want to expose these two to the rest of the league. If they were exposed, I could see other teams taking a flyer on either one of these two players.
This would leave the last remaining spot(s) between Hernandez, McKinney, and Davis, all of whom possess minor league options for next season.
I would keep Hernandez on the roster solely for his bat, in that he did crank out 26 home runs for the club last year, placing him second on the team. The issue is with his consistency, in that he goes on these random tangents where he can't seem to hit a beach ball and then turns around and hits 3-5 home runs in a 5 game span. He did improve his eye at the plate and swung less at pitches over his shoulders and the curveball in the dirt, but the bat just isn't strong enough to justify his poor defence. He would be more suited for the pinch hitter or part-time designated hitter role on the bench in my opinion.
McKinney did find himself heading down to Buffalo twice last year (mostly because of his options), and when he was up in Toronto, he didn't really separate himself from amongst the other outfielders. He is a better defensive outfielder than Hernandez, but doesn't separate him from the rest of the group. If he could bring his average up just a bit more and does have a strong spring, I could see McKinney on the bench to begin the season. It also helps that he is a left-handed bat as well, something the Blue Jays outfield would be missing if he is in Buffalo to begin the season.
Davis is the bigger long-shot of the three, but he did have some bright moments last season. He did get a call-up to the big league squad not just during the expanded roster months of September, and was the better defensive-minded outfielder of the three players mentioned. The issue is with his bat, where he just has trouble putting the ball in play, which is seen through his rough slugging percentage and .181 batting average. He is probably the weakest batter of the four potential bench options.
There is another intriguing option in the depths of the minor leagues in Forrest Wall, one of the two players the Blue Jays acquired in the trade with the Colorado Rockies for relief pitcher Seunghwan Oh. While he is not on the 40 man roster, if a combination of the aforementioned players struggles in spring training and Wall can find a groove right out of the gate, one could argue he deserves a chance on the MLB roster. He has options and could return to the MiLB whenever management pleases, and the rebuild does provide a great opportunity for players like Wall to show what they are made of. A long shot, but a shot none the less.
In the end, I see an outfield with Gurriel Jr., Grichuk, Alford, Fisher, McKinney, and Hernandez, with Davis waiting patiently in AAA for the next opportunity. Fisher and Alford will tandem in center field, and Hernandez will fill in as a designated hitter and in the outfield as a pinch hitter/runner deeper into ball games.