Blue Jays: Potential is high for prospects to crack roster in 2020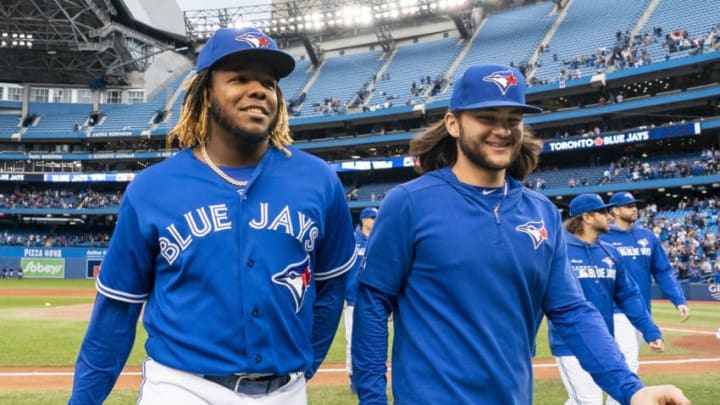 TORONTO, ONTARIO - SEPTEMBER 29: Vladimir Guerrero Jr. #27 and Bo Bichette #11 of the Toronto Blue Jays walk off the field after defeating the Tampa Bay Rays in the last game of the season in their MLB game at the Rogers Centre on September 29, 2019 in Toronto, Canada. (Photo by Mark Blinch/Getty Images) /
TORONTO, ON – SEPTEMBER 25: Jacob Waguespack #62 of the Toronto Blue Jays delivers a pitch in the first inning during a MLB game against the Baltimore Orioles at Rogers Centre on September 25, 2019 in Toronto, Canada. (Photo by Vaughn Ridley/Getty Images) /
6 Man Rotation
The notion of a 6 man rotation has been intriguing as of late, in that it would allow another prospect the opportunity to show that they are capable of being a starter against the toughest players in the league.
As it stands right now, the only two players who are really guaranteed a spot in the rotation are Matt Shoemaker and newly acquired Chase Anderson. Shoemaker has not technically signed an agreement with the Blue Jays as he is in arbitration, but I would be surprised if both sides don't reach an accord whether it be a one year deal or a longer-term contract. In this scenario, there would now be 4 more spots up for grabs in the rotation.
If the Blue Jays go out and acquire another experienced arm in free agency, then there would be only three spots for prospects to fight over.
Given we can only work with the information we currently have, let's assume they don't add to their rotation this off-season and there are four spots open for internal players.
Next in line for a rotation spot(s) would most likely be Trent Thornton, who was an inning eater for the Blue Jays last season and showed some promise as a starter, and Ryan Borucki, who was marred by injuries to his throwing arm for the 2019 season but did have a successful rookie campaign in 2018.
While I say these two players would be 'next in line', there really is no guarantee that either player could find themselves in the rotation after spring training. I personally think they will be, but anything can happen during spring training in terms of injuries, poor performance, etc. They have options, so they could always find themselves down in Buffalo if things don't work out.
There also is the concern regarding Borucki and his injuries last season. The Blue Jays obviously want him to be healthy, and could see him move to the bullpen in order to limit his innings in a situation where he is a starter to begin the season, and bullpen reliever down the stretch. He also could start out the season in AAA continuing to get some innings in before returning to the MLB in whatever capacity the Blue Jays choose to follow.
The Blue Jays then possess some intriguing options internally when it comes to their starting rotation.
It is almost 100% certain that top prospect Nate Pearson will make the jump to the MLB at some point in the 2020 season, just not to begin the year. He will probably start his journey in the starting rotation mid-summer, but I expect management to keep a close eye on his innings limit, and could shuffle him to the bullpen in order to keep him healthy for the long run. He has had brushes with injuries in the past, and there's no point in running him ragged earlier in his MLB career.
Other starting pitching prospects include T.J. Zeuch, Anthony Kay, Sean Reid-Foley, and Jacob Waguespack, all of whom have had experience pitching at the MLB level.
Reid-Foley seems to be more suited for the bullpen moving forward, in that he has been given the most opportunities out of this group and seems to always fade the deeper he gets into the ballgame, inflating his numbers once he starts getting hit around. While his 2019 season was a step in the right direction, he could find himself being converted to a middle relief pitcher if he has a bad spring. The Blue Jays could also opt to send him to Buffalo and keep him stretched out as a starter, but again, it depends on what management views of him over the long term.
Waguespack had a positive year for the Blue Jays, pitching against some tougher teams in the league and throwing to a 4.50 ERA. While he too may be suited for the bullpen in the bigger picture, if he comes out next February and throws well in spring training, I could see the Blue Jays giving him another chance to start games. This would go well with the notion that Pearson will still be n the minors until around the mid-summer. Once the top prospect arrives, Waguespack could see his position change unless he is out-performing whoever the last starter is below.
Anthony Kay and T.J. Zeuch would be the combatants for the last remaining rotation spot (if the 6 man rotation is considered). Both are prospects with potential to be mid-back end starters, and both are unique in their own ways. They both need some more time in the MLB before a decision can be made on where they end up long term, so I would think that one player would make the roster, and the other would go down to Buffalo and continue to start games, rather than be in the bullpen. If one falters a month into the regular season, then the switch can be made.
There are other prospects with outside shots to make the team, such as Patrick Murphy and Julian Merryweather, but neither player has any MLB experience. Anything is possible during a rebuild, but I would expect these two to return to the minor leagues, and wait to see if anyone either gets injured or falters out of the gate on the active roster.
If I had to guess, the rotation will end up being Shoemaker, Anderson, Thronton, Borucki, Waguespack, and Kay, who would win the spring training battle and Zeuch would return to AAA. Zeuch would be the first player called up to the rotation if an injury arises or if Kay preforms poorly after a few starts.
If Borucki needs more time in the minor leagues because of his lack of innings pitched last season, then Zeuch fills his spot in the rotation until he returns.