Toronto Blue Jays: Should They Retool By the Trade Deadline?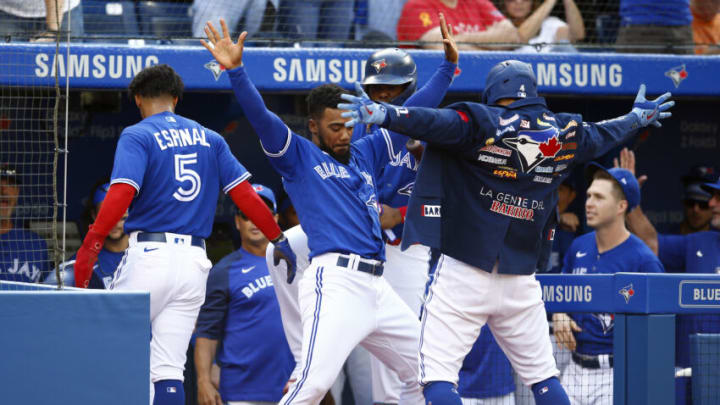 TORONTO, ON - OCTOBER 02: George Springer #4 of the Toronto Blue Jays celebrates with Teoscar Hernnadez #37 after hitting a three-run home run in the second inning during a MLB game against the Baltimore Orioles at Rogers Centre on October 2, 2021 in Toronto, Ontario, Canada. (Photo by Vaughn Ridley/Getty Images) /
The Blue Jays may now need to consider a retool ahead of the 2022 trade deadline on August 2nd. Trying to add to this current team by trading away more top prospects in an expensive trade market might not help beyond a Wild Card ticket and early playoff exit in 2022? Perhaps it's time to look towards setting this young core up for deeper playoff success in 2023?
After a 1-9 road trip, including a series sweep by the Seattle Mariners and two losses to the worst ranked team in MLB's power rankings, the Blue Jays have tumbled out of a Wild Card berth. Seattle holds the tiebreaker over Toronto in the Wild Card standings by virtue of winning the season series 4-2.
Now 16.5 games back of the New York Yankees in the AL East, the Blue Jays only lead fifth-place Baltimore by 2.0 games after winning only one game so far this July. Their .517 winning percentage (84 win pace) wouldn't put them in 1st place in any division in baseball.
If they can't turn this around by the trade deadline, could GM Ross Atkins use the trade deadline to retool for a run in 2023, and see what they can get in terms of MLB-ready talent for OF Teoscar Hernandez, swingman Ross Stripling, and relievers David Phelps, Adam Cimber and Yimi Garcia? Or maybe even defensive whiz 3B Matt Chapman and LF Lourdes Gurriel Jr.?
Looking at Previous AL East Examples
Effective models of how to retool in the AL East can more recently be seen with the 2016 New York Yankees, and both the 2012 and 2015 Boston Red Sox.
The Yankees traded Aroldis Chapman to the Chicago Cubs for Gleyber Torres and prospects in July 2016. They also moved lefty Andrew Miller, starter Ivan Nova, and veteran OF Carlos Beltran that year. They went on to finish 4th in the AL East and nine games back of the Red Sox, and out of the playoffs that year despite a .519 winning percentage. However, they were back in the playoffs the following season before losing to Houston in the ALCS.
The 2012 Red Sox finished 5th in the AL East with only 69 wins but rebounded with a 97-win regular season to take the 2013 AL East pennant and win the World Series that year.
Then GM Ben Cherington traded away Red Sox legend (and the Greek God of on-base percentage) Kevin Youkilis that summer, as well as pulling off the huge trade of Josh Beckett, Carl Crawford, Adrian Gonzalez, Nick Punto and cash to the Los Angeles Dodgers. That allowed him to resign David Ortiz after 2012, as well as Shane Victorino, Koji Uehara, Ryan Dempster, Stephen Drew and Mike Napoli as free agents in the 2012/13 offseason, as well as acquire Brock Holt from Pittsburgh, and add Jake Peavy from the Chicago White Sox in a three-team trade at the July trade deadline to beef up for their World Series title run in 2013.
After a 1-9 road trip, the Blue Jays may now need to consider a retool ahead of the 2022 trade deadline instead of buying for an improbable World Series run.
The 2015 Red Sox would trade away Shane Victorino and Mike Napoli in the summer of a season where they finished 5th in the East. But they would win the Al East pennant in each of the next three seasons, culminating in another World Series title in 2018 with a young core of Mookie Betts, Xander Bogaerts, Rafael Devers, and Andrew Benintendi. They were able to sign starter David Price and utility OF Chris Young that December of 2015, after trading for closer Craig Kimbrel in November. Starter Drew Pomeranz was added via trade in July 2016, and Chris Sale came in a December 2016 blockbuster in a deal including then prospects Yuan Moncada and Michael Kopech.
Could these case studies be used as a potential roadmap for the current Blue Jays team ahead of this year's trade deadline and beyond into the offseason? They still have years of control over their young core including Vladimir Guerrero Jr., Bo Bichette, Alejandro Kirk, and Alek Manoah. But the competitive balance tax payroll has bumped up to $192 million in a hurry, and that's without signing any of the young homegrown stars to longer-term deals.
Looking at Blue Jays players who could be traded
So who could be moved for a combination of MLB-ready prospects and payroll room to retool again for a new run at a World Series in 2023? Remember also that with three Wild Card berths per league, there will likely be far more buyers than sellers at the trade deadline this year; it should be a seller's market.
Ross Stripling and David Phelps, both of whom will be free agents after this season, could be moved to contending teams at the trade deadline before becoming unrestricted free agents. Pending 2024 free agents include Teoscar Hernández, Lourdes Gurriel Jr., Matt Chapman, and reliever Adam Cimber. Yimi Garcia has a club option for 2024 or a $1 million buyout. Catcher Danny Jansen will be a free agent in 2025.
Of course, team owner Rogers and their Blue Jays front office may not want to retool if they think the team has a chance of going to the playoffs. But as currently constructed, this does not appear to be a team built to go deep in the playoffs.
Alek Manoah, Kevin Gausman, and Jose Berríos could certainly be a formidable playoff rotation, but with one of the league's worst bullpens, who would bridge late innings to closer Jordan Romano?  Those three starters, plus Romano, will all still be here in 2023.
The hitters are formidable, scoring 397 runs season to date to rank 8th overall in MLB and 4th in the American League through games played Sunday. However, they only have a run differential of +9, which ranks them 8th in the AL. They also struggle to drive in runs with runners on base, leaving an average of 3.6 per game which ranks them 14th in the AL and 28th in MLB. Many pundits have also drawn attention to their overwhelming right-handedness, and the lack of balance that gives to the batting lineup. Could that be addressed as part of a retool?
Two further concerns exist:
1) Does there need to be a change in the clubhouse culture before retooling? Are they as serious about winning as they are about having fun?
2) Given his mixed record on trades to date, is Ross Atkins creative enough as a General Manager to find the right balance between a retool for a deep playoff run in 2023 and not setting this organization back for the longer-term in terms of MLB-ready farm system talent and depth?
Those are perhaps larger issues for another time.
What do you think Blue Jays fans? What could the Jays get in a retool for 2023 for those players listed above?