Toronto Blue Jays News
The Toronto Blue Jays need their own Hall of Fame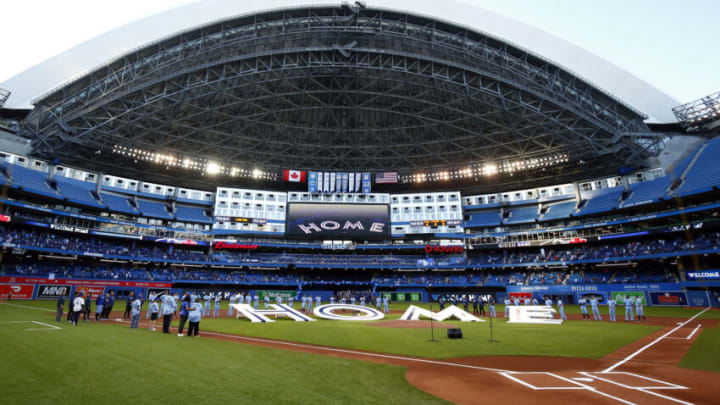 TORONTO, ON - JULY 30: The Toronto Blue Jays line up behind a 'Home' sign to commemorate their first home game in Toronto this season prior to a MLB game against the Kansas City Royals at Rogers Centre on July 30, 2021 in Toronto, Canada. (Photo by Vaughn Ridley/Getty Images) /
TORONTO, CANADA – APRIL 8: Josh Donaldson #20 of the Toronto Blue Jays is presented with the 2015 A.L. MVP Award by former player and only Blue Jays player to ever win an MVP George Bell before the start of MLB game action against the Boston Red Sox on April 8, 2016 at Rogers Centre in Toronto, Ontario, Canada. (Photo by Tom Szczerbowski/Getty Images) /
There seems to be this incredibly high standard of being inducted into the Baseball Hall of Fame to get your number retired, and the Level of Excellence is the Blue Jays' own way of recognizing the best players in franchise history.
Compare that to the Yankees, who recently announced they would be retiring Paul O'Neill's number and adding him to their Monument Park this upcoming season. O'Neill was by no means a bad player, but there have been plenty of Blue Jays who had better careers than him, yet have little in the way of recognition from the franchise. I'm not saying that every good Jay should have their number retired, but if the New York Yankees, possibly the most iconic team in the history of sports, can retire Paul O'Neill's number, the Blue Jays can do a little more to honour their legends.
This is why I'm suggesting the Blue Jays create a team Hall of Fame. Plenty of teams across the league has their own versions of a Hall of Fame, most notably the aforementioned Monument Park at Yankee Stadium. I think it's a great way of both honouring the team's greatest players and contributors and also preserving the team's history, and with renovations well underway at the Rogers Centre, there's no better time for the Blue Jays to finally add their own.
With renovations at the Rogers Centre well underway, it's time for the Blue Jays to start honouring their history more and create a Blue Jays Hall of Fame.
Personally, I would want the potential Hall of Fame to be its own area in the stadium that features plaques or sections for each inducted player, along with items and exhibits from important moments in team history. This could range from bases from big games to bats from certain hits.
The most important question is obviously who would be inducted, so here's who I think should be featured in the potential Blue Jays Hall of Fame.
The Inductees
To begin with, all of the members of the Level of Excellence would get an automatic induction. That means George Bell, Joe Carter, Carlos Delgado, Tony Fernandez, Roy Halladay, and Dave Stieb would all be in there, along with non-players Paul Beeston, Tom Cheek, Cito Gaston, and Pat Gillick. As for new inductees, I have a few names in mind.
Jose Bautista is the most obvious addition as someone who will likely be seeing his name in the Level of Excellence in the near future. Bautista is the Blue Jays all-time leader in position player WAR and was one of baseball's top bats in the first half of the 2010s. His 288 home runs with the team are the second-most in franchise history, and his 54 in 2010 are the most in a single season. Couple all that with the bat flip, he's a no-brainer inductee.
Tom Henke is another easy choice, being easily the best reliever in franchise history. Over his eight seasons with the Blue Jays, he posted a 2.48 ERA over 563 innings and 217 saves, by far the most in team history, including a league-leading 34 in 1987. He was an integral piece of the 1992 World Series winning team and more than deserves a spot here.
Josh Donaldson may have only spent three full seasons in Toronto, but those years were some of the best in franchise history. He played a key role in the Blue Jays' return to the postseason in 2015, winning the AL MVP award, and he followed up that incredible season by finishing fourth in MVP voting in 2016. His 148 OPS+ with the Jays is the second-highest in team history amongst players with at least 2000 plate appearances and is one of only two players in franchise history with an MVP award (George Bell 1987). He may not have the cumulative stats that some other players do, but his importance to the franchise can't be overstated, and his MVP pushes him over the edge.
Those players all feel like the clear additions, but there are a number of others like Fred McGriff, John Olerud, Vernon Wells, Edwin Encarnacion, and Jesse Barfield all deserve a look (among others). Broadcasters Buck Martinez and Pat Tabler should also get some consideration once their careers are over, and there are certainly other non-players who could find their way in.