Toronto Blue Jays News
Toronto Blue Jays: Rogers Center to undergo renovations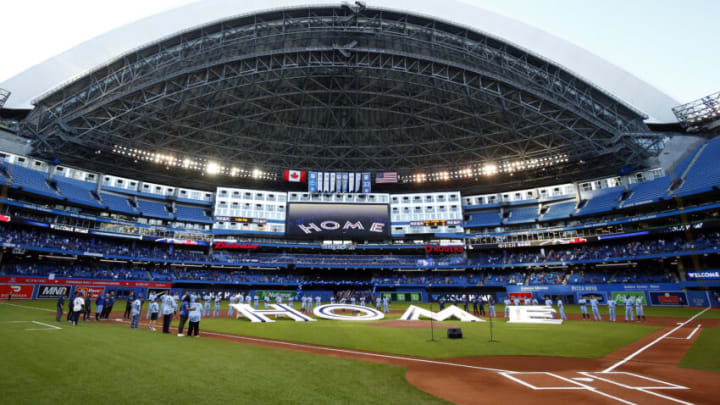 TORONTO, ON - JULY 30: The Toronto Blue Jays line up behind a 'Home' sign to commemorate their first home game in Toronto this season prior to a MLB game against the Kansas City Royals at Rogers Centre on July 30, 2021 in Toronto, Canada. (Photo by Vaughn Ridley/Getty Images) /
As per recent news that first came from Sportsnet's Shi Davidi, the Toronto Blue Jays will be renovating the Rogers Center in the near future, with a cost up to approximately $250 million.
Over the past few years, we've heard lingering rumours of the possibility of a new stadium for the Blue Jays to call home.  Baseball critics, writers, and professionals across the league have voiced their opinion regarding what was formerly known as "The Skydome". Critics have commented on the structure itself, along with the age, the physical makeup, and aesthetics.  Fans and baseball heads have called for a demolition and relocation for the stadium.  Obviously, Rogers Communications Inc., the Toronto Blue Jays and the City of Toronto have different ideas.
Like most Toronto Blue Jays fans, I've cherished this building as a second home, a safe-zone of my childhood that holds various experiences, baseball and family wise.  My father was a long-time Rogers Employee, who was involved on the Blue Jays finance side.  The Skydome, at the time was almost a second office to him, and a wonderland of fun for me. Taking the subway from Kennedy Station in Scarborough, down, connecting to Union, and trekking down Front Street to Blue Jays Way and seeing the big white dome was my absolute favourite thing.  I called this stadium my office for eight years, as an employee with the Blue Jays. I also played on that field a few times.  Tearing down this stadium would be heartbreaking to Blue Jays nation.
If you were the Blue Jays, what would you change?
I took to social media and in-person conversation to ask Blue Jays followers what they would include in "Stadium upgrades".  Without expecting architectural and engineer type responses, I got some interesting and even ridiculous feedback!
Let's start with the field; grass infield is a hot topic with regards to upgrades.  We've heard the consistency of injuries possibly caused by artificial turf, and complaints by players who aren't so used to the field. I can personally agree that real grass would be better on the body and provide a nicer aesthetic visual.
The next big reaction would the cement aspect of the stadium; some call it the "Rome walls" of Toronto sports.  Better facing and structure was recommended by participants (again, non-architects and non-engineers).  Some commented on the seating; some recommended the 500 level to be bench seats and some wanted cup holder's attached to seats.  Premium seating was a topic; more premium seating was suggested along with more suites, and party rooms.  These are obviously the most minor aspects of the project.
Rumour has it that the stadium renovations could be done between Brookfield Asset Management and a company who assisted in the build of New Yankee Stadium.  It'll be fun to see what comes out of this!