Toronto Blue Jays News
Toronto Blue Jays: What foods do you want to see at the Rogers Centre?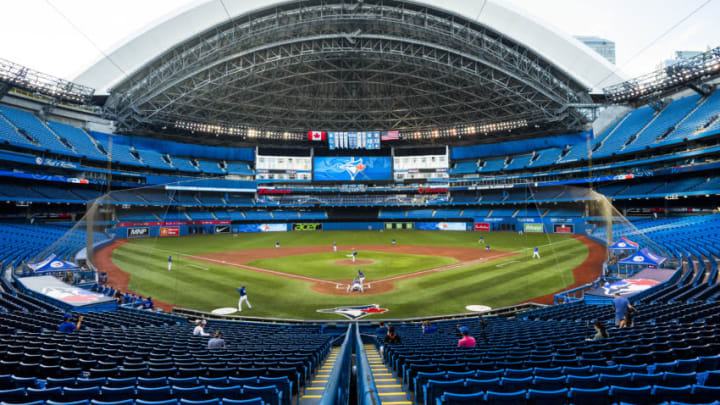 TORONTO, ON - JULY 09: Toronto Blue Jays players take part in an intrasquad game at Rogers Centre on July 9, 2020 in Toronto, Canada. (Photo by Mark Blinch/Getty Images) /
The Blue Jays season is months away, spring training is around the corner, and Ontario is in its fourth or fifth COVID-19 lockdown (I can't even count anymore…).  With the lockdown posing the inability to dine-in at restaurants, I figured I'd put this piece out there for fun!  Something very off-track from scouting; BALLPARK FOOD!
Since the pandemic gripped sports by the neck in the past 2 years, we've seen the Blue Jays play everywhere but in Toronto up until 2021.  At this time, sporting events in Ontario are not allowed to serve food and drink within their venues, with the intention of preventing the spread of new variants and all their cousins, step-cousins, and neighbours. We'll hope April 2022 brings change so that we can all enjoy an ice-cold Canadian brew along with your favourite ballpark eats!
I took a poll around my thick Blue Jays network of fans, colleagues, and all ballpark goers, and I asked, "what foods would you like to see at the Rogers Center in 2022?". This was an exciting poll, as Toronto just happens to be one of, if not the most diverse city in all of Canada.  Tons of unique cultures, which are accompanied by some amazing food!
In my years as a Blue Jays fan, employee, and constant attendee of the Rogers Centre, I enjoyed all of the grub that the ballpark had to offer from beef brisket, sandwiches, pizza, hotdogs, burritos, nachos, and more! The variety has definitely increased over the years, making a Blue Jays game similar to the Canadian National Exhibition (obviously not on that creative level, but you know what I mean!). With a diverse city, fan base, and a very diverse team on the field, I took to Blue Jays nation to find out what they'd like to stuff their face within the stands!
What foods do Blue Jays fans want to see at the Rogers Center?
1.       Sushi
The ultimate response.  Our fans want a variety of sushi, similar to the all-you-can-eat joints around the city, with platter options.  This also includes sushi burritos which was a popular response!
2.       Caribbean Selections
If you didn't know, Toronto has a HUGE Caribbean and West Indian population, made up of various Islands and nations. The Blue Jays also have a ton of players, coaches, and personnel from the Caribbean throughout the organization as well.  Responses for Caribbean food included and not limited to Jamaican beef patties, jerk chicken (with rice, and sandwiches), doubles (a Trinidadian special), pholourie (a Guyanese delight), and rotis!  These foods you'll find all across Toronto, and Blue Jays fans want this at the stadium!
3.       Shawarmas
Another HUGE response in the poll! Very easy to eat in the stands, on the concourse, pretty much anywhere! Shawarmas are a popular Arabic-originated wrap, sort of like a burrito, filled with fresh toppings; with and without meat.  This is popular across the world, with a ton of amazing spots in The Six to find amazing shawarma.
4.       Wood-Oven Pizza and Panzerottis
Don't get me wrong, our beloved Pizza Nova goes down well with an ice-cold beer (or a few); or vice-versa!  However, wood-oven pizza is a game-changer. The flavour is fresh and hit's different, and it's a popular choice of pizza no matter where you go! I mean, who really says no to pizza? Same with a panzerotti; easy to eat, not as messy, and a good choice to hold you over for a 3-hour ball game!
5.       Tacos!
No need to say much here. Get it done!
6.       Plant-based Burgers
A great option with great taste! A healthy choice that we won't regret! Fans want more of this!
7.       Options for People with Sensitivities and Dietary Restrictions; Gluten, Keto-based, Halal, Kosher, Vegan, Vegetarian, and more!
Without a doubt! We all have preferences in diet, by choice or by nature, and should have those options! I'm sure the Rogers Centre and the Blue Jays provide options on the menu to ensure you can enjoy your experience on the culinary side!
The Blue Jays will return this year, and we look forward to the food, the drinks, and a good-ol' ball game! Leave your comments if you want to see anything specific at the park!