Blue Jays Are Coming Home To Rogers Centre!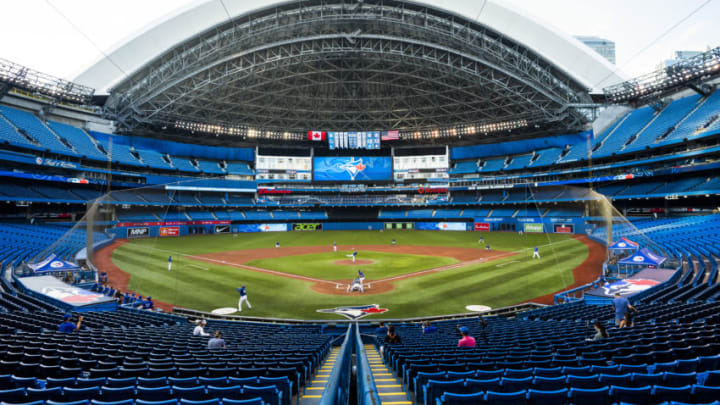 TORONTO, ON - JULY 09: Toronto Blue Jays players take part in an intrasquad game at Rogers Centre on July 9, 2020 in Toronto, Canada. (Photo by Mark Blinch/Getty Images) /
After nearly two years away from home, the Toronto Blue Jays will finally be the Toronto Blue Jays once again, thanks to a special National Interest Exemption granted by the federal government.
It's been a long time in the making. Blue Jays management has been in touch with federal government officials for weeks trying to secure this exemption, and with time ticking down to the target date set for the July 30th homestand, there were a lot of nervous moments for team officials in the last few days.
Jays Gain Special Exemption to Return to Toronto
The team had been pushing for July 30th for a number of reasons:
It's the start of a 10-game homestand; the next opportunity wouldn't have been until Aug. 20th
An easing of border restrictions went into effect on July 5th, allowing fully vaccinated individuals (that would include baseball players) to no longer have to serve a 14-day quarantine upon crossing the border into Canada
Most MLB teams have by now reached the 85% vaccination rate among players and club personnel.
According to reports, vaccinated players and team personnel on both teams will have to show a negative Covid-19 test, while still undergoing weekly testing.
Unvaccinated or partially vaccinated players and team staff will be able to serve what's being called a "modified" quarantine for their first 2 weeks in Toronto, which essentially means they will be confined to only their own residence or the Rogers Centre until the 14 day period is complete.
Sept. 29, 2019 was the last time the team was able to play in front of its home fans. A lot has changed since then:
"> The Blue Jays have played in two different "home" ballparks, one in Dunedin, FL, and one in Buffalo, NY; > They have actually played in two playoff games (losing both to the Tampa Bay Rays in last year's wild card series); They have signed two big-name, big-contract free agents, Hyun Jin Ryu and George Springer, both of whom have yet to step foot in Toronto."
Finally, 22 months— 670 days—later, Canada's Team is coming back to Toronto.
July 30th, 2021: call it Opening Day 3.0. Home Sweet Dome  for the Toronto Blue Jays.