Blue Jays: My Two Cents – Rogers Centre and Free Agent Focus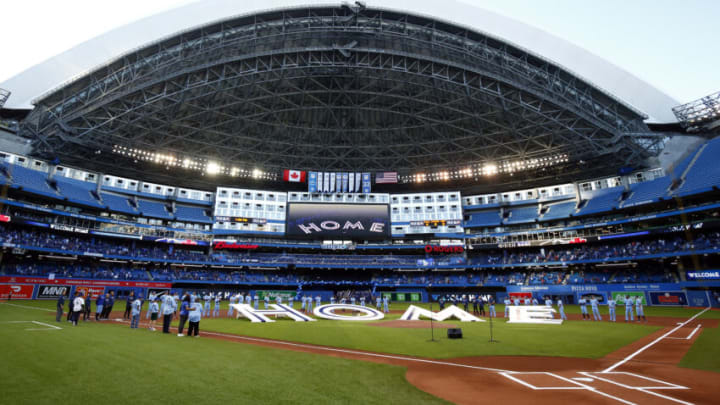 TORONTO, ON - JULY 30: The Toronto Blue Jays line up behind a 'Home' sign to commemorate their first home game in Toronto this season prior to a MLB game against the Kansas City Royals at Rogers Centre on July 30, 2021 in Toronto, Canada. (Photo by Vaughn Ridley/Getty Images) /
Ok, now before I get into my thought, hear me out. Other than refocusing the team's resources and energy in acquiring that next big impact player, besides resigning Robbie Ray, along with a pitcher to replace Matz, and a few more bullpen arms, I think the Blue Jays should stand pat until at least they can evaluate what they have especially when playing a full season at the Rogers Centre.
Would the Jays have made the playoffs if they played all their home games at the Rogers Centre? I would think we all could agree on yes. When the Blue Jays were finally able to play at the Rogers Centre, they flat out won games, posting a 25-11 record that comes to a .694 winning percentage. Playing out of their other home(s) this season, they went 22-22, which leads to a .500 winning percentage, no grounds gained, no grounds lost theoretically.
The Blue Jays missed the postseason by one win. Had all home games played out of the Rogers Centre, there is no reason to believe they would not have made the postseason.
Let's dig a little deeper, shall we?
The Blue Jays should focus on re-signing Ray, a pitcher to replace Matz, and bullpen arms. Save trade assets while playing a full season at the Rogers Centre.
Let's take a look at their record against teams that did make the playoffs. The Jays had a winning record against the Yankees (11-8 .579% ) and losing records against Tampa Bay ( 8-11 .421%), Boston ( 9-10 .474%), Houston ( 2-4 .333%), and Chicago ( 3-4 .429%). An overall record of 33-37, a .471%. Not bad, but not great either, oh and did I mention that the Jays were also without the services for their prized free agent George Springer for 84 games this season? Well, we will have to come back to that shortly.
Once the Jays started to play at home, their natural home, not Buffalo, not Dunedin, but home in Toronto, their record against the Yankees (1 – 2 .333%), Tampa Bay ( 2 -1 .666%), Boston (2 – 1 .666%), Chicago ( 2-2 .500%) with no games against Houston in Toronto. Why is this important? Simple, and I am sure we have all heard this 1000 times over the season, even the bulk of their home games against teams that made the playoffs felt like road games. Playing these teams in cities that should be your home-field advantage is not the same as playing at your actual home park.
The record would have looked a lot more favorable for the Jays had these key games been played in the confines of the Rogers Centre, including having our impact-free agent for even half the games that Springer had missed. If I were Atkins, I would hold my trade assets unless to upgrade the pen, put all of their energy into re-signing Ray and watch how things start to unfold.
With the plethora of catchers that the team has right now, that hot commodity will only be more desirable as the season progresses and teams start to feel the pinch of the lack of catchers available in free agency. Please sound off in the comments, do you agree, disagree, and if you disagree, who do you think would be the best free-agent target for the Jays this offseason.
That's my two cents!