Blue Jays: Springers finally back, so who's the odd man out?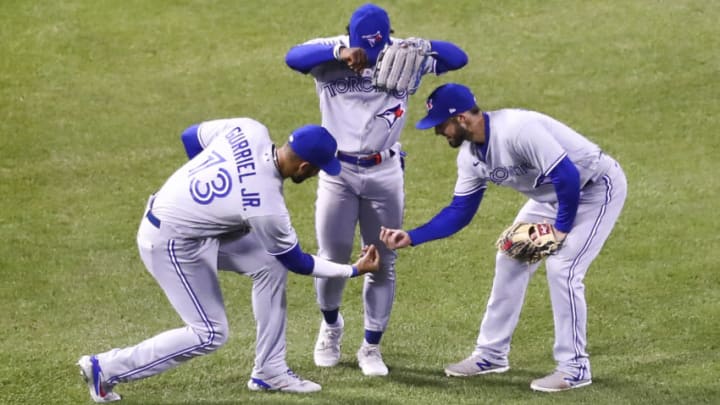 BOSTON, MA - APRIL 21: Lourdes Gurriel Jr., Jonathan Davis and Randal Grichuk #15 of the Toronto Blue Jays react after a victory over the Boston Red Sox at Fenway Park on April 21, 2021 in Boston, Massachusetts. (Photo by Adam Glanzman/Getty Images) /
With the debut of George Springer on Wednesday night, followed by the somewhat surprising demotion of Rowdy Tellez, the Blue Jays outfield group will need to be addressed. For the time being, Springer will be getting his at-bats as the designated hitter to take some stress off of that quad he appears to still be nursing but the Jays didn't fork over $150 million for the three-time all-star to be their DH, he will be playing center field for this club shortly.
When it became known Springer would be added to the Blue Jays roster ahead of Wednesday's contest against the Nationals, I'm sure I wasn't alone in thinking that Jonathan Davis and his .091 batting average would be the odd man out (he has now been optioned with Hernandez returning). Surprisingly, it was lefty slugger Rowdy Tellez that was optioned to the Blue Jays alternate site in a move that was made to free up DH at-bats for Springer. Even with Tellez's demotion, the Jays outfield remains crowded and it feels as though Davis being optioned is inevitable.
Davis aside, Charlie Montoyo still has four outfielders he'd like to have in the starting lineup every day. For now, the Tellez move solves that problem, but it's not a long-term solution. The club will have to make a decision sooner rather than later about who will fill out those corner spots once Springer is 100%.
Randal Grichuk has hit his way into a starting spot this year posting a .828 OPS in 80 AB's. As long as keeps hitting the way he has been, his spot in the lineup isn't in danger even with Springer's return. Teoscar Hernandez is coming off a career campaign where he brought home a Silver Slugger and was arguably the team's offensive MVP. While he's had a slow start to this year in limited at-bats, he's in no jeopardy of losing his job. That leaves Lourdes Gurriel Jr.
More from Toronto Blue Jays News
The youngest of the three, Gurriel was regarded as one of the best contact hitters on the roster last season but has struggled immensely to begin the season. He's getting on base at a .234 clip in 71 AB's this year and has been nothing short of a liability in left field. While early-season struggles should not be the basis for making long-term decisions about the club's outfield core, the
defensive struggles are nothing new for Gurriel who has posted negative outs above-average ratings in each of the past three seasons. Unless he can become Manny Ramirez and hit his way out of all of his shortcomings on the other side of the ball, the poor defence will come into focus.
Gurriel isn't set to become a free agent until the 2025 season and as a promising player, the club will surely allow him to prove himself but with the arrival of Springer, his leash has gotten shorter. Davis' optioning will buy Gurriel some time but it'll be up to him to secure his spot long term.
The other factor at play in this outfield mix is Cavan Biggio, who has been seeing time in right field after a shaky start at third base. Biggio is serving a utility role that will likely see him getting most of his starts in the infield, however, his lackluster defence at third may lead to other outfielders playing time being cut if he has to see more time in right field.
Ultimately, these types of situations have a way of sorting themselves out, whether it be through injury or poor performance. With that said, trading an outfielder for some pitching wouldn't be the worst idea, and come trade deadline day we may very well be looking at a different situation in terms of who's the odd man out. Until then, whoever's hitting will have a spot in the lineup, and whoever's not, well, we'll likely have to wait until July to see how that plays out.