Blue Jays: Canadian rock icon isn't happy about the radio broadcast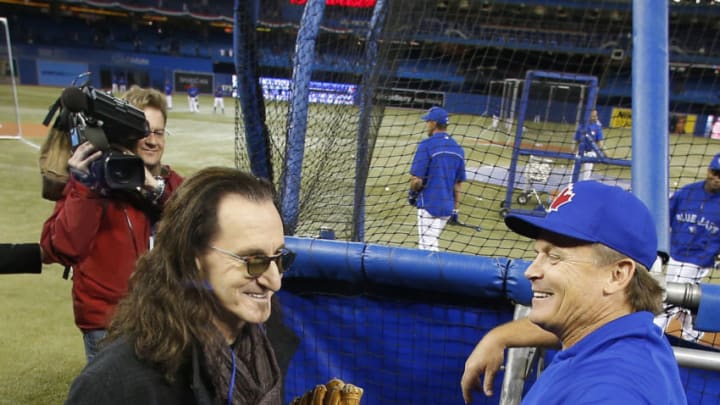 TORONTO, CANADA - APRIL 02: Rush singer Geddy Lee talks to manager John Gibbons #52 of the Toronto Blue Jays during batting practice before the start of MLB game action on Opening Day against the Cleveland Indians on April 2, 2013 at Rogers Centre in Toronto, Ontario, Canada. (Photo by Tom Szczerbowski/Getty Images) /
For all of the great things the Blue Jays did over the winter, at least one decision has really upset fans of the team, including a Rock and Roll legend.
Those that have followed the Blue Jays closely over the years are likely aware of some of their celebrity supporters, including Rock and Roll Hall of Famer Geddy Lee. The 67-year-old was recently quoted talking about the decision to simulcast Blue Jays games over TV and radio this year, and ditching the dedicated radio format that so many of us love.
Sure, it'll save a few bucks, but the fan base is understandably upset with the decision and that includes Lee. Check out the quote below from a tweet from Fox News' Jared Max.
For those of you that follow me on Twitter, you're likely aware that I whole-heartedly agree with Geddy Lee on this one, and I think that ownership has made a big mistake here.
As the legend talks about in the tweet, broadcasting for radio is a different animal than it is on television, and with all due respect to Buck Martinez and Pat Tabler, it's pretty clear that the new task isn't exactly at the forefront of their minds. That doesn't mean they can't get better as the season goes along, but it's a shame they have to at all.
For a franchise with a rich radio history that includes the likes of "Tom & Jerry" (Tom Cheek and Jerry Howarth), to the new teams including Ben Wagner and Mike Wilner, who had really grown on me, I still can't understand this decision, and part of me still expects it to be reversed.
In the meantime, I'll keep occasionally griping about it, and I'm more than happy to share when someone as cool as Geddy Lee agrees with me.