Blue Jays: Why the radio broadcast decision matters to so many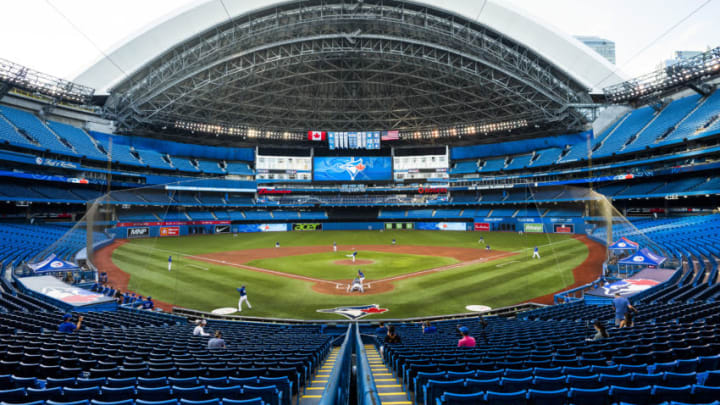 TORONTO, ON - JULY 09: Toronto Blue Jays players take part in an intrasquad game at Rogers Centre on July 9, 2020 in Toronto, Canada. (Photo by Mark Blinch/Getty Images) /
On Friday it was announced that the Blue Jays would become baseball's only team without a dedicated radio broadcast. What were they thinking?
After such a productive offseason for the Blue Jays, I was and still am getting very excited for the 2021 schedule to get underway. That said, yesterday's announcement really threw cold water on my attitude.
The Blue Jays will become baseball's only team without a dedicated radio broadcast, and I couldn't disapprove of the decision any more than I do. Instead of hearing Ben Wagner, Mike Wilner, and others on the radio, we'll be fed the same audio that is on the TV broadcast. To be fair, there's nothing wrong with the TV team, but it's just not the same, especially when their broadcast isn't intended for a strictly audio audience.
Radio broadcasts are a different animal, and the Blue Jays have had a long history of great work in that particular booth. Part of the fabric of my childhood was listening to the legendary Jerry Howarth, and the late great Tom Cheek. Even as new teams have taken over the role, radio has continued to be a great medium to catch a Blue Jays game. In fact, there were many nights when I preferred to take the game in that way.
More from Jays Journal
For a franchise that likes to play on nostalgia as much as it does, this is a particularly confusing direction. Something about tuning the radio to a Blue Jays game takes me back to my childhood, riding around in my mother's old boat of a car, or sitting at the kitchen table and listening to the radio with my Dad, even with the game on in the background.
I realize that the media industry has had a difficult here, but this decision feels short-sighted, plain and simple. Based on the reaction that Blue Jays fans have spewed all over the internet for the last day or so, it's obvious that I'm not the only one who feels this way. It also makes a little more sense why Sportsnet cut Mike Wilner loose this winter, as they apparently no longer needed a radio staff.
It's clear that they're trying to save some money with this decision, even if the Blue Jays claim that part of their rationale was, "in an effort to minimize travel and closely adhere to team, league, and government protocols related to the pandemic" according to Gregor Chisholm's article in the Toronto Star yesterday. I don't think anyone is buying that nonsense.
And the reactionary part of me wants to say, "fine, I just won't tune in then!", but that's another unfortunate factor. With Rogers having near complete control over Blue Jays content, I guess that means I'll be listening to Buck Martinez as I drive down the highway.
As much as I've grown to like the TV broadcast team, it just won't be the same.