Toronto Blue Jays 2020 Report Card: Thomas Hatch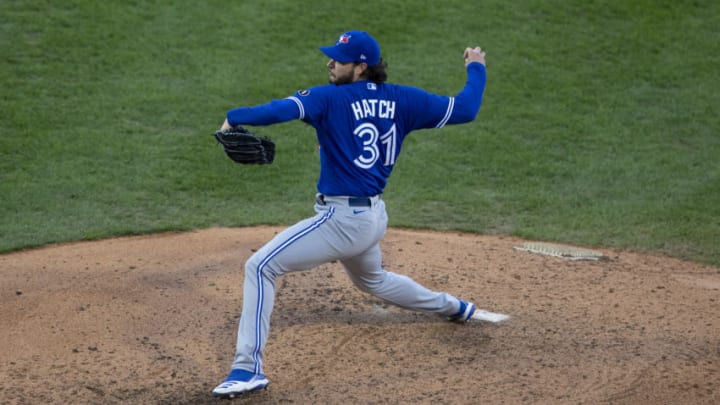 PHILADELPHIA, PA - SEPTEMBER 20: Thomas Hatch #31 of the Toronto Blue Jays throws a pitch against the Philadelphia Phillies at Citizens Bank Park on September 20, 2020 in Philadelphia, Pennsylvania. The Blue Jays defeated the Phillies 6-3. (Photo by Mitchell Leff/Getty Images) /
Jays Journal contributors will be handing out Blue Jays report cards based on the 2020 season. Today we'll take a look at Thomas Hatch. 
Rookie right hander Tom Hatch made the Blue Jays Opening Day 2020 roster out of the abbreviated July training camp, after spending the first two and a half months of quarantine keeping his arm in shape by throwing in to a net.  He may want to continue that regime this offseason given it lead to Baseball America naming him as the Blue Jays 2020 rookie of the year.
His outstanding rookie campaign included a 3-1 record and 2.73 ERA, 4.14 FIP and 1.18 WHIP with 23 strikeouts over 26.1 innings, almost all in relief. As Baseball America notes, he did everything "from starting a game to getting high-leverage outs late in ballgames. He added two shutout innings in the playoffs."
Hatch, who turned 26 in September, was drafted by the Chicago Cubs in the 3rd round of the 2016 MLB June Amateur Draft from Oklahoma State University. The Blue Jays acquired him from the Cubs for reliever David Phelps and cash on July 30, 2019 and added him to the 40-man roster last year ahead of the Rule 5 draft.
Used exclusively as a starter in the minors, Hatch pitched in AA ball in both 2018 and 2019 before making his MLB debut this year. He played the majority of his 2019 season with the Cubs AA affiliate, the Tennessee Smokies, before joining the New Hampshire Fisher Cats post trade where he pitched to a 2-3 record and 2.80 over six starts and 35.1 innings, with a 0.764 WHIP and 34 strikeouts versus only two walks, drawing the attention of the Jays brass.
As Baseball America notes:
"At the behest of then Double-A New Hampshire pitching coach Vince Horsman, Hatch began throwing his changeup more often, and it paired brilliantly with a high-spin fastball that averaged nearly 96 mph this season.Along with a putaway slider, Hatch immediately found success and was an arm to watch coming into spring training, before the coronavirus pandemic hit. His expectations for 2020 "changed by the day.""
2020 Stats
With 403.2 minor league and 176.1 NCAA innings in his arm before this year, Hatch certainly looked ready for the show. Many long-time Jays fans note an uncanny similarity in his delivery and bull-dog demeanour to Jay legend and Cy Young winner Pat Hentgen from the 6'1″, 205 lb righty.
Not to set expectations too high, but after pitching coach Pete Walker called him "quietly electric" in spring training, Hatch seemed to fit right in with the young club.
Through his first 18.2 MLB innings over 11 appearances, Hatch gave up only three hits – two singles and a homer – off his mid-90s four-seam fastball, which he could ramp to 98 mph.
What seemed to help Hatch miss bats in addition to his above average velocity (95.5 mph versus average MLB fastball velocity for relievers this season of 94 mph) is how tightly he spins it. Hatch's average of 2,600 revolutions per minute puts him among MLB's top-20 fastball spinners this season, in the 96th percentile of all MLB pitchers.
According to Statcast, in 2020 Hatch relied on his four-seam fastball 46.9% of the time, establishing his 96 mph heat, and then using his off-speed stuff, including his 85.7 mph changeup 25.2% of the time, and his slider 20.6% of the time.
Arden Zwelling wrote about how Hatch relies on two types of sliders, including:
"a bigger, slower slider he'll throw with more depth when he wants a swing-and-miss… and then there's a tighter, firmer slider he'll use in the zone to try to get weak contact or called strikes… that might as well be called a cutter."
Grade 
With only 26.1 MLB innings to date, it's hard to tell exactly where Hatch belongs in 2021. GM Ross Atkins included him in a group of starting options for 2021.
Depending on starting pitching acquisitions made this offseason, Hatch could be stretched out in Triple-A. Or he could be used like he was in 2020 in a swing role as a spot starter and middle reliever on the MLB roster, with some high leverage opportunities as well.
Would you like to see Hatch starting at AAA to stretch out his arm as starting depth, or in a swing role opening and relieving with the Blue Jays?
Overall Grade: A