Toronto Blue Jays News
Blue Jays: A competition is brewing for the closer role next season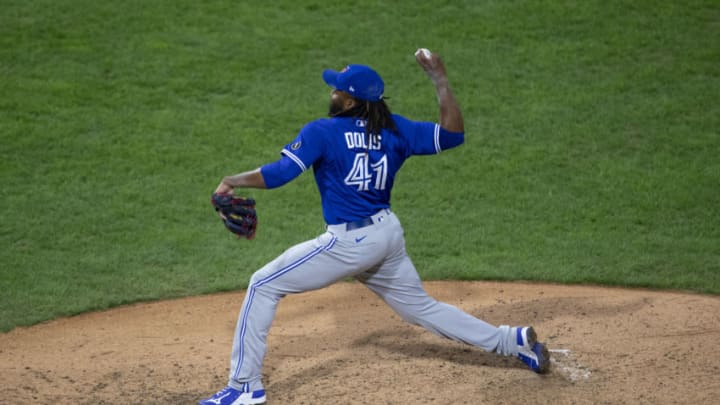 PHILADELPHIA, PA - SEPTEMBER 18: Rafael Dolis #41 of the Toronto Blue Jays throws a pitch in the bottom of the sixth inning against the Philadelphia Phillies during Game Two of the doubleheader at Citizens Bank Park on September 18, 2020 in Philadelphia, Pennsylvania. The Phillies defeated the Blue Jays 8-7. (Photo by Mitchell Leff/Getty Images) /
The Toronto Blue Jays employed a very successful bullpen this season, and with some key members heading to free agency and the long term injured list, the closer role will be up for grabs when the 2021 campaign rolls around.
With the 2020 season over, the focus is now on the off-season for the Toronto Blue Jays and their young roster.
In terms of the bullpen (not including the starters turned relievers), there are a few key pieces returning to the Blue Jays roster (as per Spotrac) in the form of Rafael Dolis (club option), A.J. Cole, Ross Stripling, Ryan Borucki, Jordan Romano, and Shun Yamaguchi. Ken Giles and Anthony Bass are both unrestricted free agents this off-season, and the chances of both returning are up in the air. Giles just underwent Tommy-John surgery and will most likely miss all of next season, while Bass could land with another team this off-season after the impressive year he had. When Giles went on the injured list this year, Bass carried most of the load in terms of save opportunities with seven, followed by Dolis at five, Romano at two, and Cole and Stripling picking up one each.
Hypothetically, if Bass does not return to the team next year, Dolis and Romano will be the frontrunners for the closer role in 2021 (if the Blue Jays don't pick up Dolis's option, I would be pretty flabbergasted to be completely honest). Cole is another intriguing option for the closer position, but I feel that he is more suited for the middle relief position that he had this season and isn't necessarily the type to be a closer (feel free to disagree).
More from Jays Journal
Rafael Dolis started his career back in 2011 with the Chicago Cubs, wracking up a 5.48 ERA and 25 strikeouts over 44.1 innings during an up and down three years in the windy city. Dolis would then take his talents to Japan, where he would pitch from 2016 to 2019 for the Hanshin Tigers. During his four seasons in the Nippon Professional Baseball league, Dolis would craft a 2.49 ERA with 227 strikeouts, also wracking up 96 saves while giving up only six home runs and 61 walks in 206 innings.
After a rough 2019 campaign, Markham, Ontario native Jordan Romano made the opening day roster in 2020 and he wasn't going to waste this opportunity. He wouldn't give up an earned run until his 10th appearance (9.0 innings) and would go on to finish the year with a spectacular 1.23 ERA, 0.866 WHIP, and 21 strikeouts over 14.2 innings. Romano would unfortunately not have a storybook ending to his 2020 season, as he would suffer an injury to his right middle finger, an injury that would shut him down for the rest of the season.
Both Dolis and Romano would be great candidates to fill in as the closer for next season and there will most likely be a very competitive competition for the role barring an acquisition via trade or free agency.
Comparison wise, Romano just barely squeaked out better numbers than Dolis in terms of average (.154 vs.193), OBP (.228 vs. .316), and OPS (.517 vs. .554), with the Dominican Republic native having a better slugging percentage (.277 vs. .288) this year. Dolis did give up fewer home runs than Romano (1 vs. 2) even though he pitched twice as many innings, while Romano had a better strikeout and base-on-balls percentage (although he pitched fewer innings). In terms of experience, Dolis does have more innings under his belt and does have closer experience from his time in Japan, but Romano does have better control and accuracy, which could bode well in the closing role.
At the end of the day, both Romano and Dolis would be great options as the closer next season and you could argue analytics and stats as to who would be better in the role until you are blue in the face. Unless another established pitcher is brought in this off-season via trade or free agency, there will most likely be a very interesting competition next season for who will occupy the closer position, and the stronger pitcher out of the starting blocks will be most likely given the first crack. Whether they stay in that role all season will depend on how they pitch, as any falter could see a switch partway through the year.
Who do you think will be the closer when opening day rolls around next year?