Blue Jays: Don't bank on regular season games in Canada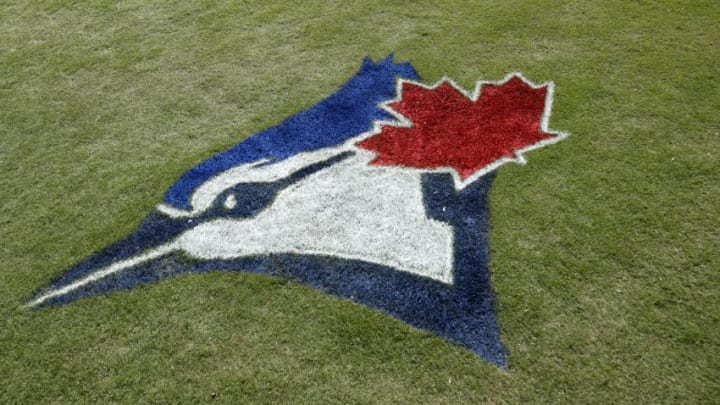 DUNEDIN, FL - FEBRUARY 24: General view of the Toronto Blue Jays logo painted in the grass prior to a Grapefruit League spring training game against the Atlanta Braves at TD Ballpark on February 24, 2020 in Dunedin, Florida. (Photo by Joe Robbins/Getty Images) /
The Blue Jays finally received permission to host their spring training north of the border at the Rogers Centre. However, don't bank on it happening for the regular season.
The Blue Jays got the news they had been waiting for on Thursday, receiving an exemption letter from the Federal government of Canada to host their spring training in Toronto.
As you've likely heard by now, the Blue Jays plan to use the Rogers Centre as a bit of a biosphere for the team, as the stadium after has a hotel attached to it. It will allow the players to quarantine in one location, and will be a requirement of their approval.
The hope is that they'll be able to receive similar approval to host their regular season games north of the border as well, but that's a very different set of circumstances, and will likely be a very difficult thing to get approved.
More from Jays Journal
What's the difference? Well, for a spring training to take place at the Rogers Centre, we're talking about one team, and one staff to manage and keep track of. That could prove to be enough of a challenge as it is, let alone when you start introducing several other groups of players.
One of the biggest hurdles for the Blue Jays to be able to host their spring training in Canada was bypassing the mandatory 14-day quarantine period set by the Federal government. They've been allowed to disregard that, only because they're able to set up an environment that keeps them away from the public. It's likely a precedent that the government doesn't really want to be setting right now, even if it makes sense that they'd be allowed.
However, when it comes to bringing other teams across the border, there are a lot variables to consider. It's not just that it's a whole new set of people to keep track of either.
For example, let's say the Red Sox make a trip to the Rogers Centre for a home series for the Blue Jays. They will more than likely have been in their home park sometime in the two weeks prior to the road trip, and also will have likely travelled to play some away games. Depending on the state that those games are played in, there are varying levels of restrictions for the public. I'm sure the league will try to implement as many restrictions on the players as they can, but these are still adults that make their own decisions (and have varying belief systems), and they're exposed to their families as well.
The same would go for the Blue Jays when they were returning to the Rogers Centre for a home series after having been on the road. As we've seen, the Canadian government was pretty reluctant to approve the exemption for the Blue Jays, even for spring training. It's one thing to have them all congregate in Dunedin, enter quarantine and undergo testing, and then come to Canada as a group. Can you maintain that level of safety every single time, while navigating what will likely be a very busy regular season schedule?
When you add the discouraging Covid-19 numbers in the United States to the equation, I honestly have a hard time seeing the Blue Jays being able to get approval to host their regular season games in Canada. I could easily be wrong, but I'm sure the front office is preparing for Plan A, B, C, and who knows what else they're considering right now. At this point, they almost have to be prepared for anything, including being turned away from being able to host the regular season in Toronto. As always, we'll see what happens.