Blue Jays: The difference between the MLB and NHL proposals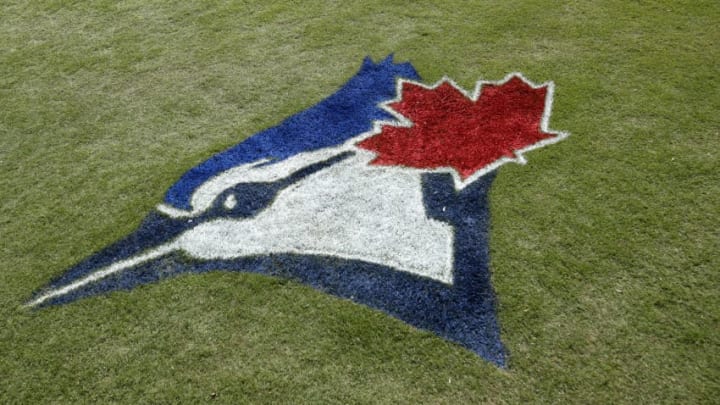 DUNEDIN, FL - FEBRUARY 24: General view of the Toronto Blue Jays logo painted in the grass prior to a Grapefruit League spring training game against the Atlanta Braves at TD Ballpark on February 24, 2020 in Dunedin, Florida. (Photo by Joe Robbins/Getty Images) /
Although nothing is official, it sounds like NHL games may be hosted in Canada this year. What's the difference between that proposal and the Blue Jays at the Rogers Centre?
Last night we got word that the Blue Jays have reportedly been granted permission to host their spring training at the Rogers Centre in Toronto (reported by the Toronto Star), an answer they've been seeking from the Federal government for a few days now. It's not the full approval they're seeking, but we'll see what happens with that in the coming days, as the Blue Jays also hope to host their home games in Toronto and use the Rogers Centre and its attached hotel as a quarantined environment from the public.
While we wait to find out where they'll play this year, some fans are left wondering why the government might have an issue with this plan. That question was ramped up a little bit more when spring training was approved, but the regular season schedule remains in limbo. Adding to it further, there are strong rumours that the NHL could use a Canadian city or two to host their modified post-season schedule, and that looks even more likely as places like Arizona and Las Vegas are seeing surges in Covid-19 cases again.
With all that said, what's the difference between what the NHL is proposing and what the Blue Jays are hoping to see happen?
More from Jays Journal
There are a few significant differences, and the biggest factor is actually travelling over the Canada-US border. I don't know for certain, but I'm sure that's why the Blue Jays have been able to (reportedly) gain approval to have their spring training in Toronto, but not yet for the regular season schedule. In order for them to have their spring training at the Rogers Centre, we're not talking about different players coming and going, and that's a big difference. They would be able to quarantine their own players at the facility, and the biggest hurdle, the mandatory 14-day quarantine period, isn't as big of an issue.
The same goes for the NHL proposals that are being talked about right now, at least as far as the hub city model that we're anticipating. For example, let's say that Toronto was one of the host cities. Once players have entered into Canada, they'll be here for as long as their team is still in the playoffs. They'll still be subject to restrictions of course, but the big difference is they won't have come from another country a few days before they're expected to hit the ice.
Being Canada's only MLB team has certainly had its benefits before, but in this case the Blue Jays are meeting some new and interesting challenges. In order for them to host their AL East (and now NL East) division rivals, they'll need the government to make an exception on their 14-day quarantine period, and I'm not confident that's going to happen at this time. I could be wrong of course, but the way things are going right now, I'm not very confident.
For now, the Blue Jays will continue to wait on the Federal government's decision, and are likely scrambling to make a back-up plan or two in case things don't work out. Unfortunately the Covid-19 numbers are surging in Florida right now, and with Dunedin being the home of the Blue Jays' spring training facility, there are plenty of obstacles around playing their home games there as well.
While I can certainly understand why the Blue Jay players and management would want to have their home games in Toronto this year, unfortunately there's a pretty big difference between their proposal and what the NHL is looking to do. For that reason, it's hard to see them playing in Canada this year, but I guess we'll have to wait and see.