Blue Jays: Ten questions with prospect Maverik Buffo – Part 2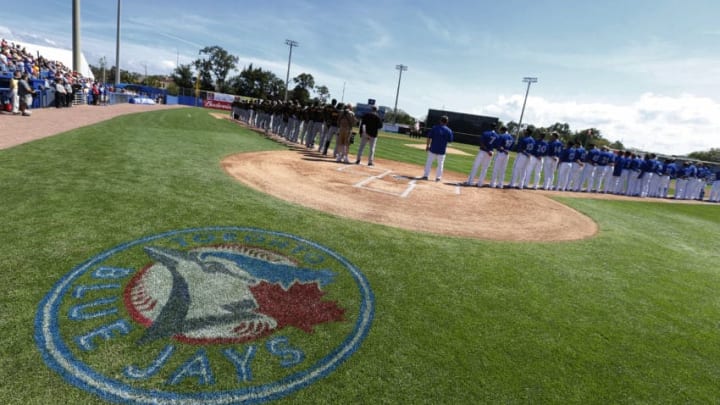 DUNEDIN, FL - MARCH 3: General view as the Toronto Blue Jays prepare to host the Pittsburgh Pirates in the spring training opener for both teams at Florida Auto Exchange Stadium on March 3, 2015 in Dunedin, Florida. (Photo by Joe Robbins/Getty Images) /
The following is the second half of an exclusive interview with Maverik Buffo (@Buffoooo32) of the Dunedin Blue Jays. Part I can be found here.
Hayden Godfrey: If a Blue Jays fan were to do a quick Google search on your name, a lot of the top results would have your name and BYU (Brigham Young University) mentioned in the same headline. You're a product of that wonderful institution, as are Hall of Famer Jack Morris and three-time MLB All-Star Rick Aguilera. Every player gains something from each step of their development – what did you gain from playing under Mike Littlewood and the rest of the Cougars staff?
Maverik Buffo: [It's a] very, very competitive atmosphere, the will and the want and the determination to win is what sticks with me now. All growing up I've had that, but, really with head coach Mike Littlewood and that coaching staff, Trent Pratt and all them, they want to win. That's their goal, they will do whatever it takes to win and I love that mentality. It's an outstanding program and we had a heck of a run my junior year, we did really well in my sophomore year, things didn't quite finish up right for us, but that program is awesome and they really want to win, and that's what I've taken with me to the next level in professional ball is figuring out what it takes to win and how I can keep doing it.
HG: Not to dwell too much on past issues or problems, but you could've gone back to BYU and played through your senior year and ultimately improved your draft stock. Blue Jays fans are certainly thrilled that you didn't because you could've possibly been drafted by a different organization, but why did you decide to turn pro instead of going back for your senior year?
More from Jays Journal
MB: I felt like I was ready for the next chapter in my life, ready to chase that dream that I've had since I was a little kid, and I thought I got everything I could out of BYU, like I said I always want to learn so I was ready to push myself to the next level and show people that "hey, I'm here, I'm ready to learn and I'm ready to win" and I want this and I'm gonna do whatever it takes. As a late round guy, I'm here to prove people wrong and show them that I just need the opportunity and I'm going to do what it takes to win. I love [BYU], have nothing against them, loved my time there, still go back there in the offseason and work out, spend time with the guys, see the coaches, work camps. I just felt that I was ready to move on.
HG: Your scouting report notes that your fastball touches 95 MPH, and that is incredible, especially considering you're a younger guy and you're still in the lower minors. Was velocity something that you sort of just stumbled upon and went with, or did you continuously develop and train that speed as you progressed as a pitcher?
MB: Sophomore going into junior year in high school, I was throwing 85, 86, 88 and I went to a training program up in Salt Lake City and kind of went about things up there and tried to train really hard, and that's how it eventually picked up. I needed to figure what it was going to take to get to college or get to the next level. That's what it was, working hard at a training program and stuck with long toss and lifting weights and obviously as my body got bigger and I got stronger, velocity picked up and I'm just trying to stay with it.
HG: Many Blue Jays fans have no doubt seen your name and stats splash up on their Twitter timelines and minor league reports, but for many of them, this might be their first time hearing you and their first time getting to know you, not so much as a pitcher, but as a person. With that said, what's one thing you want Blue Jays fans to know about Maverik Buffo?
MB: That I'm a hard worker. I want to win and I'm here to do my job and have no questions asked. I'm definitely a hard worker.
HG: Personally, I'm hoping this is not the last time you and I speak, I'm wishing you the best of luck for the rest of your career and for the rest of this season. What is your goal for the end of this 2018 baseball season?
MB: Just to finish strong and stay consistent, I think that's the biggest thing to show as a starter, is to be able to withstand the length of the whole season and go in the playoffs and be able to throw a lot of innings, and like I said just stay strong and stay consistent while doing it.
Jays Journal wishes Maverik the best of luck for the season and his career. I would like to extend my personal thanks to Maverik Buffo and the Dunedin Blue Jays for allowing me to conduct this interview.