Blue Jays: Ten questions with prospect Maverik Buffo – Part 1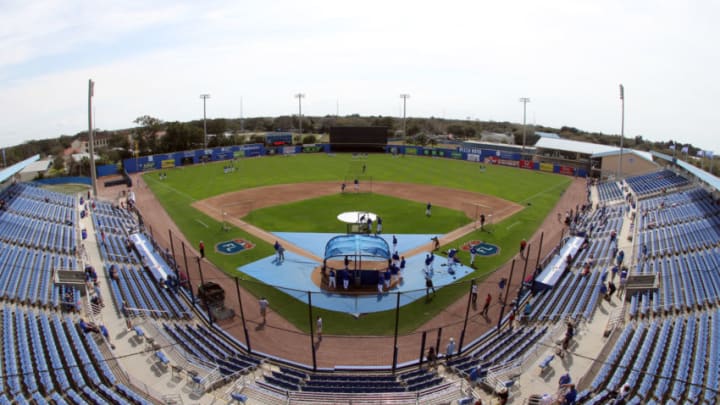 LAKELAND, FL- MARCH 02: A general view from the spring training home of the Toronto Blue Jays before the game against the Philadelphia Phillies at Florida Auto Exchange Stadium on March 2, 2016 in Dunedin, Florida. (Photo by Justin K. Aller/Getty Images) /
Rising Dunedin Blue Jays pitcher Maverik Buffo sat down with Jays Journal to talk about his season, his early career and his future with the Toronto Blue Jays. Currently pitching to a 2.70 ERA, the Brigham Young University product is helping the Dunedin Blue Jays maintain a dominant lead in the Florida State League North Division.
Hayden Godfrey: Maverik, thank you so much for joining me this afternoon. The Dunedin Blue Jays pitching staff has been spectacular this season. Patrick Murphy, Angel Perdomo, Yennsy Diaz and yourself have really been an impressive group of pitchers. What's it like, being a bright young arm yourself, being surrounded by so many stellar pitchers?
Maverik Buffo: It's an awesome experience, not only being here but being around them, even with Zach Logue as well, he's my throwing partner and together we kinda push each other to work on pitches and master pitches that we know that "hey we struggle with this, let's work on this today".
And the same thing, you watch [Patrick] Murphy pitch, you watch Yennsy [Diaz] pitch, any of them, you can learn so much from each guy and I think the kind of mindset we take to each other is – how can we learn, how can we get better and then it's a lot of fun. You look at, say [Connor] Eller pitches six innings and throws a shutout on three hits, you wanna go six innings, shutout on two hits. You push each other to get better and [Mark] Riggins, our pitching coach, I can't tell you the amount of stuff I've learned in the matter of time that I've been here, it's incredible to be surrounded by these guys and to be learning so much.
HG: Personally, I've had the pleasure of visiting Dunedin Stadium, where your current team plays their home games, and it is a treat to take in a ballgame there. What have your experiences been like pitching in a ballpark that, for Blue Jays fans, has quite a bit of history given the Spring Training action that goes on?
MB: It's a great experience for sure to be there and play in that stadium. It's so cool to think in Spring Training all the big leaguers are here and the place is packed. Granted, it's the Florida State League, we don't get too many fans because it's so hot, but still, it's an awesome experience, it's an awesome park and it's a great environment for us.
HG: Maverik, a lot is made about young players, especially pitchers, transitioning from one minor league level to another, there's been talk of struggles when going up a level. You've had no such problems, cutting your ERA almost in half since jumping from Lansing to Dunedin, which is High-A. How was that transition for you?
MB: My biggest goal was I wanted to learn as much as I can, from last year right after the draft, to this date now and going forward. I always wanna learn, I wanna figure out how I can get better and that's just the approach I've taken no matter where I went. How can I get better? I wanna ask questions, I want help and how can I push myself to get to the next level. I've tried to take the same approach no matter where I'm at and I'm not trying to make it bigger than it is, it's awesome to be promoted, but I wanna keep going.
Here, now, I'm just enjoying my time, trying to learn, trying to get better and that's the biggest thing that's helped me so much is coming in here, basically going "this is what I got, but how can I get better"? Riggins has been outstanding, he's really helped me a ton, we've been really getting after it this week.
HG: Speaking of learning and sort of conversing with other players, which is excellent and one should always prioritize – your team is a very popular spot for rehabbing Blue Jays major leaguers. Since you've been in Dunedin with the D-Jays, Jaime Garcia and Vladimir Guerrero Jr. both made rehab stops with your squad. Have you gotten the chance to speak to any of the big leaguers who have come through Dunedin on rehab stops? And if so, how has that helped you understand what it might take to a big leaguer one day?
More from Jays Journal
MB: Whether it's a big leaguer, whether it's coaches, whether it's a teammate here, I'm just trying to find a way to get better. The big leaguers haven't been around too much, when Jaime [Garcia] was here, it was cool, I got to talk to him, I didn't have a ton of time to pick his brain, he was sort of in and out, but it's an awesome experience to even be there to watch him and see how they go about their business, how they handle things and try and learn from them through watching them do their job.
HG: This one's short and sweet – who is your all-time favourite Toronto Blue Jay? Past or present.
MB: That's a tough one, I'd probably have to go with Danny Ainge, [he] was a Blue Jay a while back and he's also a BYU guy.
Stay tuned for the second half of this interview, where I ask Maverik about his college career at Brigham Young University and his goals for the rest of the season.