Blue Jays blockbuster with Padres could shore up offseason needs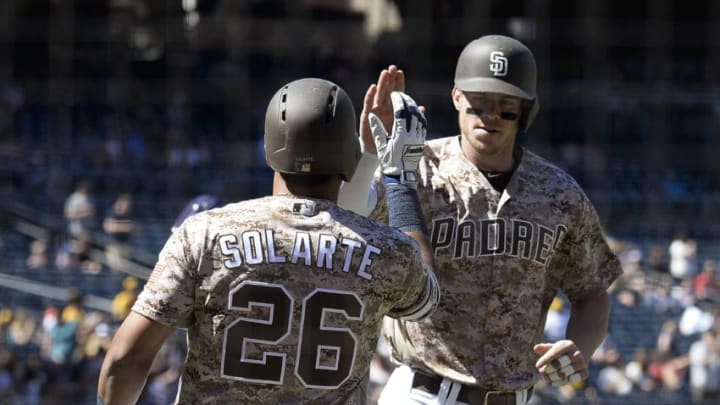 SAN DIEGO, CA - SEPTEMBER 24: Wil Myers /
The Toronto Blue Jays could potentially shore up all their offseason needs in one fell swoop if they were able to pull off a blockbuster deal with the rebuilding San Diego Padres.
The Toronto Blue Jays are looking to get younger and more athletic this offseason while attempting to add an outfielder, insert Wil Myers here, while attempting to add a utility infielder who plays second base, insert Yangervis Solarte here and adding another starting pitcher, insert Travis Wood.
Wil Myers was utilized primarily as a first baseman last season but does has 207 games under his belt in the outfield. The 26-year old would be the cornerstone of the deal and would not come cheap. Myers slashed .243/.328/.464 with 30 home runs and 20 stolen bases in 2017 through 155 contests.
You may ask yourself why would the Padres trade the 26-year old however he is set to earn $22.5 million per season through years 2020, 2021 and 2022. The Padres acquired Myers in 2014 via a three-team trade with the Rays and Nationals in which Trea Turner and Steven Souza were the key pieces moving teams in the multi-player transaction.
More from Toronto Blue Jays News
Yangervis Solarte is another interesting option the Blue Jays could have interest in. Solarte can play all over the infield including 79 games at second base and 28 games at shortstop last season. We are all familiar with the injury-riddled middle infield the Blue Jays employed in 2017 so Solarte would provide some stability.
The 29-year old hit .255/.314/.416 with 18 home runs in 128 games last season and won't see free agency until 2020.
The Padres could also ship some arms in the deal with the likes of Travis Wood who struggled in 2017 and Clayton Richard on their payroll.
Regardless of the final player tally, the Blue Jays would need to pony up some blue-chip talent to make this deal come to fruition. The likes of Kevin Pillar, Teoscar Hernandez, Ryan Borucki, Bradley Jones, and even possibly Anthony Alford may all have to come up in conversation to get this one done. However, if Alford is Cali bound then I am asking for closer Brad Hand as well.
Next: Blue Jays Morning Brew: Stroman, Goins, Pillar and more
Who knows what the specific semantics of a deal would be but there is definitely some interesting names of the Padres squad who could definitely make the Jays major league team better in one blockbuster trade.
Warm that hot stove up, the offseason is just beginning.