Blue Jays MiLB recap-Borucki leads Cats to W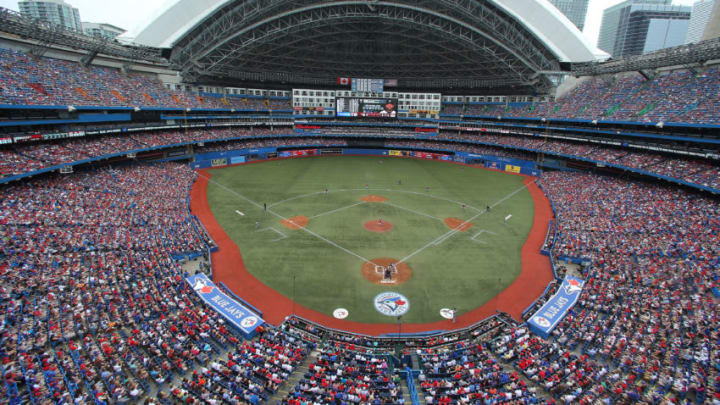 TORONTO, CANADA - JULY 1: A general view of the Rogers Centre on Canada Day as the Toronto Blue Jays play an MLB game against the Detroit Tigers on July 1, 2013 at Rogers Centre in Toronto, Ontario, Canada. (Photo by Tom Szczerbowski/Getty Images) /
Jays Journal takes its daily look into the Toronto Blue Jays Minor League system. The Bisons take their second win in a row against the RailRiders and the Fisher Cats ride an excellent start by Borucki to victory.
Buffalo Bisons at Scranton/Wilkes-Barre RailRiders (Yankees)
4-2 Win
The Herd was able to get moving on the offense fresh out of the gate in this one as they put up a 2 spot in the first inning. A pair of singles started the game and then both Christian Lopes and Jon Berti advanced into scoring position on a wild pitch. Rowdy Tellez plated the first run on a fielders choice and advanced Berti to 3rd. Jake Elmore continues to have a hot stick as he singled in the second run of the inning. Elmore would pick up a second RBI on a sac fly later in the game as well. Jon Berti collected 3 hits in his 5 at bats Thursday. He scored a run as mentioned but also drove in a run and stole his 16th base. Roemon Fields swiped his 32nd base and singled.
On the mound Nick Tepesch pitched well. The only real damage he allowed came off of a two run homer to Jake Cave in the first inning. Cave now has 13 homers on the season. After the home run Tepesch dug in and had a solid 5 inning outing. He allowed just four hits and walked just one batter and struck out one. The pen proved to be pivotal in this one as they had to eat up four innings of the game. Tim Mayza was up first and walked and struck out a batter in his inning. Murphy Smith followed with a two punch out inning of work. Jeff Beliveau recorded four outs and allowed a hit during his outing and Leonel Campos picked up a two out save.

Lucas Harrell will kick off the home stand against the Iron Pigs on Friday evening.
MVB – Jon Berti 3-5 with a run scored, an RBI, and a stolen base
New Hampshire Fisher Cats vs Bowie Baysox (Orioles)
3-0 Win
More from Toronto Blue Jays Prospects
Ryan Borucki is emerging as a force in within the Toronto Blue Jays system as he continues to hurdle every challenge in his way throughout his young career. Borucki picked up his first win in Double A Thursday night but has been nothing short of impressive in his three starts. He threw another seven innings of shut out baseball in this one. He continues to pound the strike zone and raked in seven strikeouts as he threw 64 of 93 pitches for strikes. He did not issue a walk and allowed just 6 hits. Francisco Rios and Carlos Ramirez pitched a perfect inning each to maintain the shut out.
The offense was able to scrape together just enough in this one to support a 3rd straight amazing start by Borucki. Richard Urena was able to pick up a pair of runners in this one and went 2-4. Urena now has a five game hitting streak and has been very impressive in his last ten games. Emilio Guerrero also picked up an RBI and scored. He drove in Tim Lopes on a double to start the three run inning in the 5th for the Cats.

Jon Harris will open the series against the Richmond Flying Squirrels on Friday. Harris is looking to put a really rough start behind him as he allowed 7 runs in 4.2 innings.
MVFC – Ryan Borucki 7 IP, 6 hits, 0 runs, 0 walks, 7 K's
Dunedin Blue Jays vs Charlotte Stone Crabs (Rays)
0-2 Loss
The D-Jays were unable to plate a run in this one despite having plenty of opportunities. The D-Jays offense had 9 hits and a pair of extra base hits. The issue was that they could not capitalize when that runner needed to be brought home and went 0-11 with runners in scoring position. The timely hitting that they have had in the past stretch was not around on Thursday. Vladimir Guerrero Jr. went 3-4 with a pair of doubles. D.J. Davis also had a pair of hits in the loss.
On the mound John Straka allowed the both Stone Crab runs but was very effective through six innings. He allowed six hits but walked four batters. He was able to strike out two batters despite being a little wild at times. The bullpen combined for three scoreless innings to keep the game close. Adonys Cardona, Chad Girodo, and Jackson McClelland were the pitchers to hold down the fort.

Jordan Romano will take the hill and look to keep the Dunedin Blue Jays trend of quality starts alive. Romano allowed just two runs in 5 innings pitched during his last outing.
MVDJ – Vladimir Guerrero Jr. 3-4 with 2 doubles and a walk
Lansing Lugnuts at Bowling Green Hot Rods (Rays)
2-10 Loss
The Hot Rods put the petal to the metal and ruined Justin Maese's return to the Lugnuts. The Hot Rods spun their wheels around the bases in the 4th inning and scored 8 runs. Maese was chased from the game in the inning but was charged 8 runs for just 3 innings of work.  Andy Ravel came on and allowed a run as well over his 2.2 inning outing. Jared Carkuff was also hit with a tag on run in the 7th. Nick Hartman finally stopped the bleeding during his inning of work.
On the flip side of the ball the Lugnuts had trouble solving Hot Rods starter Kenny Rosenberg. Mattingly Romanin was the only hitter to collect multiple hits and the Lugnuts managed just four hits as a team. Joshua Palacios drove in the first run on a single that scored Luis Silva. Romanin scored the second run on a fielders choice after hitting a double.

Kyle Weatherly will look to build on the confidence that he received in his last outing as he allowed one run over five innings. He will take on the Hot Rods on Friday evening at Bowling Green
MVL – Mattingly Romanin 2-4 with a pair of doubles and a run scored
Short Season Team Notes
Vancouver Canadians (Northwest League)
An early eight run lead for the Canadians eroded as the game progressed. The eight run inning was highlighted by a few huge hits as Kacy Clemens and Norberto Obeso drove in three runners each. Riley Adams was able to score twice in the inning and went 2-5. Clemens went 3-5 during the game and was a home run short of the cycle. Donnie Sellers and Jose Espada struggled in their few innings and allowed seven of the nine runs in the loss to the Hillsboro Hops.
Bluefield Blue Jays (Appalachian League)
The Blue Jays played against the Yankees and lost a close one.  The Jays were able to get just 4 hits in this one. Ryan Noda had the only extra base hit and collected his 12th double. Joel Espinal  got the start and was solid through five innings of work. He walked one while striking out two and allowed four hits.