Toronto Blue Jays: Comparing Past to Present Postseason Rosters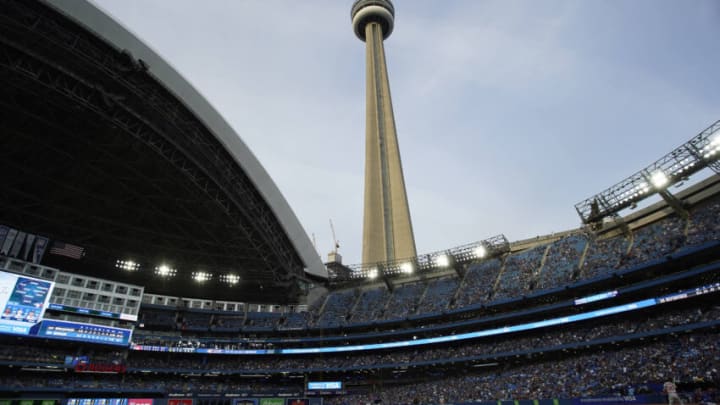 Oct 1, 2022; Toronto, Ontario, CAN; A general view of Rogers Centre during the ninth inning of a game between the Boston Red Sox and Toronto Blue Jays. Mandatory Credit: John E. Sokolowski-USA TODAY Sports /
Sep 30, 2022; Toronto, Ontario, CAN; Toronto Blue Jays center fielder George Springer (left) and first baseman Vladimir Guerrero Jr. (center) and right fielder Teoscar Hernandez (right) before the start the game against Boston Red Sox at Rogers Centre. Mandatory Credit: John E. Sokolowski-USA TODAY Sports /
With the Blue Jays now confirmed to be in the postseason, it's okay to reminisce a little about the last time the team was in the playoffs. Nostalgia and good vibes can be fuel to any fire of anticipation. This 2022 group of Blue Jays has a legitimate chance to make a deep run into October, despite not winning their division.
This is a vastly different group than we saw last time around, and I'd like to compare the last playoff team to the one we'll see this weekend. However, it's important to remember just what year Toronto made the playoffs last, as it wasn't back in 2016.
The autumn of 2020 saw an up and coming Blue Jays team take on the American League Champion Tampa Bay Rays in a three game wild card series (a series that has potential of happening yet again) down at Tropicana field. It's easy to forget this postseason appearance, as it lasted only two games, both of which weren't particularly noteworthy for the Jays. The club rode a 32-28 record into the last remaining playoff spot during the shortened 2020 season, which featured an expanded playoffs. It's astounding to analyze just how much this team has improved since then, as various aspects of the team have undergone a complete overhaul. It's worth mentioning that this 2020 team also featured breakout mainstays from today's roster, such as Teoscar Hernandez and Jordan Romano.
The 2020 year was primed to be an interesting one for Blue Jays fans, with the main storyline coming from the fact that the rookies were entering their first full MLB season. Vlad was still at third, Teoscar had yet to break out, Romano wasn't a household name, and Rafeal Dolis was relied on to be a difference maker in that bullpen. Things change, and the 2020 season did a lot to forge new narratives on within the organization. The biggest one of all being that this club was on the cusp of taking that next step.
That next step is about to take place this weekend, and the wise and knowledgeable Chris Henderson provided us with a glimpse of what we could expect the roster to look like. So with Chris' insight, and a bit of reminiscing, we'll see just how far this team has come in between now and their last playoff appearance.
More Articles About Blue Jays Playoff History: