Blue Jays: Series win in Baltimore helps with potential playoff tiebreaker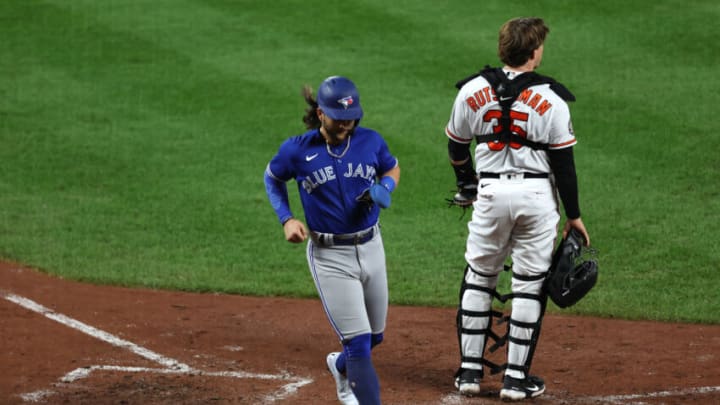 BALTIMORE, MARYLAND - SEPTEMBER 07: Bo Bichette #11 of the Toronto Blue Jays scores a run against the Baltimore Orioles during the fifth inning at Oriole Park at Camden Yards on September 07, 2022 in Baltimore, Maryland. (Photo by Patrick Smith/Getty Images) /
The Toronto Blue Jays went into Camden Yards and took three of four games from the Baltimore Orioles earlier this week, in a series that the Jays really needed to find a way to win. There were some outstanding performances, such as Bo Bichette and his bat as well as Alek Manoah and his eight-inning masterpiece to go along with a bench-clearing staredown featuring an ex-Buffalo Bison and some social media jabs amongst the fanbases and teams.
Overall, it was a successful week in Baltimore and Pittsburgh (where they also swept the Pirates), as not only did the Blue Jays continue to stay in the thick of the AL Wild Card race, but they also pushed the Orioles down to 4.5 games outside the playoff picture. On top of that, the Jays have now put themselves one game down in the season series (6-7) with three games left against the Orioles, which puts the team in a better spot for control of their playoff destiny.
With the extended playoff format this year also came some new rules regarding the tiebreaker scenario should two or more teams be tied going into the postseason. No longer is there a "Game 163", but rather the following parameters are taken into consideration (in the following order):
Head to Head record
Intradivision record (within the AL East for both teams)
Interdivision record (within the AL West and AL Central then)
Last half of intraleague games
Last half of intraleague games plus one
That means that since the Jays and Orioles face off three more times this season, one team will gain the upper hand over the other should they both make the AL Wild Card (as AL East opponents play each other 19 times, so one team will technically always get the advantage). This seems less likely than it did a few days ago when the Orioles were just 2.5 games behind the Blue Jays, but with 26 games still left to go, there is lots of room for movement.
The Jays also sit in a similar scenario with the Tampa Bay Rays and will face them next week and also towards the end of September, as they are both in the AL Wild Card picture and the Jays currently trail the Rays 4-6 with nine games left between the two squads. Should these two teams tie in the Wild Card, it is more likely both will make it unless Baltimore or an AL Central squad goes on a miraculous run and pulls ahead of both the Rays and Jays.
Overall, the Blue Jays have their playoff destiny in their hands and with so many games left within the division (21 of 26), they need to continue their winning ways if they want to avoid any drama similar to last season when they missed out by one game. The easiest way to do that is to continue winning, which is easier said than done in the AL East.