Blue Jays: One prospect who might get called up instead of Moreno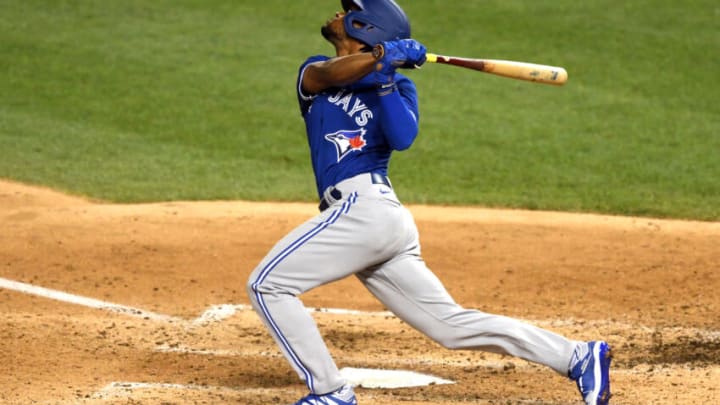 WASHINGTON, DC - AUGUST 17: Otto Lopez #72 of the Toronto Blue Jays bats in his Major League debut in the fourth inning against the Washington Nationals at Nationals Park on August 17, 2021 in Washington, DC. (Photo by Mitchell Layton/Getty Images) /
In just under one week, the Toronto Blue Jays and teams across the Major Leagues will be allowed to expand their rosters to 28 players, two more than the current 26. That means the Jays are allowed to bring up one more pitcher (max of 14) and one more position player or two position players, a move that does not seem so likely given how late it is into the season.
The Jays have a few options when it comes to an additional pitcher, bringing back Zach Pop after he was sent down days ago to make room for Tim Mayza or they could promote Julian Merryweather, who is currently still technically rehabbing in AAA but is pitching very well right now. He will need to be moved off the 60-day IL and back onto the 40-man roster before being promoted, which will require one player to be removed given the roster is full right now.
Looking at position players, the favourite for the past month seemed to be Gabriel Moreno, the Jays' top prospect who has been putting up fantastic numbers on both sides of the diamond.
This season, Moreno owns a .326/.389/.423 slash line through 215 at-bats with a .812 OPS. His power has declined, with just two home runs on the season, but there is a possibility that the possible thumb injury he suffered last year is hampering the power swing just slightly. He also has been great behind the plate, throwing out 41.4% of base stealers with a perfect fielding percentage with just one passed ball. Moreno also got some MLB action earlier this year when Danny Jansen went on the IL, collecting 16 hits through 58 at-bats with one double and four RBI before moving back down to AAA.
The Toronto Blue Jays can call up two players starting on September 1st, likely calling up a pitcher and a position player from AAA.
While Moreno does seem like a clear favourite, there is another prospect that is swinging a very hot bat right now in AAA as well and could potentially be called back to the big leagues instead of the Venezualan catching prospect.
Otto Lopez is currently on a tear right now with the Buffalo Bisons, currently riding a 16-game hitting streak that includes a four-hit performance on July 29th while also adding 11 multi-hit games through the same time span. In just under a month, Lopez has raised his batting average from .262 to .298 and has struck out just ten times in 67 at-bats, walking six times. Lopez also collected two triples against the Worcester Red Sox to start off the hitting streak.
Fielding-wise, Lopez also gives the Blue Jays some added versatility off the bench compared to Moreno, with the Dominican product able to second base, shortstop, left field, and centre field if necessary, sporting a .966 fielding percentage with just four errors through 253.1 innings at second. The righty-batter has been called up twice this season to the Jays roster and hasn't registered an at-bat through three games, coming in as a defensive replacement or pinch runner. He would also add some speed to the Jays bench, stealing 13 bases on 18 attempts in AAA this season.
I was actually writing another article when I realized just how crazy Lopez was playing this past month, and it's not such an easy decision to say that Moreno is the go-ahead favourite to be called back to the active roster with Lopez playing so well right now. It will be interesting to see who the Jays choose, as it is likely the player to be promoted will mostly be riding the bench if George Springer suits up in the DH position for a good chunk of the remaining season.