Blue Jays: A healthy Nate Pearson could be a bullpen game changer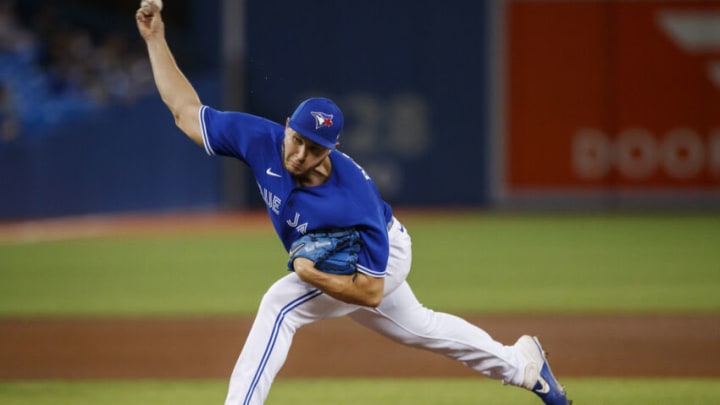 TORONTO, ON - SEPTEMBER 17: Nate Pearson #24 of the Toronto Blue Jays on the mound in the seventh inning of their MLB game against the Minnesota Twins at Rogers Centre on September 17, 2021 in Toronto, Ontario. (Photo by Cole Burston/Getty Images) /
The Toronto Blue Jays relief corps owns a 3.93 ERA on the year and is one area on the team that needs some improvements as the trade deadline draws near.
The Jays have a few relievers that can be depended upon in high-pressure situations like Adam Cimber, Tim Mayza, Yimi Garcia, David Phelps, and Jordan Romano but also have a few members that are a bit of a wild card like Trevor Richards and the revolving door of arms including Trent Thornton, Jeremy Beasley, and a few others down in AAA.
Max Castillo has been solid at the MLB level but could be moved back to the starting rotation in AAA if the Jays acquire some bullpen arms before Tuesday's trade deadline while the club continues to have Matt Gage down in Buffalo, most likely because Anthony Banda is on the roster and doing alright given the limited sample size.
One thing the Blue Jays bullpen is missing is a reliever who can blow away opposing batters with real swing and miss velocity, as a majority of the current relief corps uses deception or offspeed to get strikeouts or utilizes weak contact to get outs with defensive assistance. This could be mitigated by the Jays trading for a reliever like Joe Jiménez (95-96MPH) or Daniel Bard (98 MPH) but if the trade deadline passes and the front office isn't able to reel in a blow-away arm, there is one pitcher that could be a game changer for the squad as the season winds down.
Limited to just five games this season, Blue Jays pitcher Nate Pearson could be a force in the bullpen if he can get back on the mound sooner than later.
Former top prospect Nate Pearson has been bitten by the injury bug again this season, starting the year on the IL due to mononucleosis and hasn't pitched since mid-June due to a separate lat injury. So far this year, Pearson has only appeared in five games and has been pitching out of the bullpen over the rotation in the minors, mostly due to starting the year on the injured list and a somewhat stacked Jays rotation. There are also multiple internal options waiting in AAA or the bullpen like Castillo who would likely get a shot starting before Pearson right now.
Pearson can absolutely light up the radar gun, hitting the high 90s and even triple digits with his fastball and pairs that with a solid slider and curveball to keep opposing hitters off track. While previous Minor League success has not transpired into a dominant showing in the big leagues since his MLB debut back in 2020, which hasn't been helped by the injuries, if Pearson can return to form and continue throwing in the high 90s and stay healthy, the Blue Jays bullpen could get a major boost with his electric arm later this season.
His spot on the Jays roster is not guaranteed by any means once he is pitching again, as one would imagine the Florida product would have to earn his way to the active roster once he has some innings under his belt (a message echoed by former manager Charlie Montoyo).
As TSN's Scott Mitchell reported, the Jays are hoping Pearson will be ready to go in two to three weeks and is currently throwing at 60 feet, which could set up for a return in late August/early September after he gets some reps in the Minor Leagues. So far this year, Pearson owns a 3.52 ERA through 7.2 innings of work with 10 strikeouts (one appearance in Single-A and four in AAA). He has some success in the MLB in a relief role, with 11 relief appearances last September to the tune of a 2.84 ERA and 20 strikeouts through 12.2 innings pitched, but also has his fair share of rough outings when starting (7.23 ERA through five career starts).
I would think once healthy, Pearson will go back to the bullpen to finish out the year and could be a useful arm for the Blue Jays later this season, especially if he continues to keep up the velocity and striking out batters. If he still isn't healthy in a few weeks' time or is struggling back in AAA, the Jays could promote Yosver Zulueta instead, another hard-throwing right-hander in the Jays Minor League system.