Blue Jays: Comparing Alek Manoah to his draft class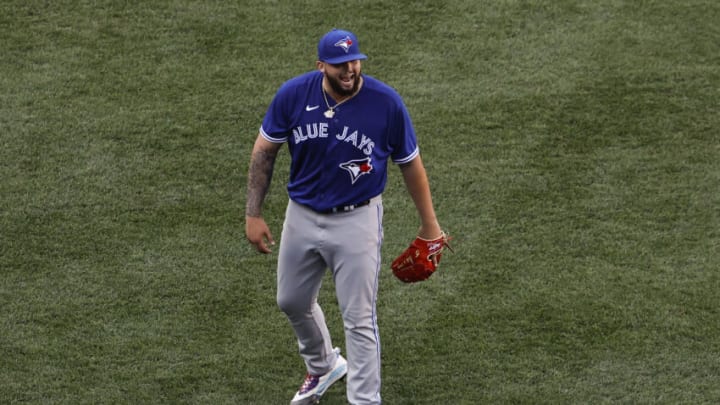 BOSTON, MA - JULY 23: Pitcher Alek Manoah #6 of the Toronto Blue Jays shouts at the Boston Red Sox dugout after striking out Bobby Dalbec #29 of the Boston Red Sox to end the fifth inning at Fenway Park on July 23, 2022 in Boston, Massachusetts. (Photo By Winslow Townson/Getty Images) /
If the rest of Major League Baseball didn't know who Blue Jays starter Alek Manoah was going into the Midsummer Classic, they now know him after striking out the side in his lone inning at the All-Star Game.
Manoah kept things rolling into his first start after the break as he held the Boston Red Sox to one run over six innings to collect his 11th win of the season.  The right-hander is now 11-4 over 19 starts this year and 20-6 over 39 starts to begin his career.  His career 2.71 ERA and 1.007 WHIP are impressive for the 24-year-old who was drafted three years ago, especially when you compare him against other players from his draft year.
In the 2019 MLB Amateur Entry Draft, the Blue Jays used the eleventh overall pick to select Manoah from West Virginia University.  I've looked over a few different pre-draft rankings which had Manoah predicted to be selected between the 9th and 13th slots.  After being selected by the Blue Jays, the two came together on an agreement on a signing bonus of just over $4.5 Million.
Manoah has produced an impressive +6.2 bWAR since making his debut in 2021, while currently leading the Blue Jays in 2022 with a +3.5 bWAR ahead of players like Vladimir Guerrero Jr, George Springer and Bo Bichette.  As a comparison against the players in his draft, specifically, the ten players drafted ahead of him, his 6.2 beats all of them combined.
If you look at every player drafted in the first round, the Baltimore Orioles Adley Rutschman, who was selected first overall sits second place with only a +1.6 WAR after making his MLB debut earlier this year, similar to Royals shortstop Bobby Witt Jr (second overall pick) who currently owns a +1.1 bWAR.   When you search deeper and look at every player drafted over the 40 rounds, Michael Harris, who was selected in the third round by the Atlanta Braves is the closest with an accumulated +2.2 WAR, nearly a third of what Manoah has built up.
Blue Jays starter Alek Manoah has been the most dominant pitcher or player selected from the 2019 MLB Amateur Draft and has set himself apart from the rest
I wouldn't even be able to tell you how many pitchers were drafted over the 40 rounds, but just ten other pitchers have made their major league debut.  Those ten have combined to start 66 games compared to Manoah's 39, however, he has earned 20 wins against 18 total by the other ten.  Graham Ashcraft, who was selected by the Cincinnati Reds in the sixth round, has the second most wins as he is currently sitting with a 4-2 record over 11 starts this season, while posting a 4.70 ERA and 1.416 WHIP.
As of July 23, there have been 23 other players to make their MLB debut in the 2019 MLB Draft, all of which are just getting their toes wet for their respective clubs.  Of the ten players drafted ahead of Manoah, three are yet to make their Major League debut, while JJ Bleday (fourth overall) just made his first appearance this past weekend.
Manoah has already pitched in an All-Star Game and is receiving strong consideration for the Cy Young Award for the 2022 season.  The Blue Jays got an absolute gem in Manoah.