Toronto Blue Jays News
Blue Jays give us three big reminders on Opening Day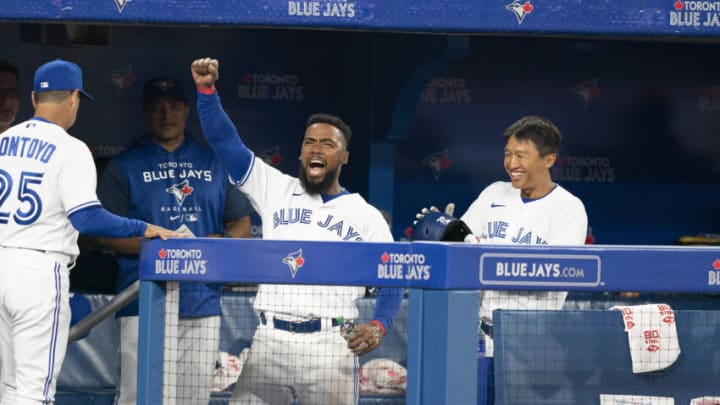 Apr 8, 2022; Toronto, Ontario, CAN; Toronto Blue Jays right fielder Teoscar Hernandez (37) reacts after his slide into home plate was overturned and called safe during the seventh inning against the Texas Rangers at Rogers Centre . Mandatory Credit: Nick Turchiaro-USA TODAY Sports /
The Blue Jays had a thrilling win in their home opener at the Rogers Centre on Friday night, and gave the fan base several reminders at start the year.
It wasn't the easy way to pick up an Opening Day win, but the Jays ended up with a 10-8 victory thanks to an exciting comeback after the Rangers held a 7-0 lead in the fourth inning. It didn't look good when Jose Berrios was lifted after only recording one out, but manager Charlie Montoyo didn't have much choice after his Opening Day starter had already thrown 34 pitches. The damage had already been done, as he left with a line of three hits and two walks, giving up four earned runs.
Just like they did so many times in 2021, the Blue Jays erased a big lead in a real hurry, tying the game by the end of the fifth inning when Teoscar Hernandez hit a three-run bomb to cap off the comeback. In the process, Hernandez and his teammates provided three very good reminders for Blue Jays fans.
1- This team is never out of any game
In the past, if the Blue Jays had fallen into a 7-0 lead and saw their starter knocked out in the first inning, I might have considered moving on with my Friday evening. This time I was in for the long haul regardless, but I didn't feel the same "it's over" dread that I've felt with past Blue Jays teams. This offence is special, and they can erase a big lead in a hurry.
Remember last season when the Blue Jays were being no-hit through six frames of a seven-inning game against the Orioles? Keegan Akin looked like an ace, and that game ended with an 11-2 score after seven innings (it was part of a double-header last season, which were only seven-inning games).
The Blue Jays have one of the most dangerous lineups in baseball, and also one of the deeper groups as well. Their opponents will never be able to take their foot off the gas pedal this year, and even if they'll dig a hole every now and then, you can never count these guys out.
2- How it looks on paper doesn't matter, the game is played on the field
It sounds like an obvious thing to say, but having a great team on paper doesn't matter unless the team produces on the field. We saw a great example of this on Friday night, as Jose Berrios had a shockingly bad outing to start the year. If you had told me that he would only record one out in the game, I would have assumed he must have been hurt. Thankfully that wasn't the case, but the results were anything but pretty.
Personally, I'm not the least bit worried about Berrios, and I fully expect that he'll have a strong performance when his next turn comes around. That said, I'm not ready to say that this Blue Jays' rotation is one of the best in baseball until they prove it. They have that kind of potential with Berrios, Kevin Gausman, Hyun Jin Ryu, Alek Manoah, and Yusei Kikuchi, but pitching can be a volatile thing. I don't mean to suggest that I'm down on the rotation by any means, but only time will tell just much of a strength they can be.
3- This fan base loves a winner
Last but not least, I wanted to bask in just how wonderful it was to have baseball back this week, and a comeback win for the Blue Jays on Opening Day was the icing on the cake.
Opening Day is always a popular day in Toronto, but that's especially the case when there is a strong team in place. With all of the hype surrounding this team heading into a new season, the excitement is contagious and it's catching on all across the country. The ratings for last night's game were a reflection just that, and the closer this team gets to returning to the playoffs the more that's going to grow. On top of that, it was a special night for the Blue Jays to be able to experience a home opener at the Rogers Centre again, and the fans rewarded them with over 45,000 in attendance.
What a way to start what should be a special season.