Toronto Blue Jays: Weekend Preview for April 8-10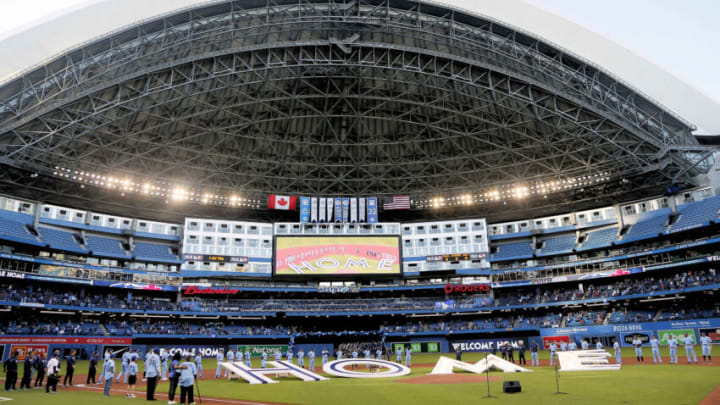 Jul 30, 2021; Toronto, Ontario, CAN; A general view of Rogers Centre before a game between the Kansas City Royals and Toronto Blue Jays. Mandatory Credit: John E. Sokolowski-USA TODAY Sports /
Texas Rangers (0-0) at Toronto Blue Jays (0-0)
Friday, April 8th, 7:07 PM EST: Gray vs Berrios (Sportsnet)
Saturday, April 9th, 3:07 EST: TBD vs Gausman (Sportsnet)
Sunday, April 10th, 1:37 EST: TBD vs Ryu (Sportsnet)
Team Outlooks
It's Opening Weekend, which means both teams are starting fresh. For Texas, this comes at a great time. The Rangers lost 102 games last year and finished last in the AL West. Now, with a revamped offence after a busy offseason that includes former Jay Marcus Semien, the Rangers look to become that perennial postseason team they've been in years past. They'll be sending their new ace out in Jon Gray, as well as trying out their brand-new middle infield in Semien and Corey Seager.
The fresh start also comes at a great time for the Blue Jays, as they are looking to build off of a strong end to the 2021 campaign. Playing April baseball in Toronto for the first time in two seasons, the Blue Jays bring a talented roster to the Rogers Centre in hopes of putting on a show. This is the best lineup and rotation that Canada's team has put on the field for Opening Day in a very long time, and a season of high expectations begins for the Blue Jays today.
Blue Jays to Watch
George Springer: It's his first Opening Day as a Blue Jay after starting last season on the IL. Springer enters the year fully healthy and is looking to build off of his impressive numbers from his short sample last year.
Kevin Gausman: He's making his first start as a Jay on Saturday. Gausman gets the ball in front of the home crowd in game two of the series.
Matt Chapman: He'll be making his Blue Jays debut and he's fully healthy for the first time in two years. The Platinum Glove third baseman had an impressive spring and is looking to get off to a hot start on both sides of the diamond.
The Toronto Blue Jays begin their 2022 season at home against the Texas Rangers on April 8th. This preview will show who's worth watching and when to watch.
Rangers to Watch
Marcus Semien: Semien returns to Toronto for his first games in a Rangers uniform. He finished third in MVP voting last year and is beginning the first year of his brand new, seven-year deal with Texas.
Corey Seager: Another player making his Ranger debut. It's the first year of a 10 year contract, and Seager hopes to start what will be a full, healthy season with the Rangers.
Jon Gray: The Rangers' newest ace is looking to make a good first impression. Gray has always had big-league stuff, but he's looking to benefit from going from a hitter-friendly park to now the exact opposite.
What to Expect
While the Rangers were busy this offseason, the Jays still outmatch them on essentially every area of their respective rosters. The rotation, bullpen, and lineup are all lean towards favouring the Jays' side.
That being said, this is still baseball, and anything can happen. Both teams are looking to come out of the gates hot, and with Toronto starting the season at the Rogers Centre for the first time in two years, the place is going to be electric. That Texas lineup is dangerous, but I take the more complete Blue Jays team at home all day.
Prediction: Blue Jays win the series 2-1