Blue Jays: Three Prospects to pay attention to this season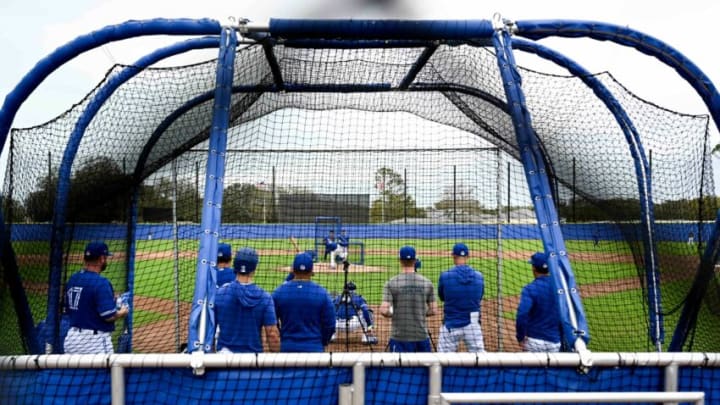 Feb 19, 2020; Dunedin, Florida, USA; Toronto Blue Jays starting pitcher Hyun-Jin Ryu (99) looks to throw a pitch from the mound for live batting practice during spring training at Spectrum Field. Mandatory Credit: Douglas DeFelice-USA TODAY Sports /
The Toronto Blue Jays are flying through the spring-like WestJet flights going into Florida.  The team recently made cuts to minor league camp, which included two of the top Blue Jays prospects, Gabriel Moreno and Orelvis Martinez.
We all now have the fascinating makeup image of Moreno and Orelvis, and what they bring to the future of the club. Currently, Major League Baseball has the Toronto Blue Jays farm system ranked number 21 of 30 teams. Why? Top talent graduating the grind of minor league ball, and talent shipped elsewhere to field a modern-day pennant contending team.
However, the organization still employs solid young future pieces.  Who else holds value within the organization? Which guys could be the mountain-climbers of the system?  I chose three names that I will continuously follow; one to which I submitted one of my first amateur pre-draft reports.
Blue Jays Prospect watch for 2022
RHP Irv Carter, No. 13 of Top 30 Prospects
Irv Carter is a 19-year-old right-handed pitcher, and a 2021 draft pick by the Blue Jays in the 5th round. He's 6'4", 210 lbs with an athletic frame and go-getter demeanour on the hill. His arm strength is very evident, sitting around 95-96mph, with a 55-fastball grade.  His out pitch is clearly his slider, where he confidently chucks low 80s. Carter competed at the Calvary Christian Academy high school, where Perfect Game ranked him 8th nationally out of right-handed pitchers, 29th overall. Carter will be one to quickly climb the ranks of the minors.
2B/OF Samad Taylor, No. 15 of Top 30 Prospects
Samad Taylor was selected by Cleveland in the 10th round of the 2016 draft, where he came over to the Blue Jays in a trade. What I see in Taylor is speed; he's quick and aggressive on the base pads. Taylor is always a threat to steal, making him a menace on-base to the opposition.  His speed and agility on the field allow his defensive options to be broad as he works his way through the minors.  He's defensively sound and picks up time at 2B and in the outfield, where his speed prevails.  Taylor can hit gap-to-gap, with raw power and is very aggressive.  2021 was a year for Taylor, as that raw power took charge, crushing 16 home runs, along with 94 hits and 52 RBIs. Without a doubt, Samad Taylor will quickly see the light of promotion, as the season progresses.
OF Dasan Brown, No. 17 of Top 30 Prospects
Similar to the tools of Samad Taylor, this is not a guy you want to have on base if you're the opposing pitcher or catcher.  I balked from the stands, just watching this guy take a lead at first base! The 2019, 3rd round Blue Jays draft pick touches a perfect 80-grade for his running ability.  He will run, he will steal, and he'll light a fire under your defence's behind on anything he hits on the ground.
Brown's tools are very raw; he has good bat speed with a decent approach at the plate.  His tools need to be refined and developed a little further, but that won't take too much time. We can see Brown pushing through the ranks at a decent pace; 2022 will be a year to watch for him.