Which Blue Jays will benefit from the 28-man roster in April?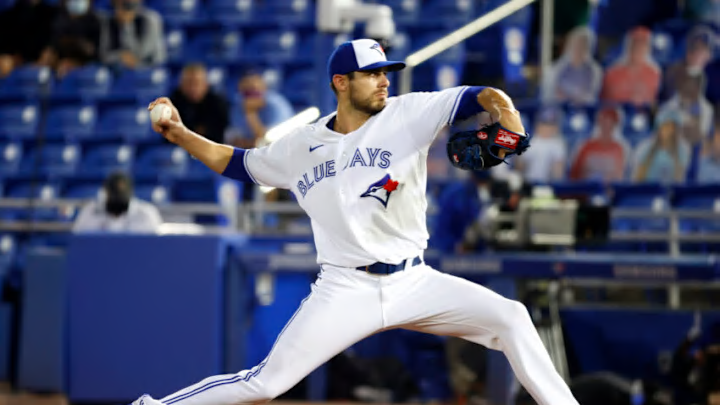 Apr 8, 2021; Dunedin, Florida, CAN; Toronto Blue Jays starting pitcher Julian Merryweather (67) throws a pitch during the tenth inning against the Los Angeles Angels at TD Ballpark. Mandatory Credit: Kim Klement-USA TODAY Sports /
With MLB allowing for 28 roster spots in April to make up for the shorter spring training, a couple of extra players are going to break camp with the Blue Jays. The club could use those extra roster spots in a number of different ways, but I can think of 3-4 players that are likely to benefit from this tweak to the rules for the season's first month.
The first would be Reese McGuire, and I say that because I view him as the 3rd catcher on the depth chart in Toronto these days. With a healthy Danny Jansen and Alejandro Kirk in place, McGuire might not make this team on Opening Day in a normal year, but those extra spots could be beneficial to his cause at the moment.
Because Kirk is a prime candidate to see plenty of at-bats as the designated hitter, the Blue Jays could easily elect to carry a third catcher so they'll have a back-up at the ready. They don't necessarily have to expand the bench to make this work either, as they've often gone with three-man position player benches in the past anyway, so adding a fourth as a catcher would still be functional. They could choose to go with a five-man bench as well, but my guess is they'll use those additional April spots to focus on the pitching staff.
Speaking of which, I can see pretty clear benefits for two or three young pitchers as well. As long as everyone is healthy, here's how I suspect the Blue Jays would break camp with a 26-man roster.
Rotation
1- Jose Berrios
2- Kevin Gausman
3- Hyun Jin Ryu
4- Alek Manaoh
5- Yusei Kikuchi
Bullpen
1- Jordan Romano
2- Tim Mayza
3- Yimi Garcia
4- Adam Cimber
5- Trevor Richards
6- Ross Stripling
7- Andrew Vasquez
8- David Phelps
Things could certainly change as camp goes on, but I suspect that the Blue Jays will have a few choices to make. You may notice that I didn't include a trio of hard-throwing arms in Nate Pearson, Julian Merryweather, and Ryan Borucki. That doesn't mean I'm writing any of them off at all though. In fact, I think those two extra roster spots will likely be filled from that group.
Pearson could be utilized as either a starting pitcher or out of the bullpen, but I suspect the Jays will ask him to focus on the former to begin the year. In some ways it might even make sense to start the season with a six-man rotation to ease their veterans into the schedule, and they have the extra roster spot to do it if they like. Either way, Pearson will have a chance to prove that he not only belongs on the MLB roster, but that the Blue Jays can't afford to send him back to Buffalo.
The same could be said for Julian Merryweather as well, again though, as long as he's healthy. The fireballer flashed that potential at the beginning of last season, but then just as it had so many times before, injuries wiped out the majority of his season. I don't know that there's any doubt about whether Merryweather has the talent to be a weapon out of the bullpen, it's pretty much all about health for him. I'd be surprised if he didn't make the team, and the Jays will get a closer look throughout the month of April.
Lastly, this may be Ryan Borucki's last change to prove he is worthy of a spot on the 40-man roster, as he's now out of minor league options. That means the Jays would have to expose him to the waiver wire to send him back to Buffalo, and while he hasn't come close to reaching his potential, it would be surprising to see a southpaw that can throw 97 MPH make it through waivers. April could be viewed as an extended audition for Borucki, perhaps both to remain in the Blue Jays' bullpen plans, or possibly even to showcase him for a trade later on.
When you consider the late start to Spring Training, and just the mess of an MLB offseason it was all around, I'm glad that there will be a couple of extra roster spots to work with for the month of April. For a couple of Blue Jays battling for a roster spot, it could make the difference in breaking camp with the team on Opening Day, or even sticking around in general.