Blue Jays: Vladimir Guerrero Jr. reaching new levels of confidence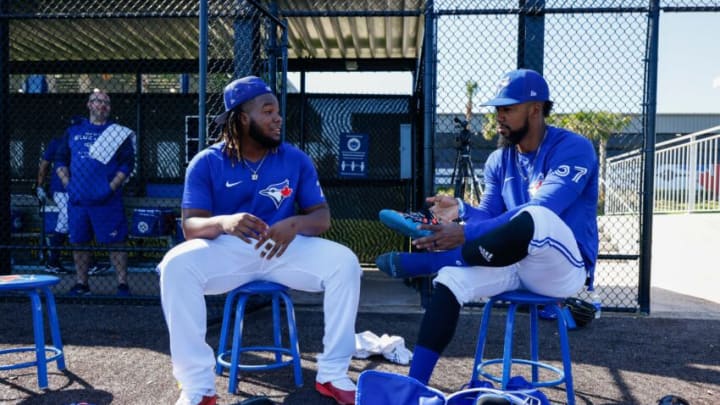 Mar 17, 2022; Dunedin, FL, USA; Toronto Blue Jays first baseman Vladimir Guerrero Jr. (27) and outfielder Teoscar Hernández (37) wait for batting practice to begin during workouts at Toronto Blue Jays Player Development Complex. Mandatory Credit: Nathan Ray Seebeck-USA TODAY Sports /
Vladimir Guerrero Jr. looks ready for another big season with the Blue Jays in 2022, and it sounds like his confidence is at an all-time high.
It makes sense that the young phenom would enter camp feeling a lot better about things than he did a year ago. This time he's coming off of a second place finish in American League MVP voting, and a true breakout season at the age of 22. A year ago he was facing questions about his conditioning, what position he'd ultimately play, and even his potential in general.
It's truly remarkable how much a year can change things, and for Vlad Jr., it appears that he not only realizes how successful he can be at the highest level, but he looks like he has a much better grasp on how to achieve it.
Just as we did a year ago, we got to watch the now 23 year old's workouts throughout the offseason courtesy of his social media channels. It was clear that he was hard at work again, and isn't going to be satisfied with the status quo. That's a great sign, especially because there were questions about his commitment to fitness in the past. At this point, he's really starting to put those thoughts in the rearview mirror.
What's been very interesting to me this spring is the way that Vlad Jr. has spoke to the media, and even a few glimpses that we've seen on social media. It looks and sounds like he's as confident as ever. In fact, earlier this week he provided Sportsnet's Shi Davidi with an early candidate for quote of the year.
On a personal note, Guerrero Jr. set a pretty high bar for himself last season when he finished with a .311/.401/.601 slash line to go along with 48 home runs, 29 doubles, and 111 RBI over 604 at-bats, playing in all but one regular season game. As I mentioned earlier, he finished 2nd in AL MVP voting, he was an All-Star, and he also won the Silver Slugger for first basemen, and the Hank Aaron award for American League hitters overall.
As much as it feels like he's maybe even hit peak production at such a young age, I think most that watched him last season would agree there's even more left in the tank, and that'll come with experience. The 2021 campaign represented his first full season as a big leaguer, and he was still learning and adjusting on the fly in a lot of ways, especially with a relatively new defensive position. Now he's at home at first base, and hopefully with a lot more consistency as far as a home stadium, life should be a little easier than it was last season. On top of that, there will be fans in the stands, and we all know what that can add to the atmosphere and the adrenaline for any ball player.
I'm sure there was some element of light-hearted joking going on between Vlad Jr. and George Springer on Saturday, but it made me smile to hear an exchange that was caught and tweeted out by Sportsnet's Hazel Mae. In the video clip below, Springer jokingly tells Vlad Jr. that he's going to win the Triple Crown (lead the league in home runs, RBI, and batting average), and young Guerrero Jr. reminds the veteran that he'll have some competition. Springer also quipped that, "you said you were going to hit 70 (home runs). The difference is, I believe you".
This is all music to my ears, especially when you look at the picture above and see a relaxed and confident Guerrero Jr. working out with his teammates. He understands that he's one of the very best hitters in the world when he's committed to his craft, and he looks more focused than ever when it comes to achieving his goals. By no means am I suggesting that he's starting to become arrogant in any way either. In order to be the best at the highest level of sports, you have to not only believe that you belong, but that you're better than the guy beside you.
As things stand right now, it looks like Guerrero Jr. not only came to camp in the best physical shape we've ever seen from him, but it looks like his mental game is ready to thrive as well. After hitting a first-inning home run against Aaron Nola on Saturday, Vlad Jr. gave us another preview of what's to come. It should be a special season ahead, and I can't wait to watch the movie.