Why didn't the Blue Jays make the Grichuk-Bradley Jr. trade?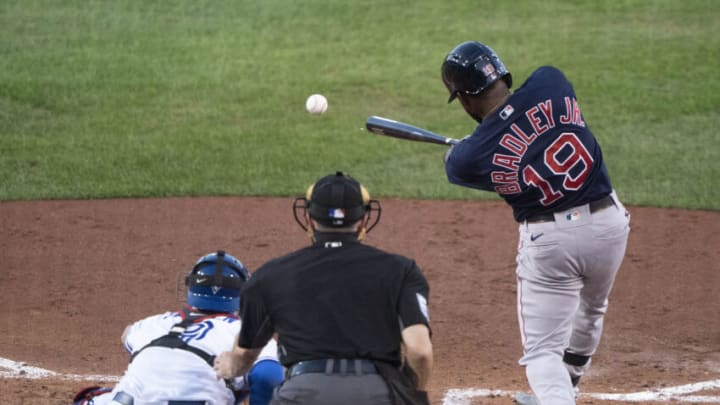 Aug 25, 2020; Buffalo, NY, USA; Boston Red Sox center fielder Jackie Bradley Jr. (19) hits an infield RBI single against the Toronto Blue Jays during the fourth inning at Sahlen Field. Mandatory Credit: Gregory Fisher-USA TODAY Sports /
According to Ken Rosenthal of the Athletic, the Blue Jays had an opportunity to acquire Jackie Bradley Jr. for Randal Grichuk. That could have worked well enough that in some ways I have to admit that I'm wondering why they didn't pull the trigger.
Rosenthal stated that his sources told him the Brewers were seeking a one-for-one swap in exchange Grichuk, and that they approached the Blue Jays before eventually trading Bradley Jr. to the Red Sox a few days ago. Instead, Hunter Renfroe is headed to Milwaukee, and the Brewers included a couple of prospects in order to get the deal done.
As I look at this trade that never was for the Blue Jays, I can see a few benefits that I'm surprised that Ross Atkins wasn't a little more tempted by. Grichuk has more or less fallen out of the Blue Jays rotation with their starting trio of George Springer, Teoscar Hernandez, and Lourdes Gurriel Jr. in place. Other than providing some depth, a platoon bat, and occasionally a late-inning defensive replacement, it's been quite the fall for Grichuk, who was hitting the middle of the order for the Jays last spring. With two years and roughly 18.67 million remaining on his contract, I've long thought the Jays would seek to trade him this offseason.
They likely wouldn't be saving any money by exchanging Grichuk for Bradley Jr., but it all depends on how the next year or so goes. The former (and current?) Red Sox centre fielder is set to earn 9.5 million in 2022 before a mutual option in 2023 that would still pay him eight million on a buyout. After a dreadful 2021 season, that's the most likely destination for his future, so it would be a total cost of 17.5 million in that case. If he bounced back and he was kept around for 2023, his mutual option is worth 12 million, although that seems unlikely to happen after the way he performed in 2021.
Even though Bradley Jr. hit just .163/.236/.261 over 387 at-bats last season, he was still a well above-average defender in centre field. If he were on the Jays roster I doubt that he would be a regular starter, but he's still an asset as an outfielder up the middle  and could have covered when George Springer needed a day off, or had to spend time on the Injured List. His left-handed bat could have brought some balance to the lineup as well, and he's had a history of success as a hitter in the past, and even in the AL East when he was with the Red Sox. He slashed .283/.364/.450 during the shortened 60-game season in 2020 in Boston, and he was an All-Star back in 2016 as well. It would be a gamble that he could return anywhere close to that type of form, but it would be a low-cost roll of the dice.
Having said all of that, the more I think about it the more I understand why Atkins likely passed on this potential swap. I still believe that the Jays will look to trade Grichuk when the lockout ends, both to reallocate some of the money he's still owed over the next two seasons, and also because I'm sure the 30 year old wants to be a starter somewhere and that's not likely to happen in Toronto unless the projected regulars suffer an injury.
I also believe that Grichuk is probably a slightly easier player to trade than Bradley Jr. will be, and it's not like the Jays would be acquiring the latter in order to flip him. More likely I'm guessing that they'd rather not carry either player's salary for their potential role, and making this trade would almost lock them in on Bradley Jr. If he's eventually bought out then he'll be paid 17.5 million for one season rather than the 18.67 million for Grichuk for two. If JBJ has his option exercised then he will cost the Red Sox 21.5 million for the next two seasons, so either way his AAV is going to be higher than Grichuk's.
It'll be interesting to see what other opportunities there might be to trade Grichuk over the winter, or if a new CBA will be worked out in time for that to even happen before next season hurriedly gets underway. In this case, I can understand why the Blue Jays passed, even if the swap could have made some sense as well. Hopefully there are better options to upgrade the roster that become available, whenever baseball gets rolling again that is.