Blue Jays: More than just a 5 million dollar difference (Gausman vs. Ray)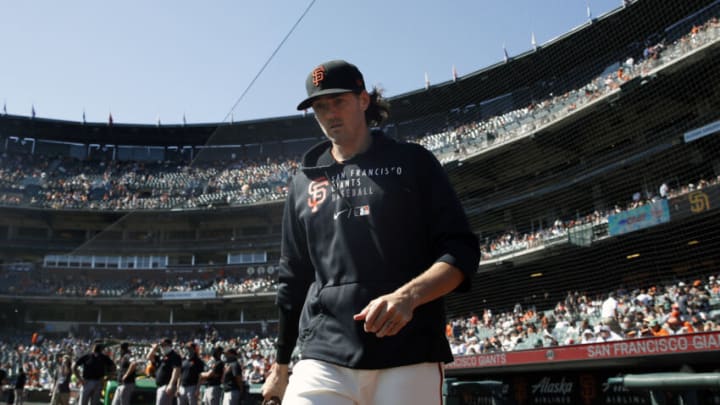 Oct 2, 2021; San Francisco, California, USA; San Francisco Giants starting pitcher Kevin Gausman (34) walks out of the dugout before the game against the San Diego Padres at Oracle Park. Mandatory Credit: Darren Yamashita-USA TODAY Sports /
Yes, Kevin Gausman and Robbie Ray's contracts were very similar in the end, but for the Blue Jays it was about much more than saving five million dollars.
I noticed a few posts that were gaining a fair bit of attention on Twitter yesterday that were pointing out how close Gausman and Ray's contracts ultimately ended up being. While I can understand the sentiment of, "I would have rather they kept Ray for the extra million per season", things really aren't that simple. You can't just go buy a Robbie Ray off the shelf for five years and 115 million dollars, although sometimes that will work out.
I do not know the inner workings of how it all went down in the Blue Jays front office, but I think it's safe to assume that the Jays were in contact with both of the top free agent pitchers that received five-year deals. What we know for certain is that the Blue Jays didn't want to be shut out of the top of the market, and they made an aggressive offer to Gausman that was enough to get him to sign. It's entirely possible that they made the same offer for Ray and he wasn't quite ready to commit.
That's the thing about free agency, it's a dance between player agents and teams who are both trying to leverage the situation to their advantage. There's an extra wrinkle this year with the pending expiry of the CBA, and we're seeing some serious urgency to get deals done before an inevitable freeze to the offseason while the next deal is hammered out. If I had to wager a guess, I'd be willing to bet that Gausman was ready to commit before Ray would do the same, or at least the terms of what the Jays had discussed with Gausman were in an agreeable place, and clearly were not yet with Ray. Maybe it was the amount of money, or perhaps Ray wanted a sixth year from the Blue Jays, and we may never know the exact details.
Regardless, Jays fans should be thrilled that they will get to watch another high-end talent in the rotation next year, and Gausman will look great along with Jose Berrios, Hyun Jin Ryu, and Alek Manoah as one of the better top-fours in baseball. Prior to Sunday's news the Jays ran the risk of ending up empty-handed, and with the market starting to shrink in a hurry (Max Scherzer signed with the Mets, Jon Gray to the Rangers, etc), it would have been a much more difficult spot for Ross Atkins and company to navigate.
On top of all of that, the Blue Jays do see some additional benefits by signing Gausman rather than Ray. They'll receive a compensation pick from the Mariners because Ray was given the Qualifying Offer and signed elsewhere, but they won't have to pay the same for Gausman, who was attached to the QO last winter, and that can only happen to players once under the current CBA. With Marcus Semien signed to a seven-year deal with the Rangers, the Jays are actually two picks ahead in that department at the moment.
Ray also received a nice benefit in his deal with the Mariners that the Jays didn't have to give Gausman, and that's an opt-out after the third year. It's hard to say whether that will ultimately matter, but after seeing the top of the pitching market receiving 35-40 million or more as an annual rate, Ray might be wise to set himself up down the line if his production continues at a Cy Young level. The Blue Jays have also long been fans of Gausman, and I'm sure Atkins was thrilled to finally land a player that he's coveted for at least a few seasons.
So yes, I realize that Gausman's contract of five years and 110 million was just slightly less than the five years and 115 million that went to Ray, but I don't think that small difference mattered very much in the end. Hopefully someday we'll get more of the full story of what went down on November 28, 2021, but either way it ended with the Blue Jays acquiring another premium starting pitcher. Let's just celebrate that much.