Blue Jays: Questions need to be answered before trades can be made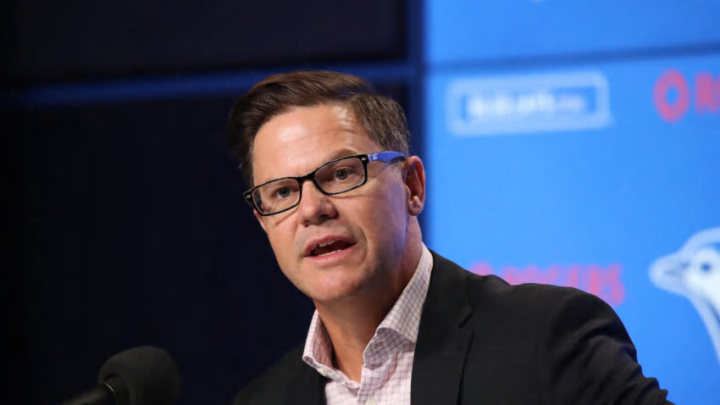 TORONTO, ON - APRIL 02: General manager Ross Atkins of the Toronto Blue Jays addresses the media after completing a trade earlier in the day that sent Kevin Pillar #11 to the San Francisco Giants during MLB game action against the Baltimore Orioles at Rogers Centre on April 2, 2019 in Toronto, Canada. (Photo by Tom Szczerbowski/Getty Images) /
It's only been a few days since the Blue Jays were eliminated, but already the speculation has begun about how the front office will tackle the offseason.
It's not much more than speculation at this point, but I've already come across a few prominent writers and media folks that have mentioned some big names, and in some cases, familiar ones. The most common that I've come across is the idea of pursuing a trade with Cleveland for Jose Ramirez, which is an idea that's been talked about quite a bit before. On the surface it makes sense why the Blue Jays could make a phone call to see if there's any potential for a swap, but there are more important priorities in the short term.
Before the Blue Jays can get too far into their offseason plans they likely need to know is they have a realistic shot at re-signing one or both of Robbie Ray and Marcus Semien. That may not be an answer that they can get right away, but it could be a key to the way they structure the rest of the strategy for the winter.
For example, I would argue that they probably don't need to spend the trade chips it would cost to acquire Ramirez if they manage to retain Semien. In that case Semien would return to second base and the Jays still have internal options for the hot corner in Santiago Espinal and hopefully a fully healthy and re-set Cavan Biggio. Yes, Ramirez would be a major upgrade over those two, but the Blue Jays already had the best run differential in the AL East and arguably the best offence in baseball when everyone was healthy. Considering the acquisition cost, spending those resources on Ramirez probably doesn't make much sense if you can retain Semien, even if it would be a pile of fun.
Like Semien, Robbie Ray's future could have a big impact on the rest of the offseason as well. The Blue Jays will have to find a way to try and replace him if he signs elsewhere, and that could open the door to a more realistic path to return for someone like Steven Matz. It could also mean that the Blue Jays could use some of their trade chips in another effort to boost their rotation, just as they did when they acquired Jose Berrios from Minnesota prior to the trade deadline.
Once the Jays have those two questions answered they'll have a much better idea of their needs going forward. It would also give them more direction about which young players they could make expendable.
Going back to the Semien example, if they were to sign him to a long-term deal while also having Bo Bichette under contract for at least four more seasons, they probably don't feel the same urgency to stockpile the middle infielders in the minor leagues. I doubt they're going to make Orelvis Martinez available on the trade market, but there are other infield prospects with solid value like Jordan Groshans, Otto Lopez, Miguel Hiraldo, and more. There's also a chance, although not a great one, that a player like Biggio could end up on the trade block as well if Semien were brought back.
At the end of the day, the Jays are going to have to either retain or replace the contributions of their two free agent stars, and that's a big question that will need to be answered. If they can't re-sign one or both of them they may very well end up swinging a big trade this offseason, and perhaps a guy like Jose Ramirez does end up in their sights. I'm confident that Ross Atkins and the front office team are making several back-up plans, but it will be tough to determine a direction without knowing the future for Ray and Semien, or perhaps the intention of the front office.
Even after trading Austin Martin and Simeon Woods Richardson, the Blue Jays still have plenty of trade pieces they could offer up, and it makes sense for a team that is clearly in win-now mode going forward. However, it's hard to know where to allocate those resources without the big questions being answered, and I imagine they're gauging that possibility as we speak before free agency opens. Either way, it should be a very interesting offseason, and an important one for the Blue Jays.