Toronto Blue Jays News
Blue Jays: The Good, the Bad and not so Ugly in Chicago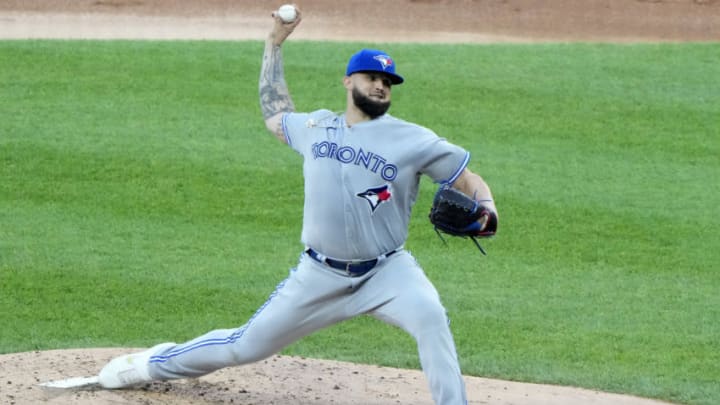 Jun 9, 2021; Chicago, Illinois, USA; Toronto Blue Jays starting pitcher Alek Manoah (6) throws a pitch against the Chicago White Sox during the first inning at Guaranteed Rate Field. Mandatory Credit: Mike Dinovo-USA TODAY Sports /
The Blue Jays bats went cold in the Windy City this week, which led to the club dropping two out of three games against the Chicago White Sox.  Here is a look at the Good, the Bad and the Ugly from that series.
The Good
When talking about the good, it plays in part with the bad, but we'll start with the positive part of things.  The duo of Santiago Espinal and Joe Panik had a strong series and are trying to make it hard for team to move on from either of them when Cavan Biggio returns.  Their performances have now put into question whether or not Rowdy Tellez will find himself on the outs.  Espinal and Panik combined to go 7 for 14 (.500) at the plate, which included a double, as well as Espinal picking up the only stolen base in the series.
Panik had a bit of a slow start after coming back from injury in late May, however, over his last 10 games, Panik has gone 14 for 34 (.412) at the plate which includes a pair of home runs and doubles, along with 7 RBI.  In that time, Panik has had five multi-hit games and has lifted his batting average 75 points to .286.
More from Jays Journal
It is disappointing that the Blue Jays lost the series, especially since they got strong starting pitching from Robbie Ray, Alek Manoah and Hyun Jin Ryu.  The three pitchers gave the team 17.1 innings pitched and surrendered just six runs (five earned).  Ryu allowed three of those runs, which all came in after Lourdes Gurriel Jr missed a fly ball that would lead to a one-out double.  Ryu would get the next batter out which would have ended the inning, but instead another double and a two-run homer led to a 3-0 White Sox lead.  The Blue Jays would go on to lose by three runs.
Ray looked outstanding in his performance as he struck out 13 batters without walking anyone over 6.1 innings pitched.  He pitched into the seventh inning with a shutout, but with one out he surrendered a solo home run, which would tie the game.  Charlie Montoyo would pull Ray after the homer as he had thrown 102 pitches.  I would have given Ray one more batter to see if he could get out of the inning as he was dominant and still facing the bottom of the order.  The bullpen would fail him in the eighth and surrender five runs to lose the game 6-1.
The Bad
It was great to see Panik and Espinal come up with some hitting in the series, but nearly a third of the teams hits came from those two players.  When that happens the offence is probably not clicking and the meat of the order is likely struggling.  Teoscar Hernandez, Randal Grichuk and  Gurriel Jr. combined to go 4 for 35 (.114) with 15 strikeouts over the three games.  What made matters worse for the trio was Gurriel's defence.  When George Springer returns, I think the team should move Hernandez into left field, with Gurriel becoming the fourth outfielder and designated hitter.  His arm doesn't make up for his misjudged routes.
The bullpen, which was so good at the beginning of the season, is still having a lot of trouble.  They combined for toss 6.2 innings this series and posted a 9.45 ERA and 2.10 WHIP.  Trent Thornton has been very impressive all season long and had his first real bad performance as he surrendered three earned runs and was able to get just one out.
The Not So Ugly
Vladimir Guerrero Jr picked up an error in the second game which led to a run, and also went just 2 for 9 (.222) with four strikeouts in the series.  It doesn't look good at first glance, however, the AL-MVP candidate picked up three walks to post an OBP of .417 in the series and the error was just the second he has made so far this season.  Guerrero has already played 12 more games at first base this year than last season and has made less errors, but the biggest difference is he has made lot less mental errors on defence this year.  Every defensive metric this season has been drastically better and it wouldn't surprise me to see him start to get Gold Glove in the coming years.
The Blue Jays head straight to Boston for one of the most important series of the season thus far.  Ross Stripling will look to build on his recent success as he starts the opener on Friday against Garrett Richards.