Blue Jays: Alek Manoah's debut not as intimidating as it sounds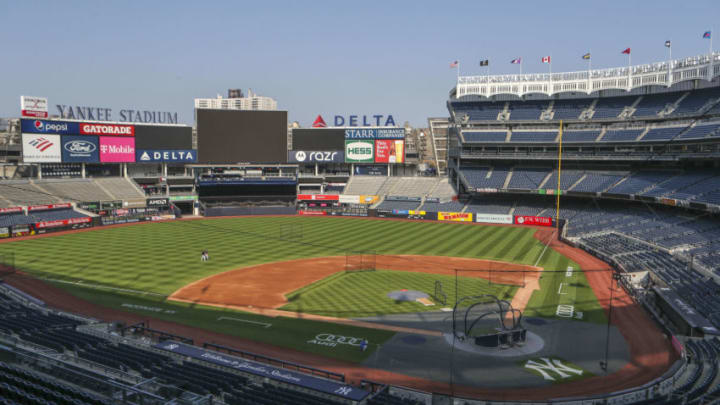 May 26, 2021; Bronx, New York, USA; A view from the press box prior to the game being canceled because of inclement weather between the Toronto Blue Jays and the New York Yankees at Yankee Stadium. Mandatory Credit: Wendell Cruz-USA TODAY Sports /
While debuting at Yankee Stadium has to be an intimidating thought on some level, Alek Manoah's first Blue Jays start won't be as tough as it could have been.
On paper the idea of squaring off against one of baseball's best lineups is a rude way to introduce the 23-year-old to life in the big leagues, but fortunately Manoah won't have to face all of the top Yankee hitters. He'll still get an opportunity to see talent like he's never faced before with the likes of Aaron Judge, DJ LeMahieu, and Gleyber Torres, but there are a key ingredients missing to Aaron Boone's offence at the moment.
Fortunately it Manoah it sounds like he'll miss Giancarlo's return to the lineup by a day, whose absence makes a pretty significant difference. When he's been healthy Stanton has been one of the Bronx Bomber's best hitters, slashing .282/.347/.534 with nine home runs and 24 RBI across just 33 games. He's still injury prone and continues to be a fairly streaky hitter, but he's a major threat when he's on the opposing team's lineup card. Fortunately Manoah won't have to worry about him this time around.
In a more recent development, it looks like Manoah won't have to face the 2020 AL home run champion either, as Luke Voit is headed back to the Injured List with a strained oblique, and that can be a tricky injury to heal as Blue Jays falls know all too well. Voit had only recently made it back from his first stay on the IL, and has only appeared in 12 games so far in 2021. The Yankees also continue to be without their regular centre fielder in Aaron Hicks, who is a quietly dangerous hitter when he's healthy.
More from Jays Journal
The Yankees have other key injuries, like the announcement that Corey Kluber will miss at least a month and likely a lot more, but they don't really pertain to the immediate task at hand for Manoah tomorrow afternoon. As for the regulars that will be in the lineup, this isn't the same intimidating group of hitters we're used to seeing in New York. Despite the fact that they're 28-20, not a lot of credits goes to the offence at this point in the calendar.
Outside of Judge, Stanton, and maybe Gio Urshela, you could make a solid argument that the rest of the Yankee regulars have disappointed offensively to date. LeMathieu has picked things up after a slow start, but he's still slashing just .260/.347/.347 with just three home runs and 14 RBI. Torres had a similar turn around and is now hitting .274, but his power has all but disappeared, as he's chipped in just two home runs and has a .356 slugging percentage at the moment.
Clint Frazier hasn't fulfilled his promise and is hitting just .183, and the veteran Brett Gardner hasn't been much better at .202. The catchers have combined to hit below the Mendoza line, with Gary Sanchez hitting just .174, and Kyle Higashioka not besting him by a whole lot at .200. Jay Bruce struggled so much that he retired after just 10 games, and Roughned Odor should arguably consider doing the same after his hitting woes from Texas have followed him to New York.
Add it all up and this is not your typical Yankee team that Manoah will have to get his feet wet against. It will still be a lineup full of MLB hitters, and one that should present better competition than the rookie will have ever seen before, but he certainly looks like he's ready for the next challenge after dominating Triple-A through his first three outings.
It's a shame that the start of MLB career had to be delayed by a day, but perhaps it'll turn out to be a blessing in disguise. With an extra day to get his emotions in check and mentally prepare, I'm excited to see what the former first round pick can do.