Toronto Blue Jays: News from the Nest – Sunday, May 9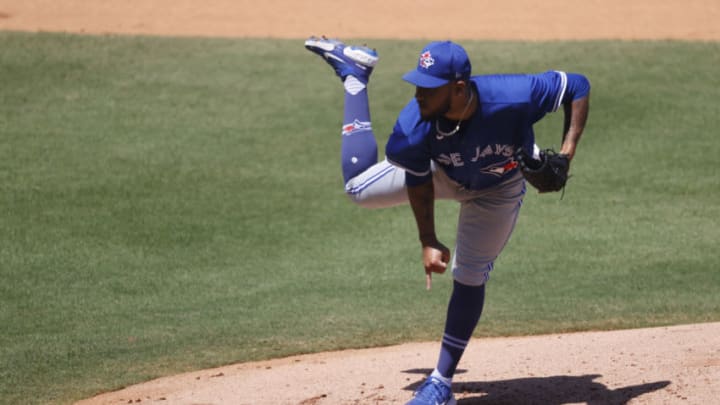 Mar 24, 2021; Tampa, Florida, USA; Toronto Blue Jays pitcher Alek Manoah (75) throws a pitch during the fourth inning against the New York Yankees at George M. Steinbrenner Field. Mandatory Credit: Kim Klement-USA TODAY Sports /
Dunedin Blue Jays – Low A
Record: 0 – 5
Another Blue Jays minor league team off to a rough start, the Dunedin Blue Jays have given up eight  or more earned runs in all five games they have played this season. The offense is there with 43 runs driven this past week but the pitching staff has been roughed up too much for the batting order to keep the game close, giving up an astonishing 77 (65 earned) runs.
Performing Well:
Zach Britton – C
Drafted by the Blue Jays last year, Zach Britton is taking on the role of catcher in his first professional season within the organization even though he was drafted as an outfielder. In five games so far this campaign, the lefty slugger leads the team with a 1.365 OPS and a .412/.600/.765 slash line with three doubles, one home run, three RBI, and seven walks. He has struggled a bit behind the plate, letting eight base runners steal without throwing out any in three games as catcher. Britton has made one appearance in left field so far this season.
Eric Rivera – OF
A 14th round selection in 2019, Eric Rivera is making his first appearance in A ball and is off to a hot start to begin the campaign. In 11 at-bats, he currently has six hits, four walks, and four stolen bases on route to a .545/.667/.545 slash line.
Rough Start:
A Majority of the Pitching Staff
The pitching staff for the Dunedin Blue Jays has not done well to begin the season, with 65 of the 77 runs being earned. Some current pitching lines include:
Gabriel Ponce: 1.1 IP; 60.75 ERA; 9 earned runs; 4 walks; 2 strikeouts
Jol Concepcion: 3.0 IP; 21.00 ERA; 7 earned runs; 2 walks; 3 strikeouts
Juan De Paula: 1.1 IP; 33.75 ERA; 5 earned runs; 2 walks; 2 strikeouts
Sem Robberse: 1.2 IP; 16.20 ERA; 3 earned runs; 3 walks, 3 strikeouts
Thomas Ruwe: 0.2 IP; 81.00 ERA; 6 earned runs; 4 walks; 1 strikeout
Winder Garcia: 2.2 IP; 16.88 ERA; 5 earned runs; 4 walks; 2 strikeouts
While the season is obviously early and the ERA's are inflated a bit due to the lack of innings, it is a bit alarming to see the pitchers give up so many earned runs in a short time span. Hopefully, this is more of a "shaking off the rust" scenario given many of these players are new to the A league after spending a couple years in Rookie Ball and with the minor league season being canceled last year.
Defence
The season is obviously early but it appears that some of the infield staff are having a bit of difficulty when it comes to fielding and throwing to first, as 12 of the Blue Jays runs this past week were unearned due to fielding miscues. The culprits include Miguel Hiraldo (2), Orelvis Martinez (2), Mackenzie Mueller (2), Harrison Ray (1), and Addison Barger (1), all of whom play infield positions. While these errors did prove costly on the scoreboard, the mishaps will most likely start to die down over time as the players get more comfortable and back into a routine of playing every day, not to mention that they are still on the younger side when it comes to prospect development and did not play last season.
Right-hander Yosver Zulueta will undergo surgery after leaving his start with a knee injury earlier this week, sidelining him for the season.