Toronto Blue Jays: News from the Nest – Sunday, May 9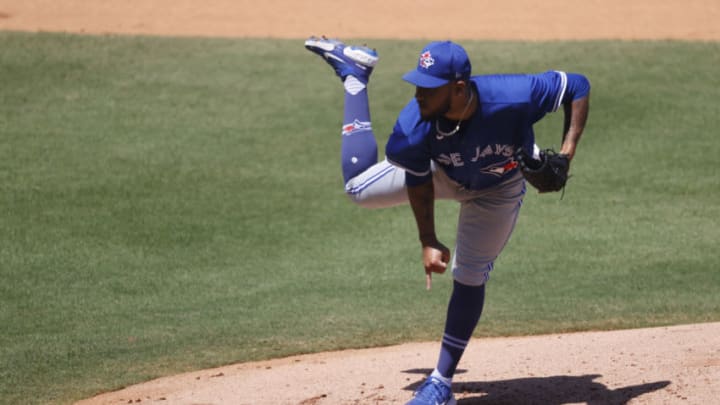 Mar 24, 2021; Tampa, Florida, USA; Toronto Blue Jays pitcher Alek Manoah (75) throws a pitch during the fourth inning against the New York Yankees at George M. Steinbrenner Field. Mandatory Credit: Kim Klement-USA TODAY Sports /
In a bi-weekly segment, News from the Nest will be looking into how the four minor league affiliates of the Toronto Blue Jays performed in the previous two weeks, highlighting players who performed well and seeing which players took a step back. This series will also look at any transactions in regards to players being let go and any players who have moved up or down in the farm system.
Buffalo Bisons  – AAA
Record: 3 – 2
The Buffalo Bisons have been off to a strong start to the season, with multiple players hitting well and the starting rotation making headlines with their dominant performances. In five games this past week, the Bisons have scored 29 runs while only giving up 16, losing their first game of the season on Friday.
Performing well:
Multiple members of the rotation:
The Bisons starting rotation has performed well to begin the season, with Nick Allegeyer, Nate Pearson, and Alek Manoah all doing earning wins in their first starts of the season. Their stats so far:
Pearson: 3.2 IP; 2.45 ERA; 8 strikeouts; 1.36 WHIP
Manoah: 6.0 IP; 0.00 ERA; 12 strikeouts; 0.33 WHIP
Allgeyer: 6.0 IP; 1.50 ERA; 6 strikeouts; 0.67 WHIP
While Pearson did not pitch deep into the game, he was throwing well and appeared healthy after spending almost a month on the injured list. Manoah and Allgeyer really stood out, especially since both just made the jump from A ball to AAA after the 2020 season was canceled due to COVID-19.
It has been reported that Pearson is also currently traveling to Houston and will start the final game of the series on Sunday against the Astros.
Logan Warmoth – OF
In 14 at-bats this season, Logan Warmoth is currently sporting a .357/.400/.857 slash line with a 1.257 OPS. He also is tied for the team lead in home runs with two and also has three RBI.
Cullen Large – INF/OF
In four games this season, third baseman/outfielder Cullen Large currently is tied for the lead with eight hits and is slashing .381/.391/.571 with two doubles, one triple, and one RBI through 21 at-bats.
Rough Start
Dany Jimenez – RHP
One of the Bison's relief pitchers, Dany Jimenez has appeared in two games this season and has pitched to a 9.00 ERA after giving up two home runs and three earned runs while striking out four batters with one walk in just 2.0 innings of work. The former 2-time Rule 5 draft pick was returned by the Oakland Athletics prior to the start of the AAA season.
T.J. Zeuch – RHP
In his only start of the season, T.J. Zeuch went 4.0 innings but surrendered three earned runs, giving up six hits while striking out four with a 1.75 WHIP. He would earn the loss and is currently sporting a 6.75 ERA.
Josh Palacios – OF
While the outfielder had a somewhat successful tenure with the Blue Jays earlier this season (.250/.353/.250 with four RBI) as a bench player, Josh Palacios struggled to put the ball in play in AAA this past week. He is currently slashing .222/.364/.278 in 18 at-bats with one double, two RBI, and six strikeouts while also featuring one of the team's lowest OPS at .641.
Jacob Waguespack – RHP
The right-hander got the start yesterday with Pearson heading to Houston and did not have a fun outing. He would give up 10 hits and five earned runs on his way to an 11.50 ERA while walking one batter. One bright note is that he did strike out nine batters in the contest through 4.0 innings pitched.
Outfielder Jonathan Davis rejoins the active roster after George Springer was put back on the injured list.
Rowdy Tellez rejoins the Blue Jays roster after being sent down to the Bisons. In three games, the slugger slashed .300/.462/.800 with one home run and three RBI.
Reliever Ty Tice was returned to the Bisons yesterday after a brief stint on the active roster this past week. He currently sports a 5.14 ERA in four appearances with the Blue Jays, striking out six while walking four.
Reliever A.J. Cole was called up to the major league squad in a corresponding move. Cole has yet to pitch this season.