Blue Jays: How and when Alek Manoah can help in 2021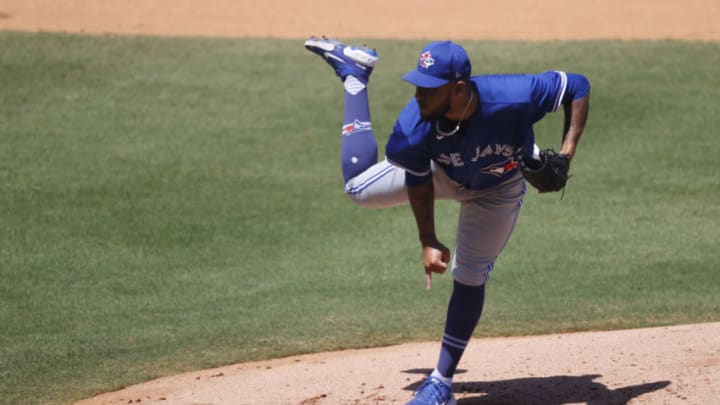 Mar 24, 2021; Tampa, Florida, USA; Toronto Blue Jays pitcher Alek Manoah (75) throws a pitch during the fourth inning against the New York Yankees at George M. Steinbrenner Field. Mandatory Credit: Kim Klement-USA TODAY Sports /
The Blue Jays should have some pitching reinforcements coming back soon to the big league club, and possibly another wave of talent that could help later on as well.
In the near term most of the focus will be on what will hopefully be a short stint on the sidelines for Hyun Jin Ryu, and the eventual return of Nate Pearson, who was activated on Thursday and sent to Trenton to pitch in Triple-A for a while to continue getting himself prepared. However, as the season wears on, don't be surprised to hear the calls for Alek Manoah's big league debut to grow louder.
The 23 year old couldn't have performed much better than he did during Grapefruit League action this spring. In total he threw 7.0 innings and posted a 0.00 ERA and a 0.14 WHIP, striking out a ridiculous 15 batters against zero walks. He did hit three batters in those seven frames, but that's pretty easily forgiven given his utter dominance, and the fact that he only gave up one hit.
Naturally there was a section of the fan base that wanted to see him in the big leagues at the beginning of the season, but I'm sure even Manoah would tell you he knew he was ticketed for Triple-A to start the year. Even that's a pretty sizeable promotion when you consider that he only has 17.0 pro innings on his resume from his time spent in Vancouver in 2019. With a lost season in 2020, the former first round pick is still going to need some time to develop, and just as importantly, time to build up his workload as well.
More from Jays Journal
I fully believe that Manoah has the ability to be a workhorse type of starting pitcher in the future, and he told me as much when I chatted with him roughly a year ago. For 2021 though, I wonder if the Blue Jays shouldn't have a creative solution in mind, and one that could really boost the big league roster later on.
In the event that Manoah dominates in Triple-A, it's entirely possibly that he makes some big league starts by mid-late summer. However, I wouldn't be surprised if the Blue Jays were a little reluctant to push his development, especially because he primarily focuses on two pitches. He does have a wider and developing arsenal, something else he discussed with me last year, but his elite fastball-slider combo could already play well in the big leagues, especially out of the bullpen.
If he doesn't end up pitching his way into the big league rotation at some point anyway, I definitely think it's worth considering using him as a reliever once the season gets into August or so. That would give him time to make plenty of starts in Triple-A, work on developing his other pitches, and give the coaching staff an opportunity to control how many innings they want to put on his arm in 2021. Like they've done with other premium pitching prospects in the past, such as Aaron Sanchez, and even now with Pearson to an extent, why not ease the workload for the late-season and have him join the bullpen as another potential weapon?
With his big arm he could be the type to pitch in the later innings, but even if he was used as a multi-inning weapon for the middle innings, there would be real value to gain from having Manoah on the staff. As we've seen throughout Charlie Montoyo's tenure with the Jays, the emphasis on the bullpen has never been greater, and it's not hard to envision a role for him.
Again, ideally Manoah will develop as a starter right away, and may even pitch in that role for the Blue Jays at some point in 2021. However, given all of the variables at play, it might be more realistic to hope he joins the rotation for the 2022 season. That doesn't mean he can't help the team this year though, and it'll be a situation worth keeping an eye on as the year progresses.