Toronto Blue Jays: 2021 AL East Predictions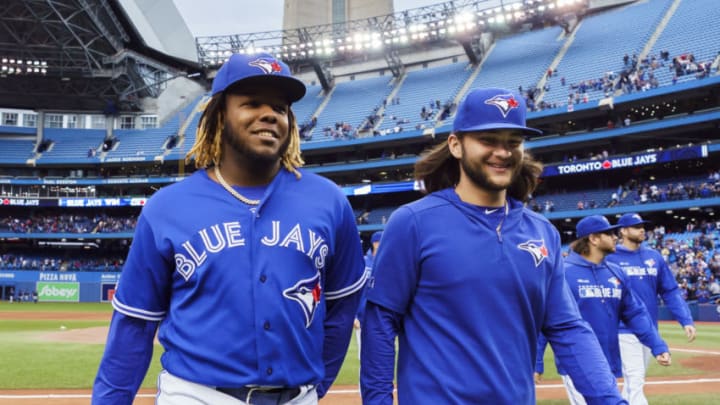 TORONTO, ONTARIO - SEPTEMBER 29: Vladimir Guerrero Jr. #27 and Bo Bichette #11 of the Toronto Blue Jays walk off the field after defeating the Tampa Bay Rays in the last game of the season in their MLB game at the Rogers Centre on September 29, 2019 in Toronto, Canada. (Photo by Mark Blinch/Getty Images) /
With the 2021 MLB season upon us, we will take a look at how the AL East appears to be shaping up. Here are my predictions for the AL East in the 2021 MLB season:
5. Baltimore Orioles
The Baltimore Orioles finished 4th in the AL East just one season ago, but are by no means ready to compete in this division. The rotation does not look great and the lineup has a ton of young unproven talent. John Means is going to be their ace heading into the season. The young lefty has shown that he has good stuff, but has not proven that he can be the ace of a good team. In terms of their batting lineup, there are certainly a few guys who can put up decent numbers, but overall as a team, I do not see them fairing very well this season.
Prediction: 65-97
4. Boston Red Sox
The Boston Red Sox finished last in the AL East in the shortened 2020 MLB season. The team really struggled to find their groove and it didn't help that they lost one of the best players in baseball in Mookie Betts. Their rotation has a ton of question marks surrounding it as many of these players have been prone to injuries and there isn't much depth. The batting order consists of a couple of studs including J.D Martinez, Rafael Devers, and Xander Bogaerts. These guys are going to have to have phenomenal seasons if there is any hopes of this team competing for a playoff spot.
Prediction: 70-92
3. Toronto Blue Jays
There is no doubt that the Blue Jays have an incredibly talented roster. They have easily one of the most talented lineups in all of baseball, however, the pitching is what really concerns me. Outside of superstar pitcher Hyun-Jin Ryu, the Blue Jays have a lot of question marks surrounding the rotation and their bullpen. The Jays season is going to depend on whether their rotation can stay healthy and exceed expectations, and obviously if this lineup can play up to the level that they are capable of. I believe the Jays have a very high ceiling if things go right, but there are too many things that worry me. The Jays will likely compete for that second wild card just behind the Rays.
Prediction: 87-75
2. Tampa Bay Rays
I have been going back and forth debating whether I think the Blue Jays or the Rays will finish with a better record this season. The reason why this is such a difficult decision for me is that I think that the Jays ceiling is higher, but their floor is lower. The Rays lost their ace Blake Snell but acquired some solid names to fill their rotation. Their lineup looks very similar to the way it did last year, so it would not shock me one bit if this team earns a playoff berth. Looking at their depth chart, I do not see really any holes, which is why I have them finishing just ahead of the Jays. They have a ton of depth and we always know what to expect from a Rays rotation.
Prediction: 89-73
1. New York Yankees
The Yankees are the clear-cut favourites to win this division and I believe they will do just that. The batting lineup is scary from top to bottom. The lineup looks very similar to the way it did a year ago as they will put out a lineup that consists of stars such as Aaron Judge, Gleyber Torres, DJ LeMahieu, and Giancarlo Stanton. The rotation is led by superstar pitcher, Gerrit Cole. If Gerrit Cole suffers any sort of long-term injury, this division really is up for grabs.
The Yankees rotation does have some question marks which could be the downfall come the postseason. The bullpen has some solid arms and solid depth. Overall, the Yankees have an outstanding team and have a real shot at winning a World Series this year especially if they add another front-of-the-line starter.
Prediction: 96-66