Blue Jays: Top Prospects and Spring Training Results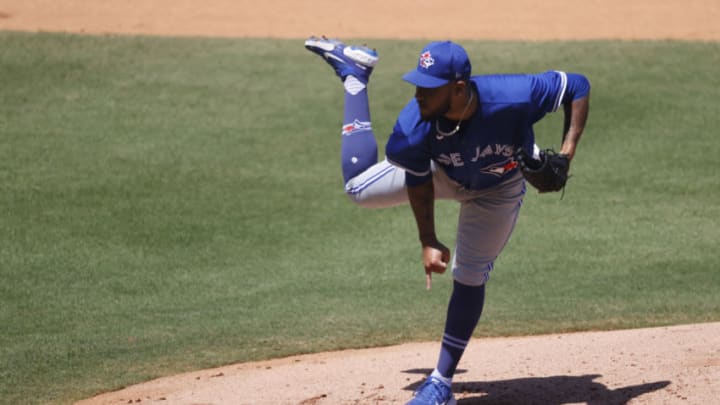 Mar 24, 2021; Tampa, Florida, USA; Toronto Blue Jays pitcher Alek Manoah (75) throws a pitch during the fourth inning against the New York Yankees at George M. Steinbrenner Field. Mandatory Credit: Kim Klement-USA TODAY Sports /
The 2021 Blue Jays Spring Training has come to an end, during that time fans got to watch some of the organization's top prospects.  Here is a look at how each of them fared.
Nate Pearson – Rank #1
Coming into Spring Training, Nate Pearson was expected to come out slotted in the number two spot in the starting rotation.  However, he was able to pitch in just one game before going down to an injury due to a groin strain.  He last pitched in a game on March 1 and was reported to have had a setback in his recovery two weeks ago.  There is no timetable for his return as he's just started long-tossing over the last few days.  In his only appearance he pitched one inning, allowing a hit and a walk on two strike outs and one unearned run.
Austin Martin – Rank #2
When Austin Martin joined Spring Training there was no expectation that he would be making the club, as it was fully for development reasons.  Martin got into 13 games, however, most were late inning replacements and he only had an at bat in six of those appearances.  In total Martin went 1 for 10 (.100) at the plate with a pair of walks while going 2 for 2 in stolen bases.
Jordan Groshans – Rank #3
The former high school draft pick, Jordan Groshans was coming into camp with a similar circumstance as Martin as he was looking for the future and not for a spot on the roster just yet.  Groshans got into nine games hitting 1 for 9 (.111) collecting one RBI.  He got into just one game after March 17.
More from Jays Journal
Simeon Woods Richardson – Rank #4
The main piece in the trade for Marcus Stroman, Simeon Woods Richardson was nothing short of amazing in camp.  He pitched in three games, all against the New York Yankees who had a lineup of almost all MLB level players in each contest.  In total, SWR threw eight innings and allowed just six base runners without allowing a run and striking out eight.  There is potential that you see SWR late in the season out of the bullpen.
Alejandro Kirk – Rank #5
News broke on Sunday that Alejandro Kirk was told that he was going to make the Opening Day roster.  At the time of writing, the Blue Jays had still not announced what is going on with Reese McGuire, but the early assumption is that Kirk has taken the second catching spot.  Over 11 games, Kirk got positive reviews from the pitching staff and displayed a solid bat at the plate.  He went 7 for 24 (.292) with two home runs.  Kirk will now have to prove he can stay in the major leagues.
Orelvis Martinez – Rank #6
The 19-year old Orelvis Martinez came into camp as a non-roster invitee and may have climbed up the positional prospect chart.  Martinez got into 11 games in the spring and went 4 for 11 (.364), which was highlighted by his performance in the last game of the Grapefruit League when he went 2 for 2 with a home run, double and 3 RBI.
Alek Manoah – Rank #7
Fans got very excited with Alek Manoah this spring due to his outstanding performances and some are even asking for him to make the roster.  Manoah only has a handful of professional games under his belt, but because of his age and last season's Alternative Training site he may be further along than some expected.  Manoah made three appearances, pitching a total of seven innings and allowing just one hit on no walks while striking out 15.  He did hit three batters, so that will need to be something he works on.  Nonetheless, Manoah's name will be on the forefront of many people's minds and you may see him out of the bullpen late in the season.
Gabriel Moreno – Rank #8
Gabriel Moreno turned 21 years of age at the start of Spring Training and he could be the future of the Blue Jays behind the plate.  He got into just seven games and went 0 for 7 through his first seven trips to the plate, but went 2 for 2 in his last two appearances.  Moreno has a ton of upside and should be a name for people to remember.
Miguel Hiraldo – Rank #9
Another very young prospect, Miguel Hiraldo is still just 20 years of age.  He did get into eight games, all of which were late inning replacements.  He went 0 for 5, striking out four times while collecting one walk.
Adam Kloffenstein – Rank #10
Adam Kloffenstein doesn't turn 21 until late August, but is another pitcher to start thinking about getting to the club in the next two years.  For anyone who loves following prospects, Kloffenstein's only appearance came in what would be your most entertaining game to watch, as he followed Manoah and Woods Richardson on March 14.  Kloffenstein pitched one shutout inning allowing one hit while striking out one.
The season is just starting, but these are the Top 10 Prospects to watch develop in the 2021 season.