Blue Jays Prospect Spotlight: Dasan Brown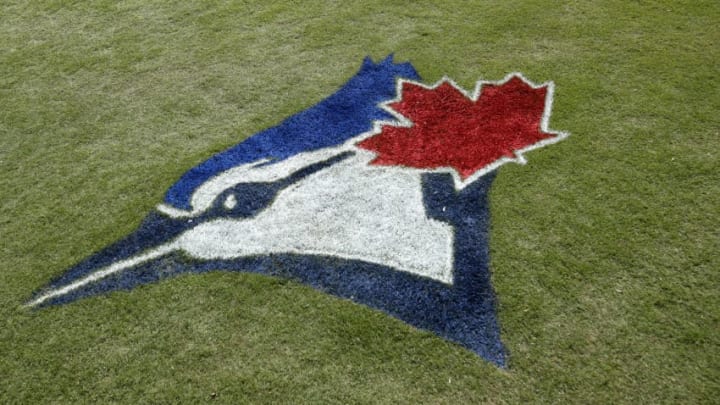 DUNEDIN, FL - FEBRUARY 24: General view of the Toronto Blue Jays logo painted in the grass prior to a Grapefruit League spring training game against the Atlanta Braves at TD Ballpark on February 24, 2020 in Dunedin, Florida. (Photo by Joe Robbins/Getty Images) /
The 2019 MLB Draft was a specific interest of mine.  Why? The amount of Canadian talent eligible for selection.  At that time, I was coaching in the Elite Baseball League of Ontario, observing numerous draft potentials. I was also working as an Academy Instructor for the Toronto Blue Jays, which offered me the privilege of having a close-up look at top Tournament 12 talent.
The 2018 version of Tournament 12 previewed various names of excitement.  Owen Diodati, Calvin Ziegler, Justin Thornsteinson, Jack Seward, Jaden Brown and a flock-load more.  These were all Canadian talent, which would appeal to the Blue Jays and various other clubs.  However, the name I had at the top of my list was centre-fielder, Dasan Brown.
If you follow Canadian baseball, leagues such as the Premier Baseball League of Ontario (PBLO) and the Canadian Pacific Baseball League (CPBL)  are very intriguing.  I grew up playing in the OBA's.  Some of my teammates and opponents were also involved in those leagues, who eventually took their talents to a reputable school or even Major League Baseball; like Jordan Romano.
More from Jays Journal
Dasan Brown was a part of the Ontario Blue Jays organization; a well-established program, grouped with programs such as the Toronto Mets and Great Lakes Canadians.  Brown, from Oakville, Ontario, also played for the Oakville A's and Hamilton Cardinals.
I've had the chance to watch Brown in action, in games, and in showcases. He held a national rank of 99 overall by Perfect Game USA and was the top Canadian draft prospect in his class.  He was the Canada 2019 Player of the Year through the Prep Baseball Report.  In 2019, he was also a part of the Canadian Junior National Team.
Why was Blue Jays, Dasan Brown the Top 2019 Canadian draft pick?
In 2019, the Toronto Blue Jays selected the outfielder in the 3rd round of the MLB Draft, 88th overall for $800k, out of Abbey Park High School.  He was previously committed to Texas A&M.
Let's backtrack a bit.  There's evidential reason as to why this kid was the highest selected Canadian in that draft; a lot of this evidence was displayed at the 2018 Tournament 12 event, hosted in Toronto.  I will provide the scouting reporting at a later time; however, let me tell you, watching Dasan on a ball field gave you two feelings.
The first feeling was fear.  Why fear? Put yourself in the opposing coach's cage jacket; you have a whole lot of tools to worry about.  Offensively, the kid can swing.  He has amazing pitch recognition, a great idea of the zone, and eats what he likes to eat.  He's a gap-to-gap hitter, using all parts of the field.  He is not shy to take a walk.  That leads to the dangerous part; the kid can run.
Without providing numbers (as I will in the report), this is Dasan's top tool.  You can pay this guy just to put the ball in play because he'll beat you on his feet.  I've seen dribblers turned into easy infield singles, and I've seen routine singles stretched to doubles.  His speed isn't only used to reach base, it's also used to create anxiety for that fielder.  Defenders will misplay the ball – bobble or over-throw, knowing they have minimal time to have a shot at the out.  He's super quick on his feet.  Having Dasan Brown on the base pads, as the opposition, will throw off your pitcher and catcher.  It's another distraction from the roles of those positions.
From a coach's position, this is the guy you want at the dish and or on the base-pads when you need to push a run.  If you recall game 6 of the 2015 ALCS between the Blue Jays and the Royals, the Blue Jays had Dalton Pompey on his run game; he stole two bags in hopes of getting across to tie.  Obviously, we don't want to recall that game. Dasan Brown would be the key player to insert in such situation.
From a defensive standpoint, Brown's quick feet on the base paths works the same way on the green.  He plays his position well.  He's quick to the ball with solid reads and covers a ton of ground.  In little league, where you're short a player, playing with eight, you want Brown to be one of your only two outfielders in that game.
Brown will be an asset to the Blue Jays as the future seeps into the present.  There's a lot of substance to this player, whom I do not believe gets the appropriate credit he deserves.  This was probably one of my favourite T12 and showcase prospects I've scouted.  Stay tuned for my 2019 Draft Report on Dasan Brown as well as my evaluation.