Toronto Blue Jays: Sewing up some old wounds before the season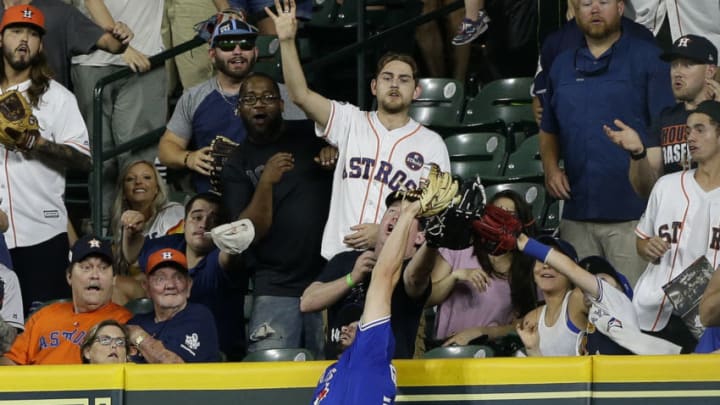 HOUSTON, TX - JUNE 25: Randal Grichuk #15 of the Toronto Blue Jays makes a leaping catch at the wall to take away a three run home run from George Springer #4 of the Houston Astros in the ninth inning at Minute Maid Park on June 25, 2018 in Houston, Texas. (Photo by Bob Levey/Getty Images) /
I want to preface this article by saying George Springer, from everything I've read, seen and heard is not only an outstanding baseball player, but an exceptional human being. I love the signing by the Blue Jays, and I'm excited for what he's going to bring to this young team, on and off the field.
With that said, the elephant in the locker room will inevitably have to be addressed: Springer's role in Houston's cheating scandal.
Randal Grichuk, who played the majority of the games in centre field last season, was extremely vocal about his displeasure with the Astros scandal. Grichuk said in an interview in January of 2020 that the Astros championship should be stripped.
We don't know if Grichuk has softened his stance on the sign-stealing scandal, but having a key member of that 2017 Astros team not only come to his team, but take his spot in centre field would likely not sit well. Of course, barring a trade, Grichuk likely slides over to a corner spot, so the Springer signing probably doesn't push him out of the lineup, but if there was any resentment remaining, this probably didn't help.
More from Jays Journal
Ultimately, winning teams need a tight-knit locker room, and addressing this conflict is going to matter, not just to Grichuk, but to the whole team.
Grichuk talked at length about the impact that the Astros cheating had on the rest of the league; how it affects guys in triple-A, how it hurt players in arbitration and how it hurt the integrity of the game. These are issues that affected every player on the Jays roster and have likely not been completely let go.
Springer, of course, was one of the only Astros to give a meaningful, unscripted apology for his role in the scheme, and appeared to show true remorse. Everyone deserves a second chance and Springer, unlike other players on that 2017 team, actually owned up to his mistake.
Springer needs a fresh start, and there is no place better to do that than in a market, city and country that adores its sports stars pretty unconditionally. He will, and already has made a great impression on the Jays fan base.
The young players will definitely be able to learn from Springer, especially Vladimir Guerrero Jr. who has shown flashes of brilliance but has lacked consistency at the plate since he's been in the big leagues. Springer said in his introductory press conference that he prides himself on his consistency, and if he's able to pass along parts of his hitting philosophy to others in the Jays lineup, the results will be evident.
But for those conversations to take place, the former Astro is going to have to be willing to have open dialogues with players that still have unanswered questions about his role in the Houston scandal. I'm sure many of the Jays players are already willing to put it behind them, but for guys like Grichuk, I think a truthful, one on one conversation could go a long way in binding this group as tight as possible before the regular season.
I'm sure Springer would prefer to avoid the topic completely, but the reality is he is going to be a big part of this team for a long time and it's in everyone's best interest to get out in front of any possible backlash from the situation. If there are in fact players that still have underlying issues with Springer's history, the last thing the Jays need is for those conflicts to boil over in the middle of a rough patch during the season.
Overall, I don't think this will end up being a significant locker room issue, but to me, the prospect of it becoming one is worth getting ahead of if I'm George Springer. I'm not saying he needs to stand up on a table in the dugout and give a big, dramatic apology, but a willingness to answer questions and engage in conversations with his teammates will go a long way towards putting this behind him.
Here's to a fresh start for our new centre fielder.