Blue Jays: Way-Too-Early 2021 AL East Standings Predictions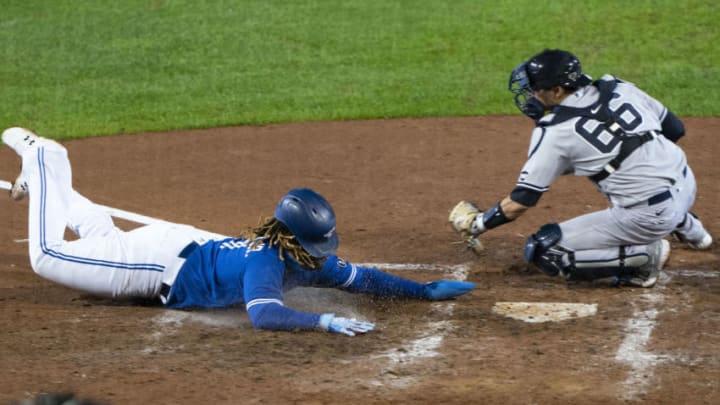 Sep 24, 2020; Buffalo, New York, USA; Toronto Blue Jays first baseman Vladimir Guerrero Jr. (27) dives into home plate ahead of the tag by New York Yankees catcher Kyle Higashioka (66) to score a run during the sixth inning at Sahlen Field. Mandatory Credit: Gregory Fisher-USA TODAY Sports /
We're still a few months away from the start of the Blue Jays regular season, but it's never too early to start making predictions about 2021.
The AL east is expected to be shaken up over the next few years. With the Blue Jays aggressive offseason approach, the Rays selling from their world series roster, and the Red Sox/Yankees taking a step back from their spending ways, the division is sure to be an unpredictable one in 2021.
The offseason has been as slow as a snail, so while we wait for the action to begin, let's look ahead to 2021 and project the American League East standings. These predictions will factor in  externalities such as open market expectations and the performance trajectory of each clubs current roster.
5th Place – Boston Red Sox (69-93) 
More from Jays Journal
A lot of viewers may have been expecting to see the lowly Orioles as my prediction for 5th place but as mentioned, these predictions factor in performance trajectories.
Although the Red Sox have a much more talented roster on paper than the Orioles, the team is not exactly trending upwards. The pitching consists mostly of placeholders such as the recently signed Matt Andriese, Zack Godley and company. Although Chris Sale (Tommy John surgery) and Eduardo Rodriquez (COVID-related opt out) should be back in the mix in 2021, they still have a lot to prove after having not played since 2019. To add insult to his absence in 2020, Chris Sale will be three years removed from posting an ERA of sub 4.
On the positional side of things (where most of their upside comes from), things are looking bleak. After finishing 24-36, two of their top players from the 2020 campaign in Jackie Bradley Jr. and Kevin Pillar (who was traded away midseason) are currently on the open market and not expected to resign. In addition, star players such as JD Martinez have appeared to hit decline mode. In 2020, Martinez had an OPS under .700 after producing at a clip of at least .879 in every season between 2014 and 2019.
The young core of talent wasn't so impressive either. After an MVP-level and ROY-level season from Rafael Devers and Michael Chavis, respectively, they both produced at clips much lower than their preceding campaigns.
In view of their offseason outlook, don't expect things to change much in 2021.
4th Place – Baltimore Orioles (72-90)
Baltimore still has a long way to go development-wise but there are still some bright spots for Orioles fans to look forward to in the 2021 season. OF, Trey Mancini is set to return in the upcoming season following successful chemotherapy treatments to remove a cancerous tumour.
He re-joins a lineup that was full of pleasant surprises in 2020. This includes key controllable pieces like 1B, Renato Nunez, rookie LF, Ryan Mountcastle and potential rising star RF, Anthony Santander. This particular trio dominated at the dish, producing an OPS of .816, .878 and .890 respectively. All three are controllable until at least 2025. When you add Trey Mancini's bat to the mix, the Orioles could have a solid top of the order for years to come.
The problem is the rest of the lineup. As a whole, the Orioles team OPS was right around 100, which is a little underwhelming for the rest of the lineup considering the sizeable output that was given from pieces mentioned above. There is still a lot for the Orioles to prove before GM, Mike Elias starts to plug the holes with lucrative acquisitions on the open market.
As it pertains to pitching, the Orioles seem to always have horrible starting pitching. In 2020, between starters Alex Cobb, John Means, Tommy Milone, Jorge Lopez and Asher Wojciechowski, none posted an ERA under 3.99. Despite a few valuable chips, the O's are not a good baseball team.
3rd Place – Toronto Blue Jays (87-75)
The Blue Jays are apparently among one of the most aggressive teams in the 2021 offseason, having been linked to just about every marquee free agent. If they spend their dollars right, then there is every reason to believe this will be a better ball club. After signing Hyun Jin Ryu last year, he turned in a campaign in which he was 3rd in AL Cy Young award voting. I have faith that this front office will repeat. After all, the Blue Jays' player development staff in general has had a good eye for talent.
Rising stars such as Cavan Biggio, Teoscar Hernandez, Rowdy Tellez, Bo Bichette, Lourdes Gurriel Jr. and Vladimir Guerrero Jr. all posted OPS+ marks above the average of 100. This is a pretty remarkable feat for such a young club. If they are all this good in their early to mid 20s, then they should be headed towards some pretty promising prime years in their careers. The offensive trajectory for this team = excitement for many years to come.
The current predicaments with this club are defence and starting pitching. The Jays will be able to plug some holes in this offseason, but its hard to imagine they will be able to solve the entire defence/pitching problem with just a few acquisitions. I think that if all these great offensive players that I mentioned above are going to play everyday, then they will need to grow defensively in 2021 as a unit to really become a contender in 2022.
In terms of pitching, the Jays are one Hyun Jin Ryu injury away from having one of the worst rotations in baseball. The rotation is diluted in back end depth such as Trent Thornton, Tanner Roark, Ross Stripling and Robbie Ray. It'll help if the Jays could sign a Trevor Bauer or trade for a Luis Castillo, but with all the commitments they currently have with other starting pitchers, it's hard to believe that they will sign three or four.
It starts with one or two impact players and that appears to be on the bill for the Jays this offseason. In what I think will be a very competitive upcoming season, 87 wins should be enough to snag a second wild card and meet again with the Rays in the inaugural round of the postseason.
2nd Place – Tampa Bay Rays (90-72)
If Tampa Bay Rays hadn't traded Blake Snell off to the Padres, I'd have probably put them a game or two ahead of the Yankees to win the division. But the Rays are going to Ray and they did what they did. They still got a bright young prospect in Luis Patino who features a devastating high 90s fastball and six full more seasons of control.
The Rays always find a way to develop young players quickly like they did with Tyler Glasnow and Austin Meadows in their swap with Pirates a few years ago. I have no doubt that they knew exactly who they wanted in the Snell trade. Despite the crafty ways of the Rays, they are still a worse team than in 2020, having lost Snell and Charlie Morton.
Their entire positional lineup remains pretty much the same so I can't discount the Rays too much but their frugal ways will not make them a sustainable winner for much longer. Two or three years from now, they'll be back to rebuild mode.
1st Place – New York Yankees (92-70)
The Yankees are still juggernauts, even if they were to lose DJ LeMahieu, Masahiro Tanaka, JA Happ and James Paxton to free agency. In this case, they wouldn't even sniff the 100 win mark.
I do think they will likely retain at least some level of those free agents from the 2020 roster/open market replacements. In addition to whatever offseason moves they make, the Yankees still have a scary lineup with sluggers like Luke Voit, Giancarlo Stanton and Aaron Judge. Factoring in injuries and a weakened overall roster on opening day, I landed on 92 wins.