Toronto Blue Jays: Should they pursue a new closer?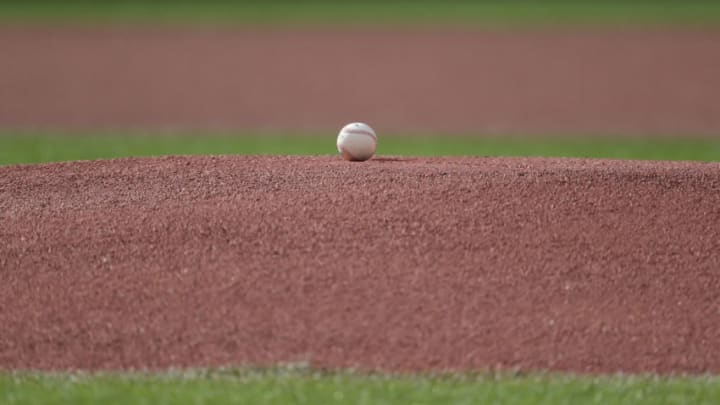 TORONTO, ON - SEPTEMBER 22: A baseball rests on the rubber on top of the mound before the start of the Toronto Blue Jays MLB game against the Tampa Bay Rays at Rogers Centre on September 22, 2018 in Toronto, Canada. (Photo by Tom Szczerbowski/Getty Images) *** Local Caption *** /
Should the Blue Jays seek outside help, or should they choose from within for the closer's role?
The Toronto Blue Jays front office has talked about having a big, aggressive offseason but so far, all they've done is re-signed Robbie Ray to a one year deal. Even though the rotation is an area of need, Ray doesn't exactly scream "aggressiveness".
Speaking about areas of need, the rotation isn't the only part of the roster they need to address. The Blue Jays also need some help defensively, another rotation piece or two, some bullpen arms, and perhaps a corner infielder.
In regards to the bullpen, they have quite a few middle and long relievers, but there are some questions marks when it comes to the back of the pen for when it comes to tight and close situations.
More from Jays Journal
Last season to start off, the closer's role was held by Ken Giles who's one of the better closers in the game when healthy. He couldn't stay healthy though, as he was only able to appear in four games for the 2020 season. It was revealed that he needed Tommy John surgery and with him set to miss the entire 2021 campaign, the Blue Jays are unlikely to bring him back.
Once he was shelved, the closer's role was shared with Rafael Dolis and Anthony Bass. While Dolis remains on the roster, Bass is a free agent and can sign with any team.
Dolis recorded a 1.50 ERA with an opponent average of .193 with six saves in seven chances. He also got seven holds, which he recorded when not acting as the closer. Charlie Montoyo could hand the closer's role to Dolis to start off the season, but that would mean finding a new setup man to take his spot.
There are two other players in the Blue Jays bullpen that could potentially be the closer. One of them is Canadian Jordan Romano who recorded a 1.23 ERA and an opponent average of .154 with two saves last season. Despite not using his fastball as his primary pitch, it averages 97 MPH, which is typical speed for a closer.
The other relief pitcher that could potentially be used as a closer is Julian Merryweather. Since he came over in the Josh Donaldson trade, he was viewed as a potential future closer in which he averages 97 MPH with his fastball as well. He posted a 4.15 ERA in 2020 without getting a save opportunity.
While any of Dolis, Romano or Merryweather could be an effective closer, they are all largely unexperienced in that role and the Blue Jays don't really want to play guessing games based on the expectations they've set for themselves this offseason.
If they want to address the closer's role, there are several pitchers who have found success pitching in the ninth inning that are available. The first name that comes to mind is Brad Hand. Despite leading the major leagues in saves in 2020 with a 2.05 ERA and an opponent average of .169, he had his $10 million option declined by the Cleveland Indians which made him a free agent. The Blue Jays have been linked to and have checked in on him.
Another free agent they could go after is Liam Hendriks, in which it would be a reunion of sorts as he pitched for the Blue Jays in parts of 2014 and all of 2015. Hendriks never became a closer until the 2019 season and since then, he's converted 39 saves in 47 chances.
While unlikely, they could pursue a trade with the Milwaukee Brewers for Josh Hader who's rumored to be available, although he'd come at a hefty price due to his talent and the fact that he can be controlled until the 2023 season.
Signing Hand or Hendriks would be great and is something the Blue Jays should look into, although as the top relievers on the market, they will likely demand a high price tag. It isn't known how much either is seeking and the Blue Jays should not splurge on a closer. If Hand or Hendriks price tag is deemed to high for the front office to spend, what I think they should do is seek a reliever a tier below them who has experience both closing and pitching in setup situations.
Someone like David Robertson or Brandon Kintzler would fit the description above. Despite not pitching at all in 2020 as he recovered from Tommy John surgery, when healthy, Robertson is one of the better relief pitchers and has experience pitching in a setup and closer's role. In his career, he has 137 saves and 147 holds.
Meanwhile Kintzler has 61 career saves and 84 career holds. Last season with the Miami Marlins, he converted 12 saves in 14 opportunities with a 2.22 ERA.
Some other options they could pursue that have both setup and closing experience are Blake Treinen who was the best closer in baseball in 2019, Joakim Soria, Keone Kela and Brad Boxberger.
If they bring in one of the names mentioned above, they could allow whoever they sign plus the three current Blue Jays relievers vying for the ninth inning role compete for the spot in Spring Training. Then the ones that don't get the closer's role can be used as setup men. That way in case the closer struggles, they have a different pitcher that can take over that role.
What do you think the Blue Jays should do with their bullpen?