Blue Jays: Can't believe I'm saying this, but I'll miss Mike Wilner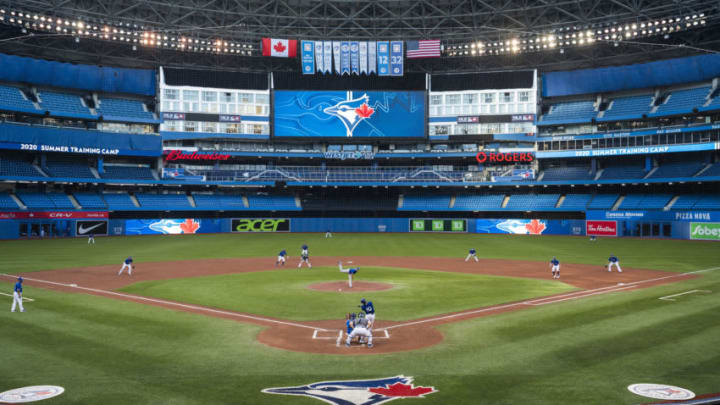 TORONTO, ON - JULY 09: The Toronto Blue Jays play an intrasquad game at Rogers Centre on July 9, 2020 in Toronto, Canada. (Photo by Mark Blinch/Getty Images) /
Longtime Blue Jays broadcaster Mike Wilner was let go on Friday, and while controversial at times, his voice will be missed among fans.
I'm sure I wasn't the only one that was shocked by the news that Mike Wilner won't be working for the Blue Jays in 2021.
After a 20-year career working in various capacities for the organization, the 50-year-old and the Blue Jays both announced on Twitter that their working relationship had come to an end. No immediate reason was given, and it doesn't sound like is any kind of scandal that we'll learn about later, but rather that Roger Communications decided to go in a new direction with their radio broadcast. It happens in a cutthroat media business, but it's always a surprise when a veteran like Wilner is shown the door.
And I have to admit, even after years of letting him get under my skin with his approach on "Blue Jays Talk", I'm going to miss his presence around the ball club.
More from Jays Journal
When I say that he got under my skin, anyone who used to listen to his post-game radio show likely knows what I'm talking about. He became known for jarring with callers on occasion, which was part of what made the show entertaining. My assumption was that it was his natural personality, but if it was a character or a bit, then he pulled it off masterfully. Either way, I found myself tuning in fairly regularly, and I've even called in a handful of times over the last couple of decades as well.
As much as I'll mostly remember his work on "Blue Jays Talk", I have to give credit where its due. I didn't think there was any way that the Blue Jays could replace Jerry Howarth and still have me listen to the radio, but I was wrong. No one can replace Jerry, and Wilner would be the first to tell you that, but I often listened to Wilner's work with Ben Wagner as the new radio team, and I genuinely enjoyed them. It appears as though Wagner will be staying on, but he'll have a new teammate in the booth going forward.
I'll also admit that I'm a bit of an old-school soul when it comes to my beloved baseball, and change isn't something I enjoy dealing with. I had just gotten used to listening to Wilner's broadcasting while I was on the road during games, or working out in the garage. But beyond that, it's also just sad to see such a dedicated figure let go, especially when the decision clearly wasn't mutual. Say what you want about the guy, but there aren't many people in the world that are more dedicated to the Blue Jays than Mike Wilner, and it's a shame to see that relationship end.
It won't be on the top of priority list, but at some point we'll learn who will be taking over to join Wagner in the booth. For now, I'd like to tip my cap in thanks for the many years of entertainment, and genuine passion for the game. A decade ago I wouldn't have pictured myself saying this, but I'm going to miss Mike Wilner. 2020 really is full of surprises.