Toronto Blue Jays Canadian Production: Alex Nolan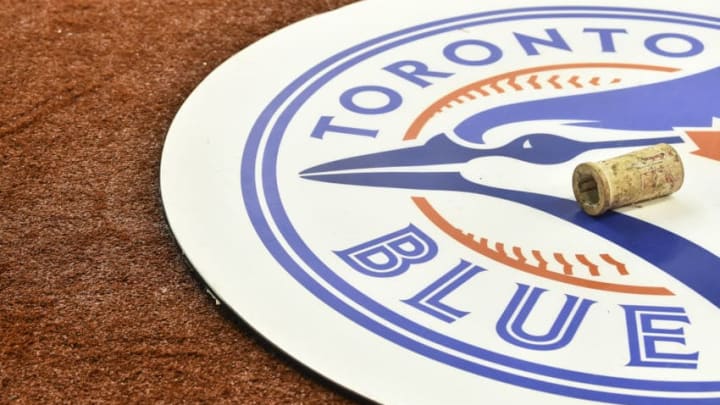 MONTREAL, QC - MARCH 26: A Toronto Blue Jays emblem is shown on the field against the Milwaukee Brewers during MLB spring training at Olympic Stadium on March 26, 2019 in Montreal, Quebec, Canada. The Toronto Blue Jays defeated the Milwaukee Brewers 2-0. (Photo by Minas Panagiotakis/Getty Images) /
Each journey to the big stage is unique, some get there, most don't. Toronto Blue Jays, RHP Alex Nolan paved a route that will pry the doors of opportunity open for future Canadian's in all competition.
Growing up and playing ball as a Canadian born athlete was quite the experience.  6-game high school seasons and 4-month summer ball runs were very unique. We would make the trip south of the border and carry a tad of anxiety when having to face off against average 91mph southpaws at 17 years old.
We played with a passion to beat American teams. Presently in 2020, 17-year old canuck players are showcasing and preparing for Major League Baseball's Amateur draft process; quite the turn in motive north of the border!
Alex Nolan, a name all Canadian born baseball players should be familiar with and educated on.  Speaking to Alex, I sensed a mixed hint of Kobe Bryant's mental, Roy Halladay's drive, and Drake's stress on manifestation. What do these 3 have in common with Alex? Persistence, focus, persuasion, determination, and craft-oriented.
More from Toronto Blue Jays Prospects
This story is the Picasso of mental toughness; painted here was the ultimate strive for an opportunity which was not a dream, but a destiny. After some JUCO ball in Arizona, the Burlington, Ontario native began his career in 2015 with Ontario's Athletic powerhouse University, the Brock Badgers. In 2019, Nolan tossed for the Kalamazoo Growlers in the Northwoods League, prior to the start of his big-league journey.
I had a chance to speak with a solid baseball-head, Fabio Del Rio, Pitching Coach of Brock University, and a strong piece of back-bone in the Nolan project. "6'4", 220lbs, muscular upper half that can handle the load. The lower half, lead leg braces well so that when the front foot lands, the ball comes out of the hands easy with the energy coming from the ground up, out the arm", Del Rio's mini-report.
Del Rio coached with the Badgers in 2018-2019 and was a passenger on Nolan's train to pro-ball.  Del Rio explained that Nolan gave off different energy; his competitiveness was very apparent.  "One of the really great things about Nolan is that he throws strikes, he's reliable. In fact, he throws so many strikes, he's been told to learn to throw more balls!", Del Rio expresses.
Nolan's strike consistency was incredible and described as "pure gold" by Del Rio; he needed to iron out what scouts look for; velocity. This needed to take priority in the months of November and December 2018, as he expressed his interest in the Major League Draft. After Nolan decided to not take the Driveline route, Del Rio and staff took lead on the development, improving on arm timing and getting his body to do the work.
Del Rio's ex-teammate, Dr. Andrew Robb was another passenger on the Nolan Pro-Ball train.  Del Rio discussed Nolan's mobility and development; by the end of January 2019, they had a program together that involved 3-4-hour sessions in Kitchener, Ontario. The program was mobility-focused; Del Rio stated that Dr. Robb identified multiple flags, such as the primary use of just the upper body with less lower-half and hips; "his back foot was dragging on the rubber, slowing down his Velo". Nolan progressed over the weeks and months; his work ethic was ecstatic and consistent.
"We had to tell him to cool down because he was working out extra. We had to trick him into thinking today was a mental training day. Your body and brain need to put the puzzle together.  Dr. Robb was very good at explaining how the body works, this was all very digestive for him", Del Rio explained.
Nolan progressed 87-88-89.  April 2019, Nolan's first time over 90mph.  He was equipped with a change-up, curveball, and splitter which he threw for strikes, to complement his heater. At this moment, they knew it was time. Alex's support team took lead in the hunt to find his MLB home.  They worked on a clock and performed in front of the appropriate eyes, such as the Seattle Mariners. On May 30th, 2019, the Toronto Blue Jays had Alex Nolan on the Rogers Center mound, throwing a pen-session for the scouting department as a part of pre-draft workouts. June 3rd, 2019 arrived, draft day.
As a scout and advisor, draft day means you're in-tuned with your phone and laptop through all activities; you could be showering or building a house. I can't imagine what it may feel like for a possible pick to await their name announced.  Nolan went through his day, awaiting the results.
"I was actually in Kalamazoo, Michigan playing summer ball and my buddy on that team got signed to the Texas Rangers in the 12th round, and me and my buddy were still waiting to get signed.  Day 2 went by, day 3 everyone's watching their laptop, I see somebody I played with in high school get signed, I see someone I played with in the summer get signed.  I'm just like what's going on, what's going on? I had a phone call with my dad and my trainer, talking about the same thing; I started realizing in that moment that the draft was not my route. There was not enough currency in me for that draft, as in where I play ball and how good I was at the time; I started realizing that", Nolan explained.
Nolan was not selected in that draft.  He explained, "if it's going to happen it's going to be free agent wise.  I went to my car and sat there for a couple of hours and recollected my thoughts.  I thought I'm either fully in this or fully out.  I spoke to my coach, and re-ensured myself of the saying, control what you can control, a popular saying in baseball and in life".
A week went by, Nolan played a few games with Kalamazoo. He explained he was in the shower, where shortly after he realized he missed a call from Toronto Blue Jays VP of International Scouting, Andrew Tinnish; Tinnish was also a part of the Brock staff. "I jumped out of the shower so fast I almost tripped on the towel", Nolan said in giggles. "I played the phone call cool.  He informed me that they wanted to sign me. I called my dad to let him know we did it".
June 14th, 2019, Nolan signed with the Toronto Blue Jays, June 16th was assigned to the Vancouver Canadians and in March of 2020, he was assigned to the Jays.
"From his time at Brock, he grew up a lot. He was more serious as a baseball player.  He has an easy smile with a disarming personality. When it comes to baseball, he does not slack off," Del Rio says.  "He's eager to learn and wants to get better. He's constantly reviewing videos trying to improve.  He's a strong base of knowledge."
This route was intriguing; a draft lasting 3 days may not be your faith.  Nolan explained the notion of "currency". The currency is the value of the environment in which you compete in. You lose your currency if you're the big fish in the small pond. He emphasizes the importance of knowing when to leave Ontario and continuing to pursue the next level of ball.
One of the biggest misconceptions by Canadian ballplayers is that playing in Canada is a career write off.  D1 NCAA baseball seems to be the be all end all for prospects north of the border.  In recent years, we've seen Shaun Valeriote, Jamaal Joseph and now Alex Nolan, come out of Canadian institutions and off to big league opportunities. Following these signings, we now hear about the Mateos Kekatos' and the Evan Kiser's; aspiring talents eager to make their deserved jumps. If you're good you'll make noise, if you're loud enough, an opportunity will notice; if you work every day like your life depended on it, your life may become it.
As per Nolan, I strongly second Coach Del Rio's scouting blurb. I love his off-speed, ability to throw strikes, his make-up, his fastball command, and his projection to climb that velocity by the year.  As an independent scout, I have a weird method of evaluation. I watch video while I visualize myself in the box against a pitcher.  That visualization is quite intimidating.  A 6'4" machine pumping 93+ isn't a comfortable feeling. This is a guy that will climb the ranks of the Blue Jays system and will one day join the staff on 1 Blue Jays Way.
This is a guy who takes pride in playing and representing the organization, the city, and the nation. He takes minutes of his day to admire the "pride of the nation" wall at the spring training complex each day. Alex is a follower of ex-Blue Jay Aaron Sanchez and Jays legend, Roy Halladay.
It's been fun watching and studying Alex. Canadian players on the come up, and veteran players that never got the opportunity, live vicariously through him and his experience. I've taken on the role of advising such guys who wish to continue their ball careers to as far as they can go; I preach this story to them, all while I strive to find the next Alex Nolan.
Canada, your route is what you make it, and your route ends when you end it; keep striving!